Trump Turns Politically Correct in Saudi Arabia
The president says wildly offensive things when the objects of his derision aren't around, but crumples when he actually meets them.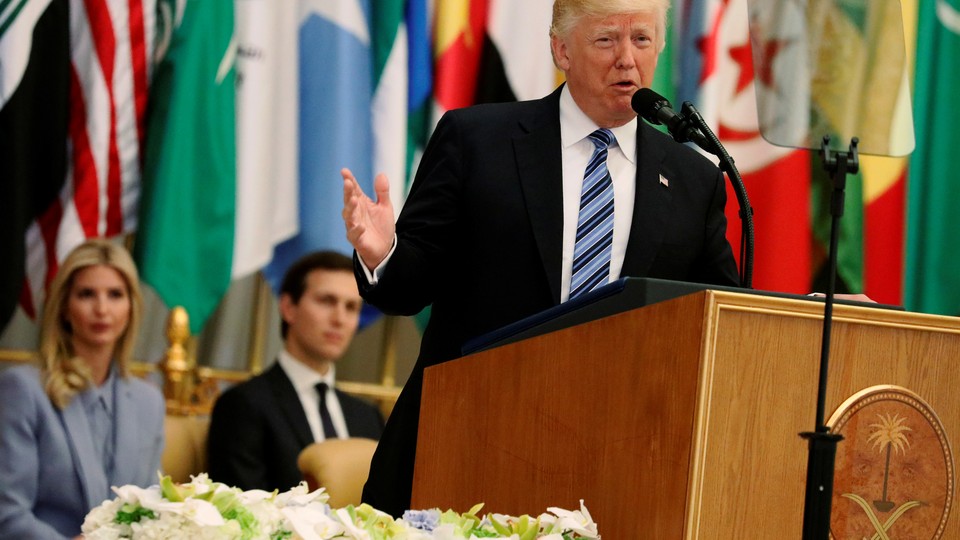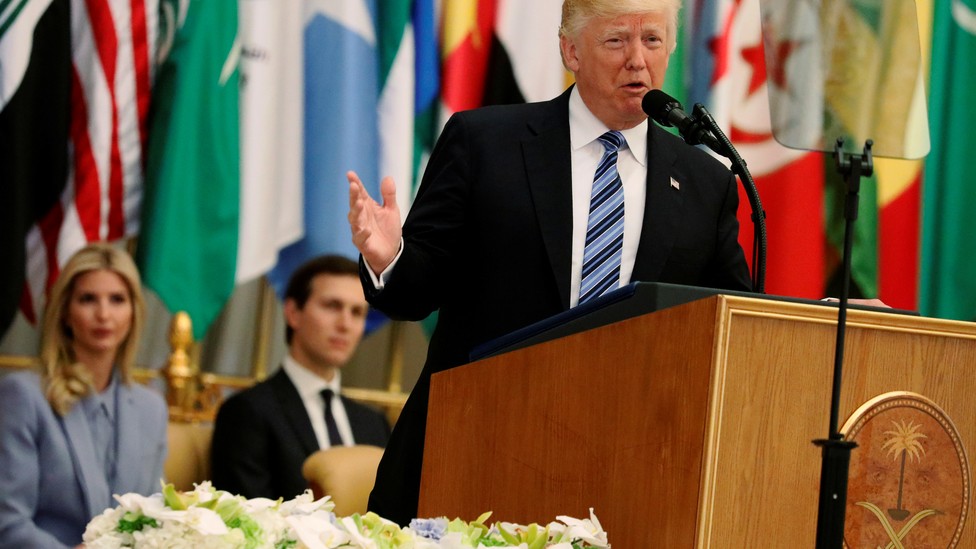 Donald Trump appears to have envisioned his speech on Sunday in Riyadh as an answer to Barack Obama's 2009 address in Cairo. And reading the two side by side is illuminating. The speeches differ in many ways, but none more striking than this: Trump's speech was far more politically correct.
"Political correctness," as it is used in common parlance, means avoiding hard truths so as not to offend the people around you. And Trump made his hostility to political correctness a centerpiece of his campaign. Nowhere was this more evident than in his discussion of "radical Islam." Again and again, Trump blamed America's vulnerability to jihadist terrorism on President Obama and Hillary Clinton's refusal to speak honestly about the pathologies of Muslims and Islam. At a Wisconsin town hall in March of last year, CNN's Anderson Cooper asked, "Do you trust Muslims in America?" Trump responded, "We have a problem, and we can try and be very politically correct and pretend we don't have a problem, but, Anderson, we have a major, major problem." In June, in defending his proposed ban on Muslim immigration to the United States, Trump declared that, "The current politically correct response cripples our ability to talk and to think and act clearly" to keep America safe from terrorism.
But for all the pillorying Obama received for supposedly whitewashing the problems of the Islamic world, his Cairo speech actually addressed them quite bluntly. Speaking at Egypt's prestigious Cairo University, Obama condemned Holocaust denial in Muslim countries, calling it "baseless, ignorant, and hateful." He denounced people who "threaten Israel with destruction" and "repeat vile stereotypes about Jews." He highlighted the oppression of women in Muslim lands, declaring that "a woman who is denied an education is denied equality. And it is no coincidence that countries where women are well-educated are far more likely to be prosperous." He referenced the Middle East's economic failures, arguing that "no development strategy can be based only upon what comes out of the ground, nor can it be sustained while young people are out of work." And in a clear challenge to his host, Egyptian dictator Hosni Mubarak, he insisted that "all people yearn for certain things: the ability to speak your mind and have a say in how you are governed; confidence in the rule of law and the equal administration of justice; government that is transparent and doesn't steal from the people; the freedom to live as you choose. Those are not just American ideas, they are human rights, and that is why we will support them everywhere."
Compare that to Trump, who said virtually nothing that caused his hosts any discomfort. Trump criticized terrorist groups like ISIS for their "persecution of Jews," and he condemned Iran for pledging "the destruction of Israel." But since ISIS and Iran are Riyadh's most bitter foes, those condemnations won't have bothered the Saudi monarchs at all. Unlike Obama, Trump avoided the broader problem of anti-Semitism and Holocaust denial in Islamic countries, a problem in which his Saudi hosts are deeply complicit. Nor did he even hint at the fact that Saudi Arabia still does not recognize Israel.
On the question of women's rights, it was much the same. Trump attacked jihadist terrorists for "the oppression of women." But he described King Salman's government as a virtual beacon of women's rights. "Saudi Arabia's Vision for 2030 is an important and encouraging statement of tolerance, respect, empowering women, and economic development," Trump declared. You would never have known that women in the Kingdom still can't drive.
Trump didn't even mention the words "democracy," "liberty," or "freedom." To the contrary, in a sentence that will bring grins to autocrats across the region, he declared that, "We are not here to lecture—we are not here to tell other people how to live, what to do, who to be."
Trump did condemn "extremism." But speaking in the country he has accused of complicity in 9/11, he did not once pointedly suggest that any Middle East regime except Iran's might bear any responsibility for that extremism. Rather than suggesting, as both Obama and George W. Bush did, that the authoritarianism and corruption of Arab governments might have helped spawn groups like al-Qaeda and ISIS, Trump reversed the causality. The Middle East's "untapped potential" he declared, "is held at bay by bloodshed and terror." And in so doing, he endorsed the agenda that Saudi Arabia and other Sunni Arab dictatorships have been urging for years: Help us confront Iran and kill "terrorists" (which includes anyone who opposes our hold on power) and all will be well. In his speech in Riyadh, Trump didn't even use the phrase that he endlessly excoriated Clinton and Obama for avoiding: "radical Islamic terrorism." He talked about "extremism." But never used it as an adjective to modify the noun "Islam."
None of this should be a surprise. Trump is a coward. He says wildly offensive things when the objects of his derision aren't around, but crumples when he actually meets them. In his presidential announcement speech, Trump called Mexican immigrants "rapists." But when he sat down with his Hispanic Advisory Council, he proved "humble" and "conciliatory" and called mass deportations "neither possible nor humane." During the campaign, he endlessly trashed Mexico's government. But when he actually arrived in Mexico City last August, he declared the trip a "great, great, honor" and when President Enrique Peña Nieto asked him about his famous pledge to make Mexico pay for a wall between the two countries, Trump refused to discuss the subject. During the campaign, Trump accused Black Lives Matter of being responsible for the murder of police, and described African American living conditions as hellish. But when he actually showed up at a black church in Detroit last September, he spent most of his time flattering his hosts. Trump's speech, noted The Washington Post, constituted a "jarring shift in tone and message." During the campaign, Trump repeatedly claimed that China was manipulating its currency. But after meeting with China's president, he acknowledged that was not true.
The Saudis appear thrilled that Trump was so conciliatory on his visit. They should enjoy themselves while they can. Americans have learned this about Trump: What he says to your face often bears no relationship to what he says behind your back.