Trump Goes With God—and the Gamble Mostly Pays Off
Foregrounding religion on a political trip abroad was a surprising choice. What's even more surprising is that it seemed to work.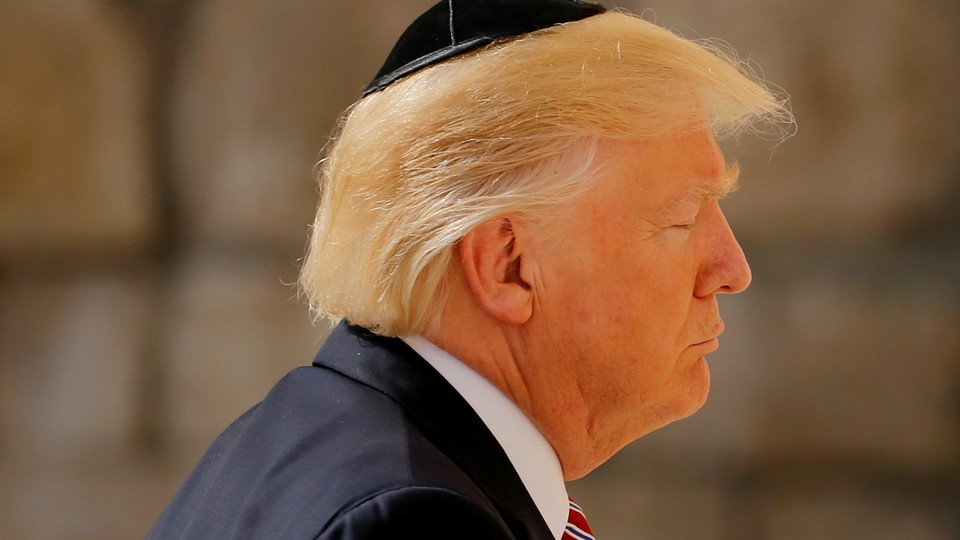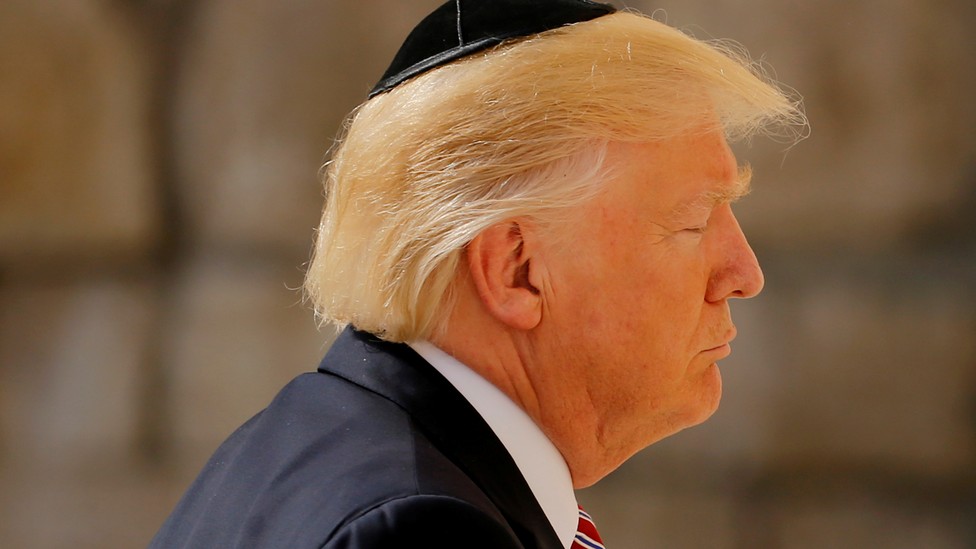 Even if Donald Trump had not been a candidate whose presidential campaign was drenched in isolationist language and a man whose words and deeds tend not to convey piety or tolerance, religion would seem like a bizarre way to frame any foray into the complicated mire of international politics. And yet, earlier this month, Trump announced that he would travel to places deemed representative of Islam, Judaism, and Christianity: Saudi Arabia would be the destination for his first state visit, followed by stops in Israel and Rome. His decision was even more surprising because, since the end of World War II, nearly every U.S. president has chosen to make his first state visit to either Canada or Mexico.
But then again, this madcap, optics-centric symbolism is already an entrenched feature of Trump's presidency. Lost to conspiracies about crowd sizes and recapitulations of his carnage-themed address was the fact that his inaugural weekend was an unexpectedly pluralistic affair. From the standpoint of American religion, Trump stacked the deck. His January 20 inauguration ceremony featured an unprecedented six speakers, including a rabbi and a cardinal. His delegation of Protestant preachers included not only Franklin Graham but also, perhaps less predictably, religious representatives from Hispanic, African American, and prosperity-gospel churches.*
On January 21, as Sean Spicer delivered his maiden belittling of the media, Trump was departing from presidential custom by not having a religious leader deliver a sermon at the National Prayer Service. In lieu of a particular message, the service focused on prayer and boasted representatives from Catholic, Greek Orthodox, Mormon, Jewish, Muslim, Sikh, Buddhist and Bahá'í communities.
The paradigm set on inauguration weekend reemerged as Trump embarked on his religion world tour with an itinerary stacked with political and theological perils. Ahead of the trip, H.R. McMaster, the White House national security adviser, offered that one of the president's key objectives would be "to broadcast a message of unity to America's friends and to the faithful of three of the world's greatest religions." Along the way, McMaster gloated, Trump would become the first U.S. president ever to visit "the homelands and holy sites of the Jewish, Christian, and Muslim faiths all on one trip."
Much like at the National Prayer Service, Trump aimed at inclusiveness and vagueness on his trip, and avoided delivering any hard-boiled sermons or prescriptions about specific policy changes. In Saudi Arabia, the president's heavily touted speech on Islam proved to be more of a rebuke of his predecessor's 2009 address in Cairo, in which former President Barack Obama pushed the Arab world (and, by inference, his Egyptian hosts) to embrace human rights and democratic principles and to reject Holocaust denial. By contrast, as Peter Beinart noted on Sunday, Trump "said virtually nothing that caused his hosts any discomfort."
Instead, Trump went religious. This was a risky gambit: There's a reason most politicians avoid focusing on religion, one of the most notoriously sensitive subjects. But Trump offset the risk with a persistent resort to platitudes. He praised Saudi Arabia as "the nation that serves as custodian of the two holiest sites in the Islamic faith." Beyond some asides about rejecting extremism and terrorism and a few pointed barbs at Iran and ISIS, Trump exhibited a previously unseen reverence for fostering understanding along the dividing lines. "This is not a battle between different faiths, different sects, or different civilizations," he said. "This is a battle between barbaric criminals who seek to obliterate human life, and decent people of all religions who seek to protect it."
In both its anodyne optimism and its vagaries, Trump's speech on Islam also set the stage for the second leg of his trip, which would bring him to Israel and the West Bank. "If these three faiths can join together in cooperation," he declared in Riyadh, "then peace in this world is possible—including peace between Israelis and Palestinians." Ahead of the president's arrival in Israel, questions swirled about which President Trump his hosts would receive—the one who appointed a pro-settler ambassador and vowed to move the U.S. embassy from Tel Aviv to Jerusalem? Or the one who blurted out sensitive intelligence information to the Russians and refused to let his advisers say that the Western Wall belonged to Israel? Would Trump declare parameters for a renewed peace process? Ask Israel for a settlement freeze? Make a determination on which parts of Jerusalem belong to which party? Force a trilateral meeting with Israeli Prime Minister Benjamin Netanyahu and Palestinian President Mahmoud Abbas?
After taking the first-ever direct flight between Saudi Arabia and Israel, Trump did none of these things. Instead, he assiduously sidestepped almost all the thorny issues. As Naomi Zeveloff explained earlier this week, Trump endeared himself to Israelis by becoming the first U.S. president to visit the Western Wall, Judaism's second-holiest site, and managed to avoid controversy by refusing to allow Netanyahu to tag along. He toured the Church of the Holy Sepulchre, which is believed to host Jesus's tomb, and he went to Bethlehem to hold his second meeting in less than a month with Abbas. Trump laid a wreath at Yad Vashem, Israel's Holocaust memorial, and he spoke glowingly about faith. "This is a land filled with beauty, wonder, and the spirit of God," he said in a joint press conference with Netanyahu. "I've been amazed by the glorious and beautiful monuments and holy sites, and the generosity of your incredible people."
In many ways, the gamble paid off. In addition to a high-profile, $110-billion weapons sale to Saudi Arabia, the president racked up a fair amount of positive headlines. Perhaps most importantly, even if Trump's visit was mostly devoid of content, it was also mostly devoid of gaffes and drama. Given the troubles awaiting him at home, this is good news.
The apotheosis of Trump's ill-defined pilgrimage arrived when the president entered the Vatican on Wednesday for a meeting with Pope Francis. According to a Vatican bulletin, the agenda for their discussion centered on "the promotion of peace in the world through political negotiation and interreligious dialogue." And, echoing what he said of his visit to the Western Wall ("Words fail to capture the experience—it will leave an impression on me forever"), Trump expressed similar sentiments about his audience with the Holy Father. "I won't forget what you said," the president stated in a press conference following the meeting. What did Francis say to Trump that struck such a chord? It's not known; the meeting was private. This vagueness was a fitting conclusion to a trip that was, paradoxically, defined by its lack of definition.
---
* This article originally named Billy Graham as a part of the president's delegation. We regret the error.