So, What Was the Deal With the Orb?
An image of the president inaugurating a counterterrorism center with the Saudi and Egyptian leaders went viral.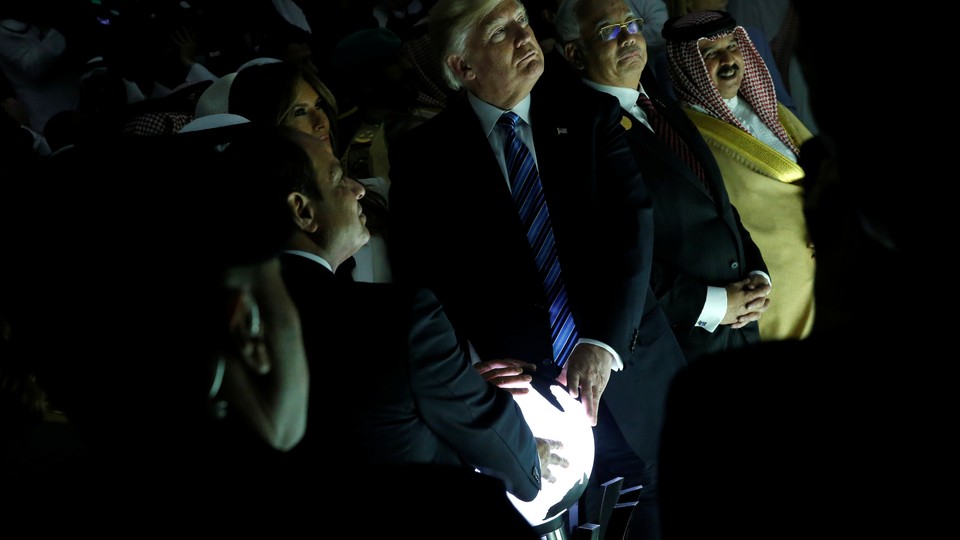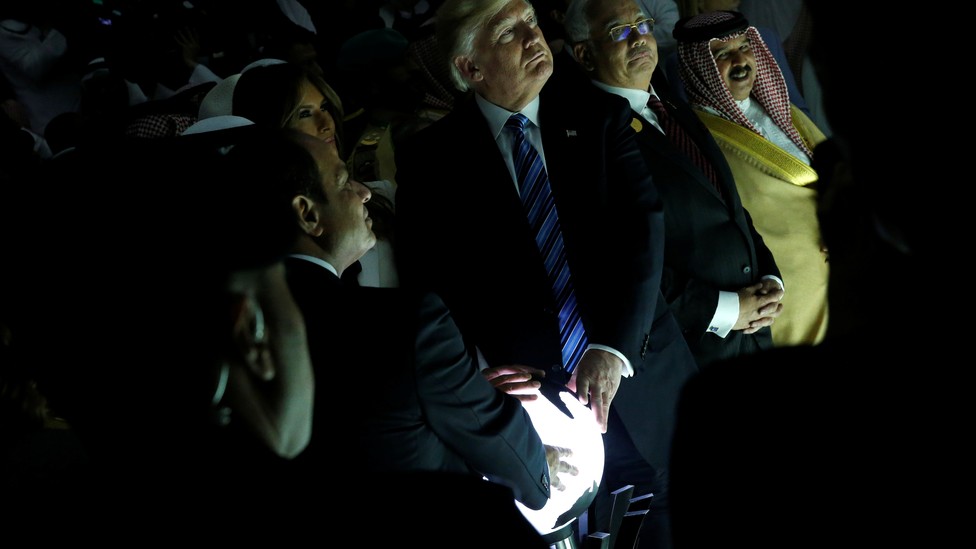 President Trump's visit this weekend to Saudi Arabia was largely hailed as a success: He appeared to enjoy himself on his first foreign trip as president; he announced billions in Saudi investment in the U.S.; and his speech on terrorism was well received. But it was one photograph Sunday that got much of the attention online:
In the image, Trump, Saudi King Salman bin Abdulaziz, and Egyptian President Abdel Fatah al-Sisi have their hands on an orb that lit up upon their touch, an image that immediately drew humorous comparisons online with comic-book villains, Star Wars protagonists, and Star Trek mind control—not to mention references to the Illuminati and Lord of the Rings. Saudi news reports set the record straight, saying the illuminated orb was, in fact, a globe, and that by placing their hands on it, the three leaders "officially activated the" Global Center for Combating Extremist Ideology in Riyadh, a facility that will monitor extremist messaging in real time.
Extremist messaging online has been particularly effective in attracting recruits to terrorist groups such as ISIS, which espouses a strict version of Sunni Islam, and which the U.S. and its allies, including Saudi Arabia, are fighting. But Saudi Arabia also finances religious schools around the world that teach a form of Sunni Islam that many critics say contributes to the spread of radical ideology among youth.
Trump, in his speech Sunday in Riyadh, focused on countering terrorism, but directed his attention to Shia Iran, Sunni Saudi Arabia's main regional rival.
"Starving terrorists of their territory, their funding, and the false allure of their craven ideology, will be the basis for defeating them," he said. "But no discussion of stamping out this threat would be complete without mentioning the government that gives terrorists all three—safe harbor, financial backing, and the social standing needed for recruitment. It is a regime that is responsible for so much instability in the region. I am speaking of course of Iran."
Those remarks came as Iranians celebrated the re-election of Hassan Rouhani, the president who advocated opening to the West and struck a nuclear deal with Western powers. Trump also cited Iran's role in the Syrian civil war, where it, along with Russia, supports President Bashar al-Assad; and in Yemen, where it is fighting a proxy war with Saudi Arabia for control of the Arab country. Saudi Arabia and Iran accuse each other of fomenting unrest in the region. The Obama administration's nuclear deal was viewed by the Arab world as a giveaway to Iran because it came with massive sanctions relief in exchange for the Islamic Republic's concessions on its nuclear program. Trump's remarks Sunday showed that the U.S. would once again ally more openly with Sunni Arab states against the Islamic republic.