Trump: Middle East Peace Is 'Not as Difficult as People Have Thought'
What makes the president so sure he alone can fix it?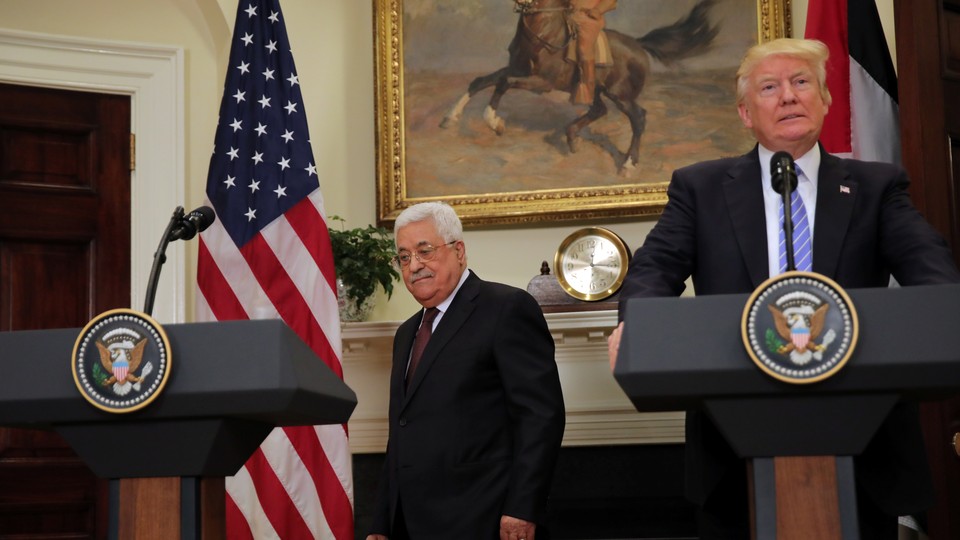 One of Donald Trump's great strengths is his ability to project confidence and bravado nearly constantly. The president is sometimes peevish, and he sometimes lashes out, but he seldom seems glumly resigned.
Who else, in the middle of a rough stretch of his presidency (one that, arguably, has persisted since Inauguration Day) could blithely assert that he would solve the most famously unsolvable problem in international diplomacy? Yet there was Trump Wednesday afternoon, appearing with Palestinian President Mahmoud Abbas and promising to bring peace in the Middle East.
"We want to create peace between Israel and the Palestinians. We will get it done," Trump said. "We will be working so hard to get it done. I think there is a very good chance and I think we will."
At a lunch later on, he was even bolder: "It is something that I think is frankly, maybe, not as difficult as people have thought over the years."
On one level, this is the salesmanship that Trump has peddled successfully throughout his career, a fake-it-till-you-make-it philosophy of life. Does the president have a plan to actually resolve the conflict? He has presented nothing, but apparently hopes that by projecting confidence he might be able to convince voters, and maybe even Israelis and Palestinians, that he does.
But his confidence on this issue is even more peculiar because it comes just days after Trump made the frank admission that being president was tougher than he realized.
"I loved my previous life. I had so many things going," Trump told Reuters. "This is more work than in my previous life. I thought it would be easier."
One reason the presidency is tough is that people expect you to know things, whether that's the root cause of the Civil War or the contents of a health-care bill you have endorsed. Trump's blithe faith in his ability to solve the Israeli-Palestinian conflict seems rooted in the same essential ignorance about issues that has manifested itself elsewhere. To see what this means, it's useful to look back at Trump's comments about the conflict over the last 16 months or so, which show a man improvising his stance as he goes—but without any clear direction or refinement over time.
In December 2015, Trump questioned whether Israel is committed to the peace process, rattling Israel's government and many Republicans. "I have a real question as to whether or not both sides want to make it," he said in an AP interview. "A lot will have to do with Israel and whether or not Israel wants to make the deal—whether or not Israel's willing to sacrifice certain things. They may not be, and I understand that, and I'm OK with that. But then you're just not going to have a deal." The same day, he reiterated that sentiment during a Republican Jewish Coalition event, where he also trafficked in some painful Jewish stereotypes.
In February 2016, Trump further rattled hardliners on Israel in the GOP by promising during a town-hall event to be a neutral broker in the peace process. "Let me be sort of a neutral guy, let's see what—I'm going to give it a shot. It would be so great," Trump said. The idea of breaking with longstanding U.S. sympathy toward Israel troubled many Republicans. But Trump at least acknowledged that cutting a deal could be an uphill battle. "A lot of people say an agreement can't be made, which is OK, sometimes agreements can't be made, not good," he said. "It is a very, very tough agreement to make. But I will give it one hell of a shot."
Because of these statements distancing himself from Israel, Trump's March 21, 2016 speech to the American Israel Public Affairs Committee was hotly anticipated. Would he continue his rogue line? No—Trump delivered a fairly aggressive, hardline speech, taking the side of Benjamin Netanyahu's government and blaming Palestinians for the lack of peace. However, the speech, reportedly shaped by his son-in-law Jared Kushner and New York Observer editor Ken Kurson, was so nakedly partisan in its attacks on Barack Obama that AIPAC issued an unprecedented apology for it the following day.
A week later, Trump spoke to The New York Times, where he was characteristically vague. Did he support a two-state solution? "Well, I think a lot of people are saying it's going to result in a two-state solution. What I would love to do is to, a lot of people are saying that. I'm not saying anything," he said. Later in the same interview, however, he offered the basic U.S. line on the conflict for years: "Basically I support a two-state solution on Israel. But the Palestinian Authority has to recognize Israel's right to exist as a Jewish state."
Days after he was elected president, Trump again mentioned a desire to bring peace, seeing it as the apotheosis of his dealmaker reputation. "That's the ultimate deal," Trump said. "As a deal maker, I'd like to do … the deal that can't be made. And do it for humanity's sake." Later in November, speaking to the Times again, he boasted that he could make it happen.
"I've had a lot of, actually, great Israeli businesspeople tell me, you can't do that, it's impossible," Trump said. "I disagree, I think you can make peace. I think people are tired now of being shot, killed. At some point, when do they come? I think we can do that. I have reason to believe I can do that."
After the election, Trump's commitment to the process came under question as his public stances became significantly more hardline on Israel. He nominated David Friedman, an especially right-wing figure with a history of inflammatory statements (including calling Obama an anti-Semite and comparing liberal American Jews to ghetto "kapos") and no diplomatic experience, as his ambassador to Israel. Trump and Friedman both also vowed to move the U.S. Embassy from Tel Aviv to Jerusalem, a long-running wish of Israeli leaders that Palestinians have said would destroy the peace process.
Trump continued along the same road in February. He first refused to take an official stance on Israeli settlements in the West Bank, reversing longstanding American policy of opposing new settlements. That cheered the Israeli right but rattled the international community, Palestinians, and liberal Israelis. Two weeks later, he went even further, saying he had no particular commitment to the two-state solution. "I'm looking at two states and one state, I like the one that both parties like," the president said at a White House press conference with Israeli Prime Minister Benjamin Netanyahu. "I can live with either one." He had said things like this during the campaign, but now that he was president, the comment was especially startling.
Since then, however, Trump has been distracted by crises foreign and domestic. He has notably gone quiet on his plan to move the U.S. Embassy, though Vice President Pence insisted on Tuesday that the president is "seriously considering" a move.
Ahead of Wednesday's comments, Trump addressed the peace process during the same interview with Reuters in which he expressed chagrin at the difficulty of the presidency. "I want to see peace with Israel and the Palestinians," he said. "There is no reason there's not peace between Israel and the Palestinians—none whatsoever."
That statement begs not to be taken seriously, and Trump almost certainly did not mean it seriously. He's aware that there are reasons why there isn't peace. But is he aware of what those reasons are? Outside of the context of pre-written remarks such as his AIPAC speech, Trump has almost never spoken in any detail about the barriers to peace. Instead, he continues to discuss it as though it's a real-estate transaction—just a matter of getting the right things for each side.
And in some ways, it is a real-estate transaction, except that such an understanding undersells the complexity of the problem, which, as mentioned, has bedeviled generations of American diplomats. As Dennis Ross, who worked on Israeli-Palestinian issues for Presidents Clinton and Obama, notes, Trump is not the first president for whom the supposed intractability of the conflict has created the attraction. But none of the others has offered so many contradictory signals in such a short time, nor have they offered so little guidance on what they want to see in the process.
Trump seems to have little direct involvement in the matter at all, short of occasionally speaking about his desire to solve the conflict. He has instead assigned his son-in-law, who has no experience in diplomacy, to oversee negotiations, telling him, "If you can't produce peace in the Middle East, nobody can." This may say more about the possibility of solving the conflict than it does about Kushner, whose resume includes getting into Harvard on the strength of his father's money; a disastrous stewardship of the New York Observer; and a tenure atop his family real-estate empire that may yet turn disastrous. Working with Kushner is Jason Greenblatt, a former lawyer for the Trump Organization, who is also green—though my friend Armin Rosen contends that his lack of experience is actually an asset.
Perhaps that will prove true of Kushner and Trump as well. Or perhaps the the combatants really are sick enough of the fighting to make progress; or perhaps it's true, as Sean Spicer suggested at his press conference in the wake of the Abbas meeting, that Netanyahu and Abbas "are two individuals who, because of this president, are increasing their desire for peace." Even Trump's staunchest critics would be impressed if the president could achieve a peaceful deal in the Middle East, and it would indeed be a great service to humanity. And after a series of dealmaking failures in his first few months in office, Trump could use a win. But despite what he said Wednesday, brokering peace between Israel and the Palestinians is an awfully difficult way to get it.