Trump Leaves Israel Pushing Peace, but Staying Vague
The president says both the Palestinians and the Israelis are ready for a deal. But no one can figure out exactly what he's going for.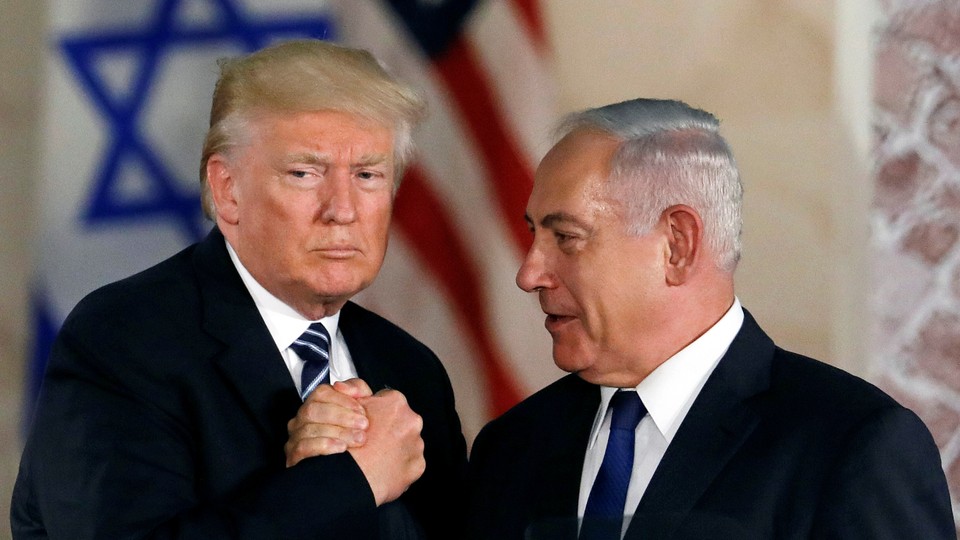 JERUSALEM—Standing next to Israeli Prime Minister Benjamin Netanyahu on Tuesday, Donald Trump declared that the Palestinians were ready for peace.
"As I have repeatedly said, I am personally committed to helping Israelis and Palestinians achieve a peace agreement, and I had a meeting this morning with President Abbas and can tell you that the Palestinians are ready to reach for peace," said Trump, who met with Palestinian leader Mahmoud Abbas earlier on Tuesday in Bethlehem. "I know you've heard it before. I am telling you—that's what I do. They are ready to reach for peace."
Trump then gestured toward Netanyahu, sitting near him onstage, referring to him as "my good friend Benjamin" and saying that the Israeli leader, too, wanted peace.
Trump has, to the surprise and gratification of many observers, shown seemingly genuine enthusiasm about negotiating a peace deal between the Israelis and the Palestinians. But the Israel Museum speech capped off a full visit to Israel and the Palestinian territories in which Trump did not specifically refer to a two-state solution—which past administrations have taken for granted as the eventual result of peace talks—leaving the exact parameters of his "ultimate deal" unclear.
On this issue at least, Trump faced a fair number of skeptics on Tuesday, even apart from Netanyahu himself. His audience for the speech included a who's who of Israeli politics on the left and right—and some notables from the U.S. as well. Republican megadonor Sheldon Adelson and his wife Miriam were in attendance, as was the former Arkansas governor and presidential candidate Mike Huckabee.
"Forming a second Palestinian state beyond the one in Gaza which is a failed terror state is no solution," said Naftali Bennett, the leader of the right-wing Jewish Home party, before the speech. "I certainly hope he doesn't go down that path and until now he's not indicated that he's gonna go down that path." Bennett had hailed Trump's election as "a tremendous opportunity for Israel to immediately announce its intention to renege on the idea of establishing Palestine in the heart of the country—a direct blow to our security and the justice of our cause."
Justice Minister Ayelet Shaked, a member of Bennett's party, downplayed Trump's peace push, saying "he doesn't force a plan like Clinton, like Obama ... he doesn't force a solution."
But, as former U.S. ambassador to Israel Dan Shapiro noted on Twitter, the Arabs won't accept a deal without a Palestinian state.
Israeli opposition leader Isaac Herzog said he interpreted Trump as intending to bring about a two-state solution, despite his not using the term.
"I'm sure the solution will be two states, there's no other solution," Herzog told reporters. "Because that's the only solution that can be accepted by all sides concerned."
Herzog heaped praise on Trump and his team, saying they "changed the atmosphere in the region within two months. Suddenly hope has come about."
He said he told Trump at the airport arrival ceremony at Ben Gurion International Airport on Monday: "'Mr. President, as leader of the opposition I tell you that there is major support for your vision for peace.' He he kept on repeating that and said to the prime minister what he mentioned later in the press about what he heard in Riyadh. And what he heard in Riyadh is a positive tone."
Trump has been effusive in his praise of Saudi Arabia's King Salman since visiting Riyadh, calling him a "very wise man" on Tuesday.
Former Israeli ambassador to the U.S. Michael Oren, now a member of the Knesset for Moshe Kahlon's Kulanu party, said Trump's vagueness is a smart negotiating tactic.
"The vaguer, the better the chances for negotiations," Oren said.
"What's significant here is the absence of a determination of what the outcome of negotiations is," Oren said. "The approach is not diplomatic, it's business."
"To my mind it's a mistake that both Bush made and Obama made, determining the outcome of negotiations before negotiations started," Oren said. "It almost completely eliminated the Palestinian interest in negotiating."
But Trump's vagueness also means it isn't clear exactly what kinds of demands he will make of each side, both of which must make painful concessions if a deal is to be made. "Both sides will face tough decisions," Trump said, without enunciating what they are.
Trump's speech was carefully constructed on some of the trickier points of the conflict where there is a great deal of room for error. He emphasized Jerusalem's importance to Judaism without indicating any change in policy about its status as part of the Israeli state. (The United States considers the status of Jerusalem one of the matters to be resolved through negotiation.)
Trump played up a purported "big, big beautiful difference" in his administration's security cooperation with Israel. But as evidence, he cited Obama-era initiatives, like the Iron Dome missile- defense system.
The event was designed, as the rest of Trump's trip to Israel has been, to go smoothly and create a positive vibe. Apart from a hiccup yesterday in which, standing next to Netanyahu, Trump appeared to inadvertently confirm that Israel was the source of the intelligence he shared with Russian officials—all while trying to deny it—the visit has gone mostly without incident. And if there's one thing that Trump needs, mired as he is in crisis at home, it's a successful foreign trip.
But he leaves behind some confusion about what, exactly, he intends to do, despite his enthusiasm.
"If any reporters on plane w @realDonaldTrump hear him say #settlements, #Palestinianstate, or #embassy, please let us know!" tweeted Jerusalem Post reporter Gil Hoffman as Trump departed the country.