Trump Isn't the President Israel Was Hoping For
Instead, the Netanyahu government is nervous about the new administration.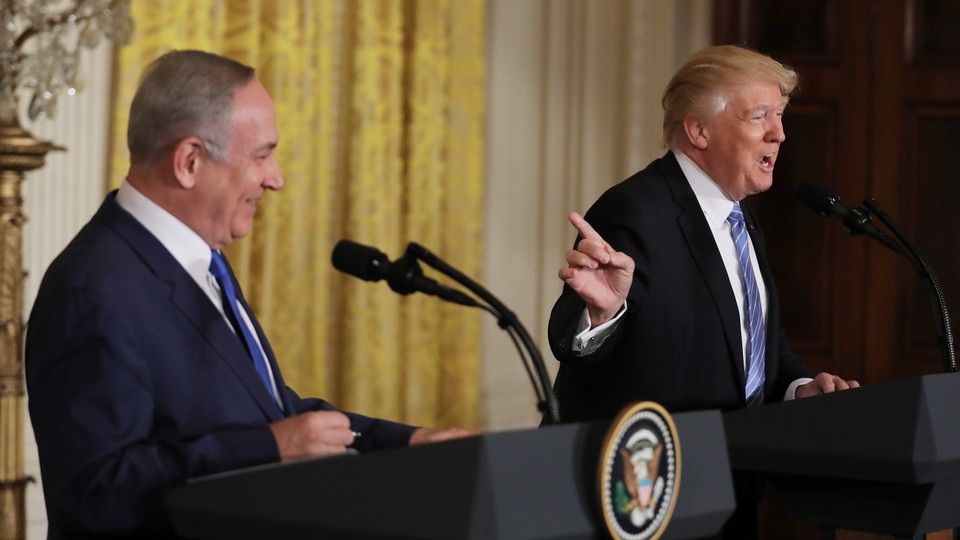 In Tel Aviv on Monday, Donald Trump will not receive a gleaming gold medal or join a boisterous sword dance. But his 28-hour stop in the Holy Land should have been the highlight of his first foreign tour as president of the United States. Israel's ruling right-wing greeted his election with glee, and for good reason: The new president seemed ready to fulfill its deepest wishes.
During Trump's campaign and transition, he vowed to move the U.S. embassy to Jerusalem. (The United States, like most countries, keeps its mission in Tel Aviv to avoid wading into the dispute over the contested holy city.) He nominated a U.S. ambassador, bankruptcy lawyer David Friedman, who supports Israeli settlements—not only in his words, but as the president of a foundation that donated millions to Beit El, an ideological settlement outside of Ramallah. Trump said he would be open to a one-state solution, a statement that seemed to casually discard decades of bipartisan U.S. policy. Several hawkish lawmakers even started drafting a bill to annex large chunks of the West Bank, a step that would permanently foreclose a two-state outcome. "The era of a Palestinian state is over," Naftali Bennett, the leader of the pro-settler Jewish Home party, cheered at the time. "Obama is history. Now we have Trump," Miri Regev, Israel's populist culture minister, declared.
Several months later, though, Trump arrives to bitter disappointment from his biggest fans in Israel. In his first talks with Prime Minister Benjamin Netanyahu in February, he asked him to "hold back" on settlement construction. The embassy hasn't been moved yet—nor will it, at least in the near future. A group of settlers asked to meet with Trump on his visit, and were quickly rebuffed. Instead, there is enthusiastic talk from Washington about reviving the defunct peace process and striking what Trump calls "the ultimate deal" with the Palestinians.
Trump's about-face has become a gnawing political headache for Netanyahu, who, according to people close to him, spent the past few weeks in a state of mild panic, worried that his right-wing allies will blame him for the mercurial president's metamorphosis. "The question is not Trump. The question is Benjamin Netanyahu," Bennett told me. "I think we're blowing it, this huge opportunity to form a new policy."
As ever, the crisis stems from Netanyahu's conservatism—a prime minister known as "Mr. Status Quo" does not want to take dramatic steps in the occupied territories. Though he remains skeptical of a two-state solution, he fears the diplomatic consequences of a major push to expand settlements. He showed up for that first White House meeting without his own diplomatic plan. The Palestinians moved aggressively to fill the void, both in direct talks and through their Arab allies in Egypt, Jordan, and the Gulf. Critics say Netanyahu hasn't pushed on the embassy issue, either; Fox News reported last week that he even privately urged Trump not to move it, out of fear of the consequences. (His office denied the report.)
For now, at least, things will move slowly. Trump is not expected to announce a new round of talks, while plans for a trilateral meeting with Palestinian President Mahmoud Abbas were quickly scuttled. Both sides are instead focused on small-bore items. The Palestinians have presented Trump with an economic wish list, including new industrial zones and a resort on the Dead Sea. The Gulf states have offered Israel its own economic incentives in return, like overflight rights for the national carrier, El Al.
And there is good reason to believe Trump's pursuit of a deal will quickly flounder. The Palestinians are hopelessly divided between the militant faction Hamas and the secular Fatah, the latter of which is led by Abbas, an unpopular octogenarian whose mandate expired eight years ago. Just four of Israel's 20 ministers openly support a two-state solution. Though the White House has claimed otherwise, a century-old national and religious conflict is no simple real-estate deal.
If Trump gets both sides to the table, however, their talks will soon turn to serious issues. Here, he will run into trouble. Even a quiet construction freeze in the West Bank would be divisive for Netanyahu's coalition, to say nothing of plans to evacuate settlements or divide Jerusalem.
Trump will also arrive to a chilly reception from Israel's defense establishment, some members of which are furious that he shared classified information with the Russian foreign minister in their May 10 meeting in the Oval Office. The material reportedly came from an Israeli source embedded in the Islamic State's self-proclaimed caliphate.
In public, at least, the Israelis have tried to downplay the flap. "The security relations between Israel and its greatest ally, the United States, are deep," Avigdor Lieberman, the defense minister, said. "That is how it always was and how it always will be."
But behind closed doors there have been shouting matches and angry recriminations. At least two former Mossad chiefs, Danny Yatom and Shabtai Shavit, have urged Israel to limit the intelligence it shares with the United States to avoid further leaks. On Sunday, the Israelis abruptly cancelled a dinner at the King David Hotel for visiting American officials that was meant to be hosted by Lieberman.
All of this has ruined what should have been a honeymoon. The stakes are high for Netanyahu, who had testy relations with both Barack Obama and Bill Clinton. This is his first chance in 11 years as prime minister to work with a sympathetic Republican in the White House and a GOP-controlled Congress. "We really do need to get along with him," Zalman Shoval, who served two stints as the Israeli ambassador in Washington, told me. "Otherwise they're going to wonder what we're doing over here in Israel."
There is an irony in all this. For all the public animosity between the two leaders, Obama gave Israel a record $38-billion, 10-year military aid package (the previous agreement, signed by George W. Bush in 2007, was for $30 billion in aid); he also won praise from generals and spies for his efforts to bolster the security relationship. And, aside from a symbolic Security Council resolution in December that condemned Israeli settlements, he offered solid diplomatic support to Netanyahu. Most important, from Netanyahu's point of view, Obama was a useful scapegoat—a way to rein in his right-wing allies. He cited the perceived threat of retaliation from Obama to explain his reluctance to establish new settlements or annex territory.
With Trump, Netanyahu has no excuses, and the political price of indulging the new president could be steep. The prime minister's aides have talked in recent weeks with the Zionist Union, the main center-left party, about the possibility of forming a unity government, one that would exclude Bennett, officials have told me. But the party is skeptical: They held similar talks last year, only to be humiliated by a bait-and-switch when Netanyahu used the threat of a centrist government to lure Lieberman into the coalition. They doubt his sincerity, too, and worry about serving as what one lawmaker called "a kosher stamp" for a doomed peace process.
So Netanyahu may find himself caught between his conservative coalition and the temperamental Trump. The last round of peace talks, which ended in 2014, caused deep cracks in what was then a center-right government. The current coalition—Israel's most hawkish in decades—is unlikely to survive any serious effort to end the conflict.
"Do I topple a government because everything I want doesn't happen? No," Bennett said. "But giving up land is a red line."