Could Trump Be Palestinians' Best Hope?
The search for the "ultimate deal" in the Holy Land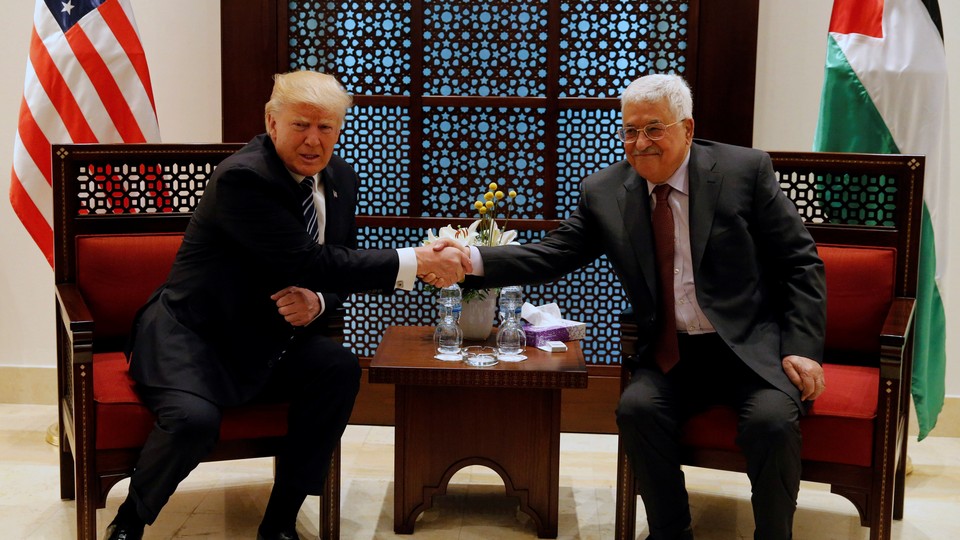 Recent events have left Palestinians in an odd position: The absence of a clear strategy by a U.S. administration to resolve the conflict with Israel may have become the best bet for statehood they've had in years. This, at least, seems to be the thinking of Mahmoud Abbas, the president of the Palestinian Authority (PA), who met with U.S. President Donald Trump in the West Bank city of Bethlehem today.
Only a few months ago, Palestinians feared being isolated by Trump, who had surrounded himself with pro-Israel advisers closely linked to the settlement enterprise, a movement that aims to block the establishment of a Palestinian state by colonizing land in the West Bank. But today, those concerns have given way to hope that the business tycoon many Palestinians regard as a diplomatic novice will actually deliver where his more experienced predecessors have failed. They are betting that Trump's ad hoc style and much-touted negotiating skills could pave the way for a final-status deal and eventual statehood.
Palestinian leaders view Trump's inexperience in foreign affairs and a lack of knowledge in Mideast politics as an asset. In a twist of fate, his seemingly clean slate has breathed new optimism into the Palestinian leadership, which looks to portray itself as a necessary security asset in a lawless region.
"If Hillary Clinton had been elected, the Palestinians would now be meeting with [former Middle East envoy] Dennis Ross to discuss small confidence-building steps in the West Bank," Nathan Thrall, author of the recently released book, The Only Language They Understand: Forcing Compromise in Israel and Palestine, told me. "It would amount to putting a pretty face on basically the same [Israeli] occupation, slightly adjusted, while putting off any potential resolution of the conflict for at least four years."
Palestinian optimism has been further fueled by Trump's talk of an "ultimate deal" to solve the seemingly intractable conflict. So far, and despite his campaign pledge to move the U.S. embassy in Israel to Jerusalem—a move the Palestinians staunchly oppose—it remains in Tel Aviv. Meanwhile, U.S. National Security Advisor H.R. McMaster recently spoke of Palestinian "self-determination," a euphemism for statehood. And on Tuesday in Bethlehem, Trump said he was "truly hopeful" the United States can mediate an agreement between the Palestinians and Israel. These examples have so far exceeded whatever low expectations the Palestinian leadership had, and dismissed their initial fears that the new administration would effectively ignore them.
"The Palestinian Authority leadership felt terrified that they will be completely marginalized, sidelined and neglected," Alaa Tartir, program director of Al Shabaka, The Palestinian Policy Network, told me. "They devoted lots of effort ... and sent delegations to urge Trump to meet Abbas," turning the outreach into something of "a national priority."
Trump's opening to Abbas was an accomplishment in itself: He was one of only a handful of leaders invited to the White House in Trump's first few months in office. On May 3, he stood side-by-side with the new president, beaming with pride, as Trump lauded him for his role in signing the Oslo Accords in 1993. Abbas reciprocated, praising Trump's "leadership, stewardship, wisdom, and great negotiation ability."
But apart from the niceties these two exchanged, there was no U.S. plan to speak of. The two-state solution, the hallmark of the American-guided approach to solving the conflict since the early 1990s, was absent from the talks in both Washington and Bethlehem. Like everyone else, the Palestinians were merely told that Trump would "get it done."
"The leadership did not care enough about the content of the meeting, but rather ... about appearing as an indispensable actor in the region," Tartir said. "Conducting the meeting became an end in itself."
Yet even with the knowledge that Trump does not have a plan, the PA is surprisingly optimistic. "There is no approach, there is no mechanism, there is nothing," Husam Zomlot, the new Palestinian envoy to Washington, told an audience at the Arab Center in Washington, D.C., on May 15.  "We did not discuss or agree on exactly what would be the way forward, but so far the U.S. administration is engaging all sides separately. We believe this might be a good approach."
Abbas himself said his last meeting with Trump left him hopeful, even though he returned to Ramallah without securing so much as a verbal guarantee that Israeli Prime Minister Benjamin Netanyahu would halt the construction of settlements.
According to Zomlot, the Palestinian leadership has already seen an "affirmation by President Trump that he is absolutely keen and interested to mediate towards finding a final deal to the Israel-Palestine conflict." The Palestinian envoy said Trump is "personally committed" and "because he's a non-political person, [he] might actually once and for all disrupt" what he described as a peace industry that perpetuates the status quo.
Other U.S. presidents, Republican and Democrat alike, have let Israeli-Palestinian peace fall prey to their shifting lists of political priorities, kicking the can further and further down the road. Bill Clinton left his more serious peace-building efforts until a scandal-mired second term. George W. Bush saw 9/11 and the wars in Iraq and Afghanistan dominate his time in office. And Barack Obama chose to invest much of his political capital on healthcare reform.
Observers agree that Trump's unpredictability is a primary reason for Palestinian optimism. "For the first time in a long time, they have a U.S. president for whom it is at least possible that he might use U.S. leverage to reach an agreement," Thrall said. "No one in their right mind would bet on that happening. But under almost any other president, the Palestinians could be certain it wouldn't happen. Under Trump, there is a chance."
In February at the White House, while delivering remarks along with Netanyahu, Trump said he can "live with either" a one-state or two-state solution for the Israeli-Palestinian conflict. ("I'm very happy with the one that both parties like," Trump said.) Though for both Israel and the PA, a one-state solution—in which both peoples with equal civil rights would share the land between the Mediterranean Sea and the Jordan River—is a non-starter, the Palestinian political class is thrilled he's taking any interest in talks at all.
The Palestinian leadership "is operating with the same approach and enthusiasm that they had for George W. Bush," Diana Buttu, a former legal advisor to the Palestinian negotiating team, told me. "They place their faith in a new president and when he can do nothing, they place their faith in a second-term administration, [and then again] in a new administration."
Engaging in a peace-making process may offer the PA much-needed legitimacy in the region, but it would do very little to garner support at home. Trump's trip to Israel and the West Bank comes at a time when the PA finds itself increasingly isolated from its constituents. In a recent poll, two-thirds of Palestinians said they want to see Abbas, whose four-year mandate expired in 2009, step down. While his diplomatic accomplishments in international forums have been viewed favorably, the economic instability, Israel's ongoing occupation and ever-expanding settlements, and an internal political schism that has pitted the two largest parties (Fatah and Hamas) against one another have left Palestinians reeling.
Given the depth of their disillusionment, ordinary Palestinians in the occupied territories are not eyeing Trump's trip with much enthusiasm. These days, they are also prioritizing one issue: the plight of thousands of Palestinians languishing in Israeli prisons. Upheaval in the West Bank has been particularly high since 1,000 detainees went on an open-ended hunger strike for better conditions behind bars.
From Nablus to Hebron, the largest Palestinian city, prisoner-solidarity protests, road closures, sit-ins and commercial strikes, have become permanent fixtures of everyday life. Since the hunger strike began, at least two young Palestinians have been shot dead—one by Israeli forces and another by a settler—while protesting near checkpoints and by military prisons in a show of support.
After Abbas and Trump's meeting in Washington, no reports surfaced that the prisoner issue was addressed—something the Palestinian public noted. Even if Trump had planned to discuss the prisoners, his efforts were most likely sabotaged by a group of Republican lawmakers who sent him a letter asking him to pressure Abbas into ceasing payments to the families of prisoners. According to reports, Israel wants Trump to address the issue of the payments, which it deems "blood money." Palestinians, meanwhile, say the funds are a lifeline to families whose breadwinners are incarcerated.
But on Tuesday in Bethlehem, as families of hunger strikers protested at the nearby Manger Square under the watchful eye of PA security forces, Abbas finally raised the issue. "I'd like to draw attention to our Palestinian hunger-strikers," he said. "Their demands are humane and just. I demand from the Israeli government to meet these humane, legitimate demands."
The issue of security coordination also came up at the meeting in Bethlehem, where Trump praised Abbas's commitment "to taking firm but necessary steps to fight terrorism and confront its hateful ideology." While the PA prides itself on its ability to liaise with its Israeli counterparts on security issues, average Palestinians view this relationship as tantamount to policing the West Bank on behalf of the Israeli army. A 2015 poll found that 64 percent of Palestinians in the occupied territories want this coordination to end.
But it is through this security lens that Abbas is positioning himself as a strategic partner with the United States—not only in the fight against Hamas, but also in the international campaign to dismantle the Islamic State. The Palestinian leadership is hoping that on this trip, the Trump administration will recognize its value to regional stability: as a moderate force and a security asset.
While much of the Palestinians' hope for Trump comes from his unpredictability, they have yet to grapple with another facet of his personality: the ability to change course on stated policy at whim. His mercurial temperament could be a serious liability as well if he decides to embrace Israel's right-wing or lose interest in a peace deal a year or two down the road.
"Because Trump has emphasized the fight against ISIS, the PA underlines the importance of its own limited actions against Salafi-jihadists," Thrall said. "But that is an old story. Trump's inexperience and unfamiliarity  … allows for the chance that he will be uniquely impressed by arguments that the Palestinians have been making for some time."