Rediscovering Aleppo and Deciphering the Caliphate: The Week in Global-Affairs Writing
The highlights from seven days of reading about the world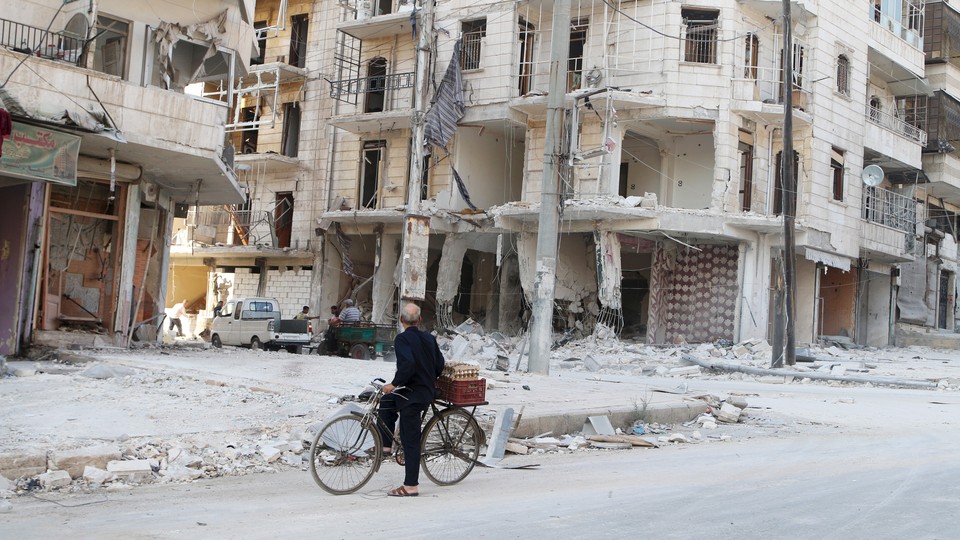 There's No Such Thing As Bad News For Trump's Israeli Fans. Literally.
Miriam Berger | BuzzFeed News
Niran Dishi doesn't know anyone who doesn't love Donald Trump. Since he first saw Trump debating Secretary of State Hillary Clinton on television during the campaign last year "all of my friends and all of my family love him," he said.
But what does he think about Trump's ties to the alt-right? Or the rise in anti-Semitism that has been seen in the United States that some blame on Trump's campaigning style and advisors?
'No, I don't believe it,' said Dishi, a 23-year-old Jewish Israeli construction worker from the south of the country. 'They don't tell this to us… We've heard only good things about [Trump]. That's why we love him.'"
* * *
Aleppo After the Fall
Robert F. Worth | The New York Times Magazine
"In the eastern Aleppo streets beyond Abu Sami's house, little has changed since the December morning when he rediscovered his ruined city. A narrow alley leads to an open area where a 'hell cannon' still sits, the homemade howitzer used by rebels to fire on government-controlled western Aleppo. Beyond it, there are buildings with pancaked roofs, evidence of Russian and Syrian bombs. There are piles of rubble so high that entire streets remain impassable. Throughout the former rebel zone that once proudly called itself 'free Aleppo,' there are hospitals and schools and houses—it goes on for miles—that have been reduced to uneven heaps of stone and broken concrete, where the faint smell of buried corpses still lingers."
* * *
Does the Manchester Attack Show the Islamic State's Strength or Weakness?
Robin Wright | The New Yorker
"Ten hours after Salman Abedi blew himself up outside the Manchester Arena, where the American pop star Ariana Grande was performing, ISIS claimed a grisly attack that killed 22 people and injured dozens more. 'With Allah's grace and support, a soldier of the Khilafah (caliphate) managed to place explosive devices in the midst of the gatherings of the Crusaders in the British city of Manchester,' the group boasted on social messaging apps, in multiple languages. The odd thing—for a group that has usually been judicious about its claims and accurate in its facts—is that it got key details wrong.
The discrepancies were conspicuous—and clumsy. In one early claim, the message referred to a 'security detachment,' as if there were multiple operatives. It implied that the attack involved multiple bombs left on site. It missed the fact that a lone bomb had been detonated in a single suicide operation. It did not refer to a 'martyr,' as it usually does when perpetrators are killed. It did not name or claim Abedi."
* * *
Twitter and Tear Gas: How Social Media Changed Protest Forever
Zeynep Tufekci | WIRED
"As uprisings spread throughout the region, many felt optimistic. The revolutions had not yet turned into military coups, as would happen in Egypt, or bloody civil wars, as would happen in Libya and Syria. Activists were flying high. Digital technologies had clearly transformed the landscape, seemingly to the benefit of political challengers. Rising in opposition to crumbling, stifling regimes that tried to control the public discourse, activists were able to overcome censorship, coordinate protests, organize logistics, and spread humor and dissent with an ease that would have seemed miraculous to earlier generations. A popular Facebook page, created to decry the beating death of a young man by the Egyptian police, had been the forum for organizing the initial Tahrir uprising and had mustered hundreds of thousands of supporters. An Egyptian friend of mine would later joke that this must have been the first time in history when a person could actually join a revolution by clicking 'I'm Attending' in response to a Facebook evite. But such social media sites were important to audiences beyond the protesters; the world also followed the uprising through the Facebook and Twitter posts of young, digitally savvy and determined protesters."
* * *
Jeremy Corbyn Has Defied His Critics to Become Labour's Best Hope of Survival
Gary Younge | The Guardian
"For the past two years, the incantation among mainstream pundits and the majority of the parliamentary Labour party has been that under Jeremy Corbyn Labour offers no opposition to the Tories, and he will eventually destroy the party. Increasingly, though, it seems he could be the party's best hope for survival and renewal, precisely because he has articulated what opposition to austerity might look like.
If this sounds fanciful, one should look elsewhere on the continent for a sense of what Labour's future might have looked like, had it continued on its former path."