Protests in Budapest and Escapes to Canada: The Week in Global-Affairs Writing
The highlights from seven days of reading about the world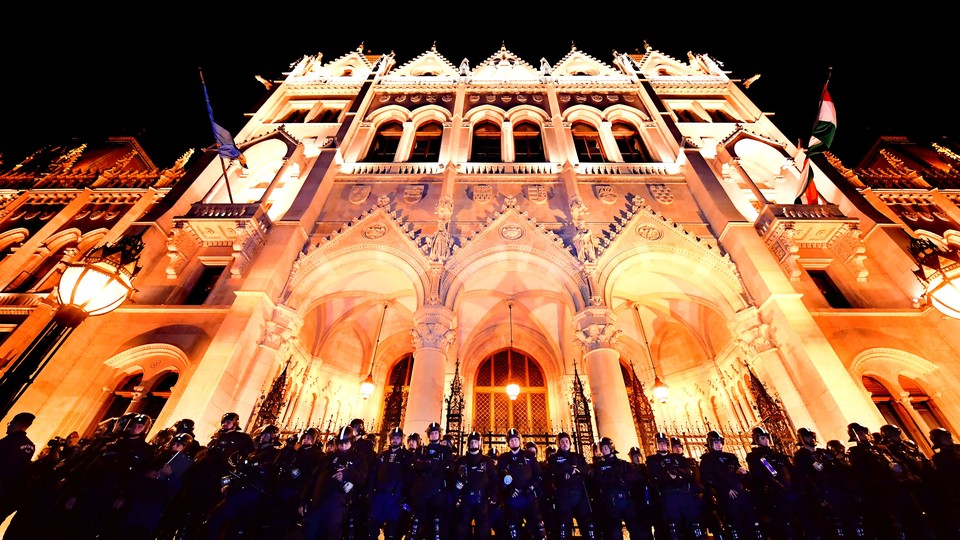 India's Silicon Valley Is Dying of Thirst. Your City May Be Next.
Samanth Subramanian | WIRED
"Bangalore has a problem: It is running out of water, fast. Cities all over the world, from those in the American West to nearly every major Indian metropolis, have been struggling with drought and water deficits in recent years. But Bangalore is an extreme case. Last summer, a professor from the Indian Institute of Science declared that the city will be unlivable by 2020. He later backed off his prediction of the exact time of death—but even so, says P. N. Ravindra, an official at the Bangalore Water Supply and Sewerage Board, 'the projections are relatively correct. Our groundwater levels are approaching zero.'
Every year since 2012, Bangalore has been hit by drought; last year Karnataka, of which Bangalore is the capital, received its lowest rainfall level in four decades. But the changing climate is not exclusively to blame for Bangalore's water problems. The city's growth, hustled along by its tech sector, made it ripe for crisis. Echoing urban patterns around the world, Bangalore's population nearly doubled from 5.7 million in 2001 to 10.5 million today. By 2020 more than 2 million IT professionals are expected to live here."
* * *
What the Last Nuremberg Prosecutor Alive Wants the World to Know
Lesley Stahl | 60 Minutes
"The Nuremberg trials after World War II were historic—the first international war crimes tribunals ever held. Hitler's top lieutenants were prosecuted first. Then a series of subsequent trials were mounted against other Nazi leaders, including 22 SS officers responsible for killing more than a million people—not in concentration camps—but in towns and villages across Eastern Europe. They would never have been brought to justice were it not for Ben Ferencz."
* * *
A Trump Supporter, and His Cab, Play Unexpected Role in Escape to Canada
Melissa Fares | Reuters
"Since Trump was elected, Seymour has had a front seat view of the other side of the immigration debate, ferrying some of the roughly 2,000 people who have crossed illegally into Canada this year.
Most of those border crossers had been living legally in the United States, including people awaiting the outcome of U.S. asylum applications. But Trump's tough talk on illegal immigration has spurred a wave of asylum seekers to leave for Canada, whose government they view as more welcoming to migrants."
* * *
Hungary's Latest Refrain: 'We Will Be Slaves no Longer'
Lili Bayer | Politico EU
"This new generation is entering Hungarian politics, motivated in part by opposition to the current regime—a pervasive feeling that 'we've had enough,' said activist Balázs Horváth Kertész as he sat in the Occupy Budapest tent in the city's Oktogon intersection on a recent afternoon.
Oktogon, situated about halfway between Hungary's riverside parliament and the city's iconic Heroes' Square, has become a symbolic place of resistance to the Orbán government. Young protesters have spent many nights sitting down on tram tracks and halting traffic, holding impromptu dance parties and spontaneous political speeches in the usually busy traffic intersection."
* * *
India Is Building a Biometric Database for 1.3 Billion People—and Enrollment Is Mandatory
Shashank Bengali | Los Angeles Times
"Inside the buzzing enrollment agency, young professionals wearing slim-fitting jeans and lanyards around their necks tapped away at keyboards and fiddled with fingerprint scanning devices as they helped build the biggest and most ambitious biometric database ever conceived.
Into the office stepped Vimal Gawde, an impoverished 75-year-old widow dressed in a floral print sari. She had come to secure her ticket to India's digital future—to enroll in the identity program, called Aadhaar, or 'foundation,' that aims to record the fingerprints and irises of all 1.3 billion Indian residents.
Nearly 9 out of 10 Indians have registered, each assigned a unique 12-digit number that serves as a digital identity that can be verified with the scan of a thumb or an eye. But Gawde came to the enrollment office less out of excitement than desperation: If she didn't get a number, she worried that she wouldn't be able to eat."