Resistance in Russia and Gastronomy in Georgia: The Week in Global-Affairs Writing
The highlights from seven days of reading about the world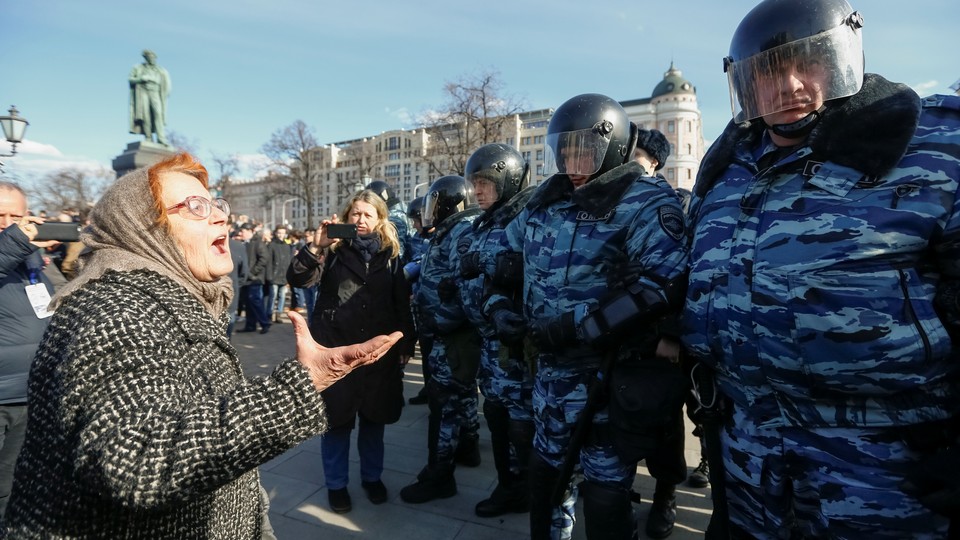 Alexei Navalny on Putin's Russia: 'All Autocratic Regimes Come to an End'
Shaun Walker | The Guardian
"For Navalny, the fortnight behind bars seems to have been an energizing rather than a demoralizing experience. 'There were some others in the jail, and for all of them it was their first protest in their lives,' says Navalny when I meet him in his office in a Moscow business centre. 'When they saw me walking past, they were calling out, 'When's the next protest?' They weren't asking if there would be one, they wanted to know when.'
Navalny, 40, is a lawyer-turned-campaigner whose Anti-Corruption Foundation carries out investigations into the wealth of Putin's inner circle. After some years when he was on the fringes of liberal politics but known for his Russian nationalist views, Navalny emerged as the main opposition leader in the wave of protests that accompanied the build-up to the last Russian presidential election, in 2012."
* * *
Otto Warmbier Has Been a Prisoner of North Korea Since the Start of 2016. Has America Forgotten Him?
Nash Jenkins | Time
"There are five flights a week from Pyongyang to Beijing by Air Koryo, North Korea's state airline, and the earliest leaves at 8:20 on Saturday mornings. If you're one of the several hundred American tourists who defy their State Department's official warning and travel to the authoritarian hermit state each year, this will easily get you to the Chinese capital in time for one of several afternoon flights stateside.
The morning of Jan. 2, 2016, was foggy and cold. The night before, a meteorologist on the state-controlled Korean Central Television said that temperatures the following afternoon might climb to the mid-40s (around 7°C)—a balmy respite after a bitter, snowy week—but at dawn, when Otto Warmbier was heading from the Yanggakdo International Hotel to Sunan International Airport, 18 miles north, thermostats in the capital hovered just above freezing."
* * *
19th Century Princess And Cookbook Author Was Also Georgia's First Feminist
Giorgi Lomsadze | NPR
"Georgian chefs now increasingly consult Jorjadze's book for forgotten flavors, many of them obliterated by the Soviet Union's homogenizing influence. 'Diversity and extravagance were frowned upon in the Soviet [Union],' says Tekuna Gachechiladze, a prominent Georgian chef and restaurateur. 'Daily cooking was reduced to humdrum things like fried, minced meat patties and mashed potatoes, while proper Georgian meals like satsivi were served only on holidays.'
Today, Georgia is having something of a gastronomic renaissance, with restaurateurs improvising beyond staples like walnut paste-stuffed veggies and shashlik. The trend is largely toward fusion and innovation, but it is also about putting history on the menu."
* * *
Venezuela Is on the Road to a Soviet-Style Collapse
Anders Aslund | Foreign Policy
"Venezuela is not the first developed country to put itself on track to fall into a catastrophic economic crisis. But it is in the relatively unusual situation of having done so while in possession of enormous oil assets. There aren't many precedents to help understand how this could have happened and what is likely to happen next.
There is, however, at least one—the Soviet Union's similar devastation in the late 1980s. Its fate may be instructive for Venezuela—which is not to suggest Venezuelans, least of all the regime of Nicolás Maduro, will like what it portends."
* * *
In France's Poor Suburbs, Angry Voters May Skip Big Election
Alissa J. Rubin and Lilia Blaise | The New York Times
"'Don't count on the working-class neighborhoods this year to save France,' said Inès Seddiki, a 26-year-old French Muslim in Stains, whose parents came from Morocco.
Although Ms. Seddiki said she would vote reluctantly for Mr. Macron, she feared she was an exception: 'White people who say 'You have to vote against Marine Le Pen because you will lose more than we will' don't realize that for us, we already live in a racist country.'"