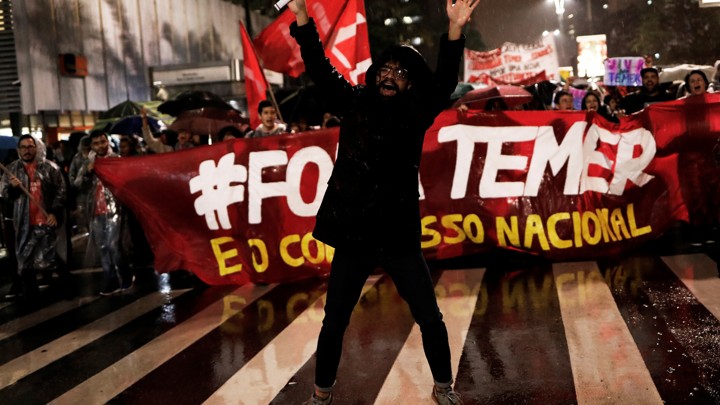 The endless cycle of Washington news has put political America into a kind of Trump-induced fugue state. At some point we'll all wake up and wonder where the past several months have gone. Did anything ... else happen? Why, yes. While the Trump White House's obsession with drama has put on an entrancing show, politics in outside of the West Wing has just kept going. Here are some of the stories you'll want to know when you wake up from your Trump news coma.
The presidential crisis that doesn't involve Russia.
It hasn't been a full year since Brazilians removed Dilma Rousseff from the presidency amid a swirling corruption crisis that has engulfed much of the country's political class. Now the country is contemplating yet another removal of the president, as Michel Temer, the conservative who took over after Rousseff's impeachment, faces new corruption allegations. The Brazilian newspaper O Globo reported Wednesday on a recording alleged to show Temer approving the bribery of a powerful former legislator to prevent him from testifying. Temer is already wildly unpopular, the suggestion that he might leave the presidency early wiped billions off of Brazilian stocks. Temer went on television to declare his innocence, but even if he doesn't step down, Brazil's Supreme Electoral Tribunal is considering a case that could remove him from office. Were Brazil to move to early elections, that would benefit former President Luiz Inacio Lula Da Silva, the highly popular ex-president who became synonymous with Brazil's recent economic rise. Lula wants to run again, but faces a ticking clock in the form of his own corruption allegations, which, if a trial moves ahead before the elections, could see him barred from office. This latest round reshuffles the political deck, and Brazilians are waiting to see what card is drawn next.
Remember that time the U.S. attacked Syria and it was a huge deal?
America just did it again, and barely anyone noticed. U.S. aircraft on Thursday attacked military forces aligned with the Syrian government as they neared a base operated by U.S.-backed rebels. The move was significant; it was the first direct attack on the Assad regime's allies since the Trump administration ordered cruise missile strikes against a regime airbase in April. But while that strike was aimed at influencing the Syrian government, the U.S. claimed this week's airstrike was defensive in nature and did not change the U.S. focus on combating ISIS. "We are not increasing our role in the Syrian civil war," Defense Secretary James Mattis told Reuters. Nonetheless, an increasing physical presence in Syria may lead to more incidents like this as the U.S. comes in closer contact with Assad and his allies. A growing American role in other conflicts has similarly produced more engagement with the enemy. A Navy SEAL killed in Somalia earlier this month was notably moving alongside Somali forces rather than behind them, and under the Obama administration the U.S. used the justification that it was defending allied forces there to justify attacks like the one a year ago that killed 150 Shabaab fighters, no small engagement. The parallel question about Syria is whether the American mission is quietly growing despite the official focus on ISIS.
The most important decision about 2020 has nothing to do with Donald Trump.
It has everything to do with the census. Last week, as attention focused on the firing of then-FBI Director James Comey, the U.S. Census Bureau quietly slipped into crisis when John Thompson, the bureau's director, announced his resignation. The bureau is gearing up for the 2020 population count, a process that has been running every 10 years since 1790, when it was essential to know who counted for one vote and who counted for three-fifths. That same process today determines the allocation of federal resources and, just as important, the distribution of congressional representatives among states. Thompson's departure wouldn't necessarily be cause for alarm, except that not only the job of his deputy but his boss at the Commerce Department are vacant in the Trump administration, so there's no one lead the agency. A concerted effort to win statehouses around the 2010 census has given Republicans an advantage in the House throughout the decade. Should the 2020 process become politically polarized, the result will be even lower trust in the core institutions of democracy.
Are you sick of European elections yet? That's good, because…
Austria sure isn't. The country's presidential election in 2016 became an important component in the narrative of global populist revolts when the far-right Freedom Party's candidate narrowly lost the presidency. That position is largely symbolic, but now the big prize is up for grabs. The country's governing coalition collapsed last week, putting parliamentary elections on the schedule for October. The Freedom Party, an ideological cousin of the French National Front, is one of the major contenders and may end up in a government coalition. Meanwhile, politicians in the Netherlands are still struggling to form a government without the support of nationalist Geert Wilders and his Party for Freedom. Talks fell apart this week after two months of negotiations when the main contenders, led by Prime Minister Mark Rutte, failed to agree on immigration policy.
What would the Marshall Plan look like if it were run by China?
Governments got a chance to find out last weekend when China hosted its first major summit for the Belt and Road Initiative. The plan is a loose grouping of infrastructure projects stretching by land (the "belt") to Western Europe and by sea to India and Africa (the "road"). If you buy China's spin, this is a herculean effort to remake globalization in China's image; the initiative will spur trade and commerce across the Eastern hemisphere for generations. The truth is murkier. A significant number of the projects have turned out to be white elephants, unneeded overinvestments that were pushed through for political reasons. Internationally, European governments surprised China by mounting a united front and refusing to collectively endorse a statement at the summit. India refused to even show up, citing sovereignty concerns over China's plan to work with Pakistan. The North Koreans were invited, prompting objections from the U.S., who sent a national security aide, not a diplomat. Still, despite its troubles, with the U.S. backing off TPP, China's economic strategy for the region is the only game in town.
Think America's immigration debate is bad? Australia is way ahead.
Canberra has long operated the one of the world's strictest refugee regimes. Individuals caught trying to reach the country by sea are held in offshore processing centers and never allowed to locate to Australia, even if they are deserving of refugee protections. Now it is moving to close one of those processing centers, at a site on Manus Island in Papua New Guinea, a name that has become synonymous with poor conditions. (In April, security officers opened fire into the facility after a fight broke out after a soccer match.) Of the 2,000 residents of the facility, some who have been found to be refugees will go to the U.S. under the deal that President Donald Trump famously badmouthed in January. (Foreign Minister Julie Bishop is in the U.S. trying to finally finalize that deal.) For economic migrants, the government is intentionally taking a hard line. If they don't want to go home, they can resettle in Papua New Guinea. Or, as the Australia government put it starkly, "Non-refugees have no other options."
We want to hear what you think about this article. Submit a letter to the editor or write to letters@theatlantic.com.