Saudi Arabia Has High Hopes for Trump
After eight years of Obama, the emboldened kingdom is ready to greet the new president with open arms.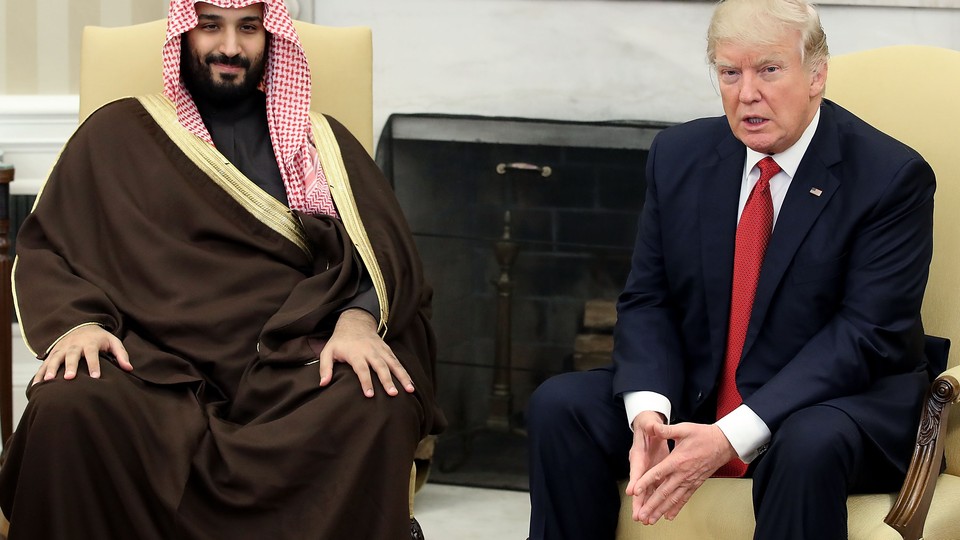 In April 2016, Barack Obama landed in Saudi Arabia for his final visit to the kingdom as president of the United States. Unlike on his previous visits and those of other heads of state, Obama's arrival was not broadcast live on Saudi state television with its usual fanfare. Rather than the Saudi king greeting Obama at the airport, it was the governor of Riyadh. The Saudis were seemingly going out of their way to snub Obama as he entered his final months in office. They were angry at the administration's policies in the Middle East, including a perceived shift toward Iran and Obama's refusal to intervene in the Syrian war.
A year later, the House of Saud is preparing this weekend to host President Donald Trump as he makes Riyadh the first stop on his maiden overseas trip. For Trump, the Saudis have moved to the other extreme. After the White House announced that the kingdom would be the initial stop on Trump's trip, the Saudi daily Okaz published a graphic of every U.S. president's first foreign journey going back to Teddy Roosevelt. (Most modern presidents have visited Canada or Mexico on their first overseas trip.) The paper also ran a triumphant front-page headline, "Saudi First," that listed 10 reasons why Trump chose the kingdom as his first foreign destination. In the lead-up to Trump's two-day visit, they've organized a grand reception for a leader who savors ostentatious displays of wealth and power. The streets of Riyadh are filled with Saudi and American flags, and billboards featuring Trump and Saudi King Salman with the slogan "Together we prevail." The local press is packed with effusive coverage. An official Saudi website for Trump's visit features an online clock counting down the hours and minutes to the big day, under the slogan "Historic summit. Brighter future." The Saudis are also promoting branded hashtags, in English and Arabic, for #RiyadhSummit.
A brash Trump now meets with a newly emboldened and assertive Saudi leadership. For decades, the kingdom pursued a largely behind-the-scenes foreign policy that benefited from economic expansion fueled by booming oil prices. But today, the new king and his inner circle are becoming more aggressive militarily, even as the country struggles economically because of the global collapse in oil prices.
The Saudis have organized three summits for Trump's visit: a meeting with King Salman and senior Saudi princes; a meeting with leaders of the Gulf Cooperation Council, of which Saudi is the dominant power; and an "Arab Islamic American Summit," with leaders from nearly 50 Muslim countries. In one irony, the man who declared during the U.S. presidential campaign that "Islam hates us" will deliver a lunchtime speech on Islam to the assembled heads of state. The White House has billed the address as an "inspiring but direct speech on the need to confront radical ideology and the president's hopes for a peaceful vision of Islam to dominate across the world."
Beyond the pageantry and bombast designed to impress Trump and other Saudi allies, the kingdom is using his visit to project a new confidence after years of tension with the Obama administration. After the administration expended considerable political capital to reach a nuclear deal with Iran in July 2015, Saudi rulers bemoaned that Obama had shifted U.S. foreign policy to be more acquiescent toward Tehran. Obama also reduced direct American involvement in the Middle East, resisting calls to intervene military in the Syrian war and to send a large number of troops to Iraq to fight the Islamic State. Saudi leaders were particularly upset after Obama suggested in an interview with The Atlantic, published before his final visit to Riyadh in April 2016, that they should figure out ways to "share the neighborhood" with Iran.
Many of Trump's weekend meetings will focus on Iran, Saudi Arabia's regional rival, which was not invited to the summit of Muslim leaders. The House of Saud, particularly Mohammed bin Salman, the 31-year-old deputy crown prince, defense minister and king's son, who met with Trump at the White House in March and laid the groundwork for the president's visit to Riyadh, is feeling emboldened. (After their meeting, bin Salman tried to provide cover to Trump's Muslim travel ban, declaring that "Saudi Arabia does not believe that this measure is targeting Muslim countries or the religion of Islam" and calling Trump a "true friend of Muslims.")
Above all else, the current Saudi leadership views Iran as an existential threat and doesn't want to hear admonishments from the United States about sharing the neighborhood. In Trump, the Saudis see a natural ally who—despite his occasional outburst that the United States is losing "a tremendous amount of money" in defending Saudi Arabia—views Iran as the greatest threat to regional security and "responsible for intensifying multiple conflicts and undermining U.S. interests" across the Middle East, as Secretary of State Rex Tillerson put it in a statement in April. The House of Saud appears convinced that it's back in America's good graces—and that the natural order has been restored in Washington and the Middle East.
In return for better relations and Trump's continued hard line on Iran, the Saudis are expected to reward him with a package of weapons deals and several major economic agreements, including a $40-billion investment by the kingdom's sovereign wealth fund in U.S. infrastructure projects. Led by Jared Kushner, Trump's son-in-law and senior adviser, the administration is negotiating up to $110 billion in weapons sales to the kingdom over the next ten years. Although Trump and his advisers are eager to take credit for such a massive arms deal, some of these weapons sales had already been approved under Obama.
In many ways, Trump is offering the House of Saud continuity of Obama's policies, which did not fundamentally change the status quo between Riyadh and Washington. Trump is more eager to provide the Saudis with rhetorical support and to publicly bash Iran.
Despite its supposed turn away from America's traditional Arab allies, and its pivot toward Iran, the Obama administration dramatically ramped-up arms sales to Saudi Arabia and other allies like the United Arab Emirates and Bahrain. From 2010 to 2016, the administration authorized a record $110 billion in military sales to Saudi Arabia, according to the Congressional Research Service. The planned sales include dozens of advanced F-15 fighter jets, Apache attack helicopters, Patriot missile-defense systems, thousands of bombs and other munitions, and hundreds of armored vehicles. Some of these weapons, including the large number of F-15 jets, would take years to be manufactured and delivered to the kingdom, so it was inevitable that the arms contracts would spill over into the next administration.
Since his ascent to the throne in January 2015 after his brother's death, King Salman, an 81-year-old who was regarded as a transitional figure, has pursued a more aggressive foreign policy than his predecessor, King Abdullah, who ruled for 20 years. Abdullah had presided over a proxy war with Iran—a series of battles in Iraq, Syria, Yemen, Bahrain and Lebanon—that have shaped the Middle East since the Bush administration invaded Iraq in 2003. Instead of relying on U.S. military intervention and battling Iran through proxies and checkbook diplomacy as his predecessor had done, Salman and his advisers upended the regional order. After two months in power, the new monarch launched a war against Houthi rebels in Yemen, and appointed his son as defense minister (and deputy crown prince, making him second-in-line to the throne) to oversee the Yemen campaign.
In the fall of 2015, as Russia began airstrikes to prop up Bashar al-Assad's regime in Syria, Salman responded to what he perceived as U.S. inaction by increasing Saudi support for Sunni rebels fighting Assad, who is also an ally of Iran. It was another signal from Salman and his son that they were no longer as reliant on Washington and would take a more assertive role to counter Iran's influence.
The conflict with Iran has defined Saudi foreign policy over the past decade, and it intensified after the Arab uprisings of 2011, when the House of Saud tried to choke off revolutionary momentum in the region. Saudi leaders viewed all Shia politicians and factions in the Muslim world as agents of Iran, attaching an Iranian connection to virtually any regional security issue. Yemen, the latest arena in the Saudi-Iranian proxy war, is a complex conflict with a shifting set of alliances. The Saudis and their Sunni Arab partners want to restore Yemeni President Abd-Rabbu Mansour Hadi, a Sunni, into power. The Houthis, who belong to a sect of Shia Islam called Zaydis, are allied with ex-President Ali Abdullah Saleh, a longtime dictator and former Saudi client. The Houthis are also allies of Iran, but while the Saudis are quick to label them as Iranian proxies, it's unclear how much support they actually receive from Tehran.
But an emboldened Saudi Arabia can only go so far in containing Iranian influence and changing regional dynamics, especially in Iraq and Syria, where Tehran is strongest. In Syria, thanks largely to Russian and Iranian support, Assad now has the upper hand against Western and Saudi-backed rebels. Without a large-scale U.S. intervention, Trump won't be able to shift the balance, and the Saudis will have to accept the fact that Assad is not going away.
And the kingdom is feeling the limits of its aggressive military strategy closer to home. After two years, the Yemen conflict has turned into a quagmire for Saudi Arabia, by some estimates costing up to $200 million a day. Despite intensive air strikes and a naval blockade, the Saudis and their allies still have not been able to dislodge the Houthis from Yemen's capital, Sanaa. The Saudis are loath to give up on the war in Yemen because they perceive a peace agreement with the Houthis as a victory for Iran, which has invested relatively little in Yemen (compared to its investment in Syria, where Tehran has sent billions of dollars in aid and thousands of troops and Shiite volunteers to fight alongside Assad's regime).
The central dilemma for Saudi leaders in their economic and ceremonial wooing of Trump is: can he deliver on what they want most—a rollback of Iranian influence throughout the Middle East, especially in Syria, Iraq and Yemen? It's unlikely that Trump, who is now preoccupied with domestic scandals, can do much better than Obama. In the end, the Saudis will have to figure out ways to share the neighborhood with their rival.