'Protecting Religious Freedom Is a Foreign-Policy Priority of the Trump Administration'
How—and when—will the White House carry out its verbal commitment to protect persecuted minorities overseas?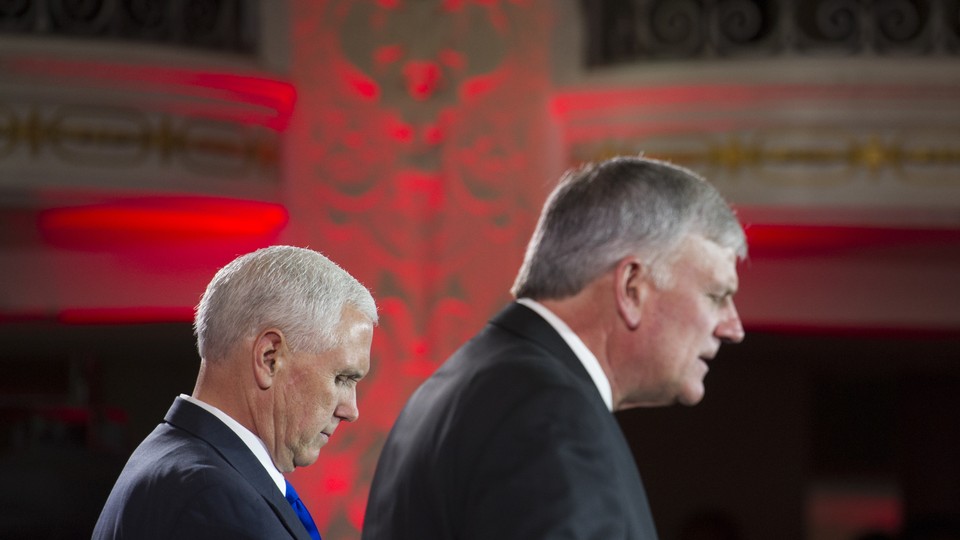 Vice President Pence stood before a packed ballroom in downtown D.C. on Thursday, looking out on an audience of Orthodox priests, evangelicals, Catholics, and other Christians from all over the world. Franklin Graham, the son of the evangelist Billy Graham and head of the international charity Samaritan's Purse, had convened a world summit on the persecution of Christians. Attendee name-tags hinted at the gruesome details of their lives: Persecuted individuals in the room wore badges that read "PP." Pence bowed his head with Graham in prayer, and made a promise: "Protecting religious freedom is a foreign-policy priority of the Trump administration."
Although the White House has made a strong verbal commitment to addressing violence against religious minorities overseas, it is not yet clear how this will play out in the realm of diplomacy. On Thursday, Pence focused on the role of the military in addressing global religious-freedom issues. He emphasized the need to defeat "radical Islamic terrorists," and specifically ISIS, to protect those who have faced beheadings and other violence in the Middle East. America "will not rest, we will not relent," Pence declared, "until we hunt down and destroy ISIS at its source."
The community of policy experts who work on international religious-freedom issues, and particularly those who advocate for persecuted Christians, have been waiting for a message like this for a long time. Behind the scenes, many have been pushing for religious-liberty issues to become a higher priority at the State Department. In the quiet December days after the election, Congress passed a little-noticed law, the Frank R. Wolf Act, to shift the way the State Department handles religion. The law allows government watchdogs to call out people and groups, not just countries, that threaten religious freedom. Most importantly, it underscores that global religious freedom is not just a human-rights issue. The law argues that it's a core part of U.S. national security.
The administration has echoed this argument, particularly with Pence's Reagan-esque speech on Thursday. The administration is "reaffirming America's role as a beacon of hope and life and liberty," he said, declaring that "America was and is and ever will be a shining city on a hill." The vice president's speech was almost like a sermon, observed Johnnie Moore, a former Liberty University vice president who works on religious-freedom issues. It was strong on "evangelical nuance," Moore said, filled with biblical references; over and over, Pence expressed solidarity with "followers of Christ."
During his first month in office, President Trump has also spoken about religious liberty in striking terms. At the National Prayer Breakfast, he spoke of Muslims being "brutalized, victimized, murdered, and oppressed by ISIS killers," threats of "extermination against the Jewish people," and "a campaign of … genocide against Christians, where they cut off heads." This, he has said, is the ultimate reason to fight "radical Islamic extremism."
And yet, when it comes to issues like refugee resettlement and diplomacy, Trump's approach has been mixed. His pending executive order on immigration and refugees directs the State Department to "prioritize refugee claims made by individuals on the basis of religious-based persecution, provided that the religion of the individual is a minority religion in the individual's country of nationality." But it would also bar all refugee admissions from countries where religious minorities have faced intense persecution and violence, including Syria.
So far, the Trump administration has not yet appointed a new ambassador for international religious freedom—the State Department official responsible for tracking and coordinating diplomacy on these issues, a newly elevated role under the Wolf Act. Several Washington officials who work on these issues—including Nina Shea, the director of the Center for Religious Freedom at the Hudson Institute, and Frank Wolf, the former Republican congressman from Virginia who is the namesake of the 2016 legislation—said they believe an appointment is "imminent" and the administration is "ready" to make an announcement. In the new Wolf Act, Congress also advised the administration to appoint a deputy assigned to the National Security Council.
The ambassador position has been around since 1998, when Congress passed the International Religious Freedom Act. That legislation created a religious-freedom office in the State Department and established a separate watchdog body, the U.S. Commission on International Freedom. Both bodies largely exist to make lists: Each compiles an annual report about the status of religious freedom around the world, including countries where it's under threat, and submits those findings for the president's use.
Since the law's inception, these lists have been plagued by their ambiguous status in policymaking. "It was always a frustration that while their monitoring was good, there really wasn't any policy implication," said Shea. "I think that ambassador role was mostly overseeing the reports and making speeches."
"We've been solemnly vowing never again to be silent in the face of genocide, and yet this post seemed almost inconsequential."
Part of this was the structure of the job, but some religious-freedom advocates—liberals and conservatives alike—have complained that various White Houses have not taken the topic seriously. "It was not a priority in a meaningful way under either the Obama administration or the Bush administration," said Katrina Lantos Swett, the former chair of the U.S. Commission on International Religious Freedom, the watchdog agency known as USCIRF. "Everybody likes to pay lip service, but beyond that, the commitment and the seriousness is not as much as I would like to see it."
Especially among conservatives, a major point of concern during the Obama administration was the White House's alleged lack of attention to violence against religious groups in the Middle East. As early as 2014, the State Department faced enormous pressure to declare that ISIS is committing genocide. Eventually, Secretary of State John Kerry made the designation in the spring of 2016. "It was disappointing that the [religious-freedom] office was not able to step up at a pivotal moment in history," said Shea. "This is only the second time in U.S. history that a genocide designation has been made by the government. We've been solemnly vowing never again to be silent in the face of genocide, and yet this [ambassador] post seemed almost inconsequential."
Critics also point out that the religious-freedom-ambassador position has often stayed vacant for long stretches. It took months for the Bush administration to install Ambassador John Hanford, the second person to serve in the newly created role, and his work was "effectively isolated at Foggy Bottom during the Bush years, with little impact on American foreign policy," wrote the Georgetown University professor Thomas Farr in 2009. Obama had already been in office for two years when his first nominee for the position, Suzan Johnson Cook, was confirmed. Cook's nomination was reportedly blocked for nearly a year by then-Senator Jim DeMint, who seemed to believe she didn't have much relevant foreign-policy experience, according to congressional records. (During Cook's eventual confirmation hearing in 2011, then-Senator Barbara Boxer commended her for "traveling to five continents, which I think is a tremendous education," asking, "And is it true you speak Spanish?")
The main evidence that the State Department doesn't take religious freedom seriously is that the United States keeps working closely with nations that have long been tagged by USCIRF as "countries of particular concern," according to advocates.
Saudi Arabia is a prime example. Since 2004, the Commission has repeatedly called out the country for its "uniquely repressive … [restrictions on] the public expression of any religion other than Islam." Typically, that would trigger certain consequences: The president could choose to withdraw development aid, deny the country security assistance, or impose a variety of economic sanctions. Instead, for more than a decade, the State Department has allowed an indefinite waiver on actions against the Saudis. "In the short run, there's always a good argument to not do anything to upset the apple cart, or—pardon my language—piss off somebody you're trying to work with in other arenas," said Lantos Swett.
The "Vice President was saying that America will be that covenant … Tillerson's words were not quite that way."
That's how countries like Saudi Arabia can stay on the bad side of U.S. officials for years and not suffer any repercussions: Religious freedom isn't always seen as a top priority in diplomacy. According to Secretary of State Rex Tillerson, this administration isn't likely to change that status quo. Early in May, he told State Department employees that "if you condition our national-security efforts on someone adopting our values"—including "freedom, human dignity, [and] the way people are treated"—then "we probably can't achieve our national-security goals or our national-security interests." In other words, he seemed to be saying, human-rights concerns shouldn't limit U.S. diplomacy, particularly when it comes to national-security issues.
This seemed to conflict with Pence's message on Thursday, observed Wolf, who introduced the original religious-freedom act in 1998. "President Reagan said that the Constitution and the Declaration of Independence were a covenant," he said. "I think what Vice President [Pence] was saying is that America will be that covenant. … Tillerson's words were not quite that way."
During his tenure as secretary, Kerry attempted to raise the profile of religious-freedom issues. "This is a huge priority within the State Department," he said during a 2015 hearing concerning the role of Rabbi David Saperstein, the latest religious-freedom ambassador. "The last thing he's going to suffer for is lack of access to me, I assure you." Conservative and liberal advocates who work on international religious freedom widely praised Saperstein in interviews, and Wolf credited him with helping to secure the genocide designation against ISIS.
Kerry also created a separate office dedicated to religion, housed right down the hall from his suite on the seventh floor: the Office of Faith-Based Community Initiatives. Its mission, Kerry said when it was created, is "to engage more closely with faith communities around the world. … There is an enormous partnership, I believe, there for the asking." While State Department officials had always worked with religious groups in various ways, there had never before been an effort to systematically establish those relationships in the United States and around the world.
By the end of Kerry's tenure, the two major religion offices—led by Saperstein and Shaun Casey, a seminary professor—had more than 50 staffers between them, Saperstein said. The International Religious Freedom office saw its budget double, he said, and he took part in regular meetings among senior staff and "the specials," as he put it—envoys and ambassadors with a topical area of focus.
The 2016 legislation was not so much about overhauling the position, Saperstein said, as solidifying it. "What the people on the Hill … wanted was to somehow institutionalize it, so that it wouldn't be lost in future administrations who might not have the same commitment or see the same need for this," Saperstein said. "It wasn't a functional change at all." Farr, the Georgetown professor, sees the ambassador's newly elevated role as an important symbol, as well. "While the new status will not convey a magic wand," he wrote in an email, "it will signal to foreign governments, the global victims of persecution, and the American diplomatic corps that, for the first time, an American administration is treating the head of [international religious-freedom] policy as a senior diplomatic official."
If "you write off an entire religion like Islam … it undercuts the ability to achieve goals."
What stands to change most under the Trump administration is the State Department's orientation toward one religion in particular: Islam. "One of the greatest threats today to religious freedom around the world for all groups is Islamic extremism," said Shea. "It should be at the heart of our policy, and [we should be] looking at the national-security implications of this." Pence echoed this in his Thursday speech.
Saperstein sees this single-minded focus on Islam and religious persecution as a major shift. "Preferencing religious persecution over ethnic persecution or racial persecution is a change in our policy that I don't think represents our values or our interests," he told me. He also sees potential danger in the rhetoric around Islamic extremism. "To the extent that you write off an entire religion like Islam and everyone connected with it," he said, "it undercuts the ability to achieve the very goals that such rhetoric is hoping to achieve." Lantos Swett also worried that a focus on global religious freedom might "run into a certain tension" with advocacy for LGBT rights around the world.
It's not clear what will happen at State, especially when it comes to the faith-outreach office Kerry created. As with any plum diplomatic position—especially one that's recently been elevated by Congress—there has been some jostling in Washington over who will get the ambassador role. Early rumors suggested Ken Starr, the former U.S. solicitor general who carried out the Monica Lewinsky investigation under President Bill Clinton, might be in the running. But several people who work on these issues told me they were concerned about how his confirmation process might go, due to his highly politicized and controversial career. The latest rumor, shared with me by roughly half a dozen policymakers, is that Kansas Governor Sam Brownback will get the post. The White House did not respond to a request for confirmation.
Whoever gets the job, he or she will help determine whether the administration can actually carry out its big promises on religious freedom. And the timing is urgent: Shea said she's heard from religious leaders in the Middle East who are running out of food and medicine for fleeing populations. "Right now, the infrastructure is not there to turn [Trump's] principles into action," she said. "By the time that gets settled … these Christian communities and Yazidis will disappear."