Putin Offers to Provide a Transcript
Moscow says it will give the U.S. Congress evidence Trump didn't reveal highly classified information to top Russian officials.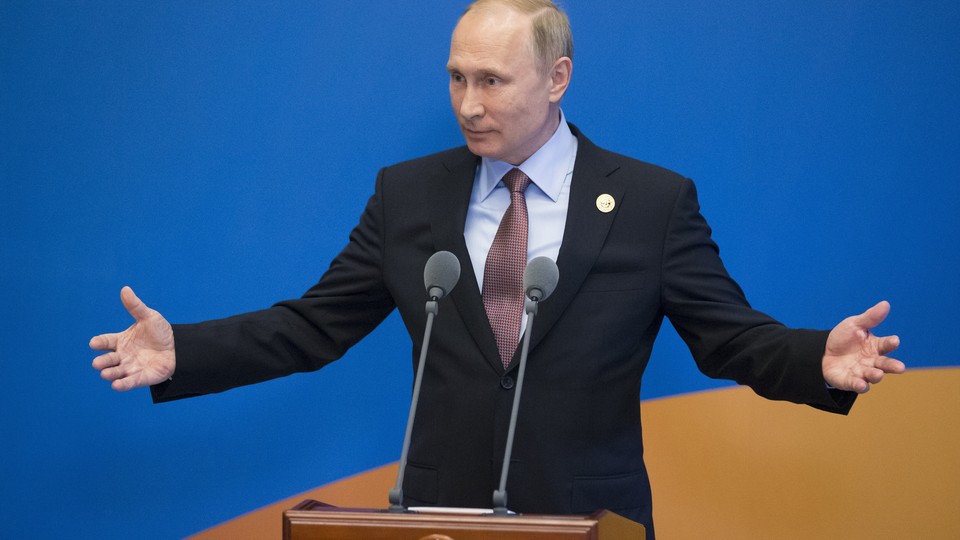 Vladimir Putin just wants to help.
The Russian president offered Wednesday to provide transcripts of President Trump's Oval Office conversations with Foreign Minister Sergey Lavrov and other top Russian officials last week to the U.S. Congress if necessary, during which Trump reportedly disclosed highly classified Israeli intelligence.
According to CNN, Putin made the offer during a press conference in Moscow, saying a transcript could be provided "if the U.S. administration finds it appropriate."
It's hard to imagine a more awkward time for Putin to offer Trump his assistance. Those conversations came one day after Trump suddenly fired FBI Director James Comey, who was overseeing the federal investigation into whether the Trump campaign colluded with Russian intelligence officials to undermine Hillary Clinton's candidacy in the 2016 presidential election.
The optics for the White House went from bad to worse on Monday when the Washington Post reported Trump had disclosed highly classified intelligence about ISIS to top Russian officials during the Oval Office meeting. That intelligence reportedly came from Israeli clandestine sources, which would violate a longstanding international norm against sharing an ally's intelligence with a third party without their consent.
Putin came to Trump's defense on Wednesday, describing U.S. media reports that Trump inappropriately disclosed classified information to Lavrov as "political schizophrenia."
The U.S. intelligence community concluded in December that the Russian government orchestrated the cyberattacks targeting Democratic Party infrastructure last year. Moscow, for its part, strongly denies any malign influence in the American election.