Obama's Endorsement of Macron
The former U.S. president said he wasn't planning on getting involved, but that the French presidential election was too important.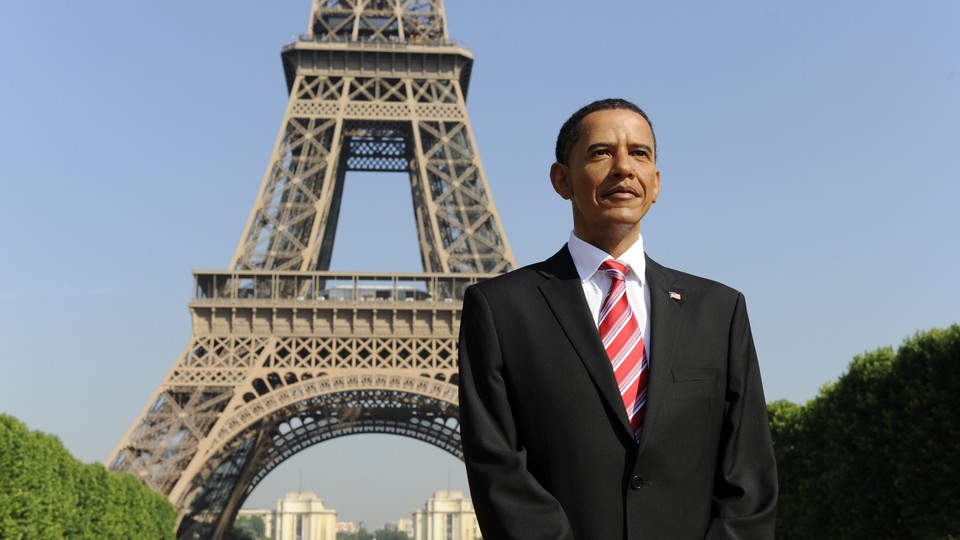 Former U.S. President Obama announced Thursday he is supporting Emmanuel Macron for the French presidency, noting that though he did not plan to get involved in many elections after his presidency, "the success of France matters to the entire world."
The endorsement comes three days ahead France's presidential runoff Sunday: Macron, the independent centrist who won the first round on April 23, is up against Marine Le Pen, the far-right leader, who finished second. Polls suggest Macron will win by a wide margin, though abstention could affect the outcome.
Obama said Macron "stood for liberal values" and "put forward a vision for the important role that France plays in Europe and around the world," adding in an apparent reference to Le Pen that Macron, 39, "appeals to people's hopes and not their fears."
As Emily Schultheis noted in The Atlantic last month, Obama and Macron's campaigns share plenty of similarities. Like Obama, Macron relied on a large and seemingly unprecedented grassroots campaign composed of thousands of volunteers across the country. Both leaders's campaigns were centered on moving their countries in a progressive direction—Macron's slogan being En Marche, or "Onward!," while Obama relied on the slogans "Change We Can Believe In" and, for his reelection campaign, "Forward."
It's an association that Macron's campaign has embraced. Last month, En Marche released a video of the former president wishing their candidate  "good luck" ahead of election's first round of voting, during which Macron said he looked forward to discuss how to "work together" in the future.
Though it's highly unusual for U.S. presidents to endorse other countries's candidates in their elections, Obama isn't the only one who has voiced his opinion on the French presidential contest. When a terrorist attack hit Paris just days ahead of the election's first round, President Trump took to Twitter to predict that the incident would "have a big effect on presidential election!" and told the Associated Press that while he would not endorse any candidate, he believed that "whoever is the toughest on radical Islamic terrorism and whoever is the toughest at the borders will do well at the election"—an apparent reference to Le Pen, who shares some of the same ideology as Trump's advisers.
It's unclear if Obama's endorsement of Macron will affect French voters. His popularity in Europe and the U.S. notwithstanding, his apparent support of the "Remain" campaign during the Brexit vote, as well his endorsement of Hillary Clinton in the U.S. presidential election, did not have the desired impact. Obama has also said he'd vote for German Chancellor Angela Merkel if he could. She's up for re-election in the fall.