Terror Returns to Britain
Geographic isolation from the rest of Europe doesn't protect Britain from homegrown threats.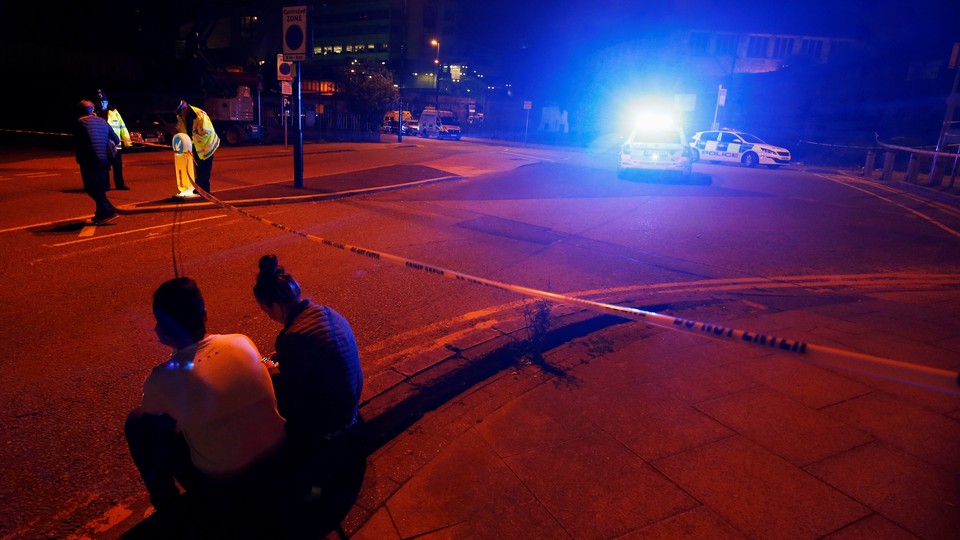 Mark Dormand, a 35-year-old graphic designer born and raised in Manchester, went to sleep on Monday night hoping all the sirens he heard heading toward the city's arena signified nothing but a precaution, that the loud noise everyone seemed to be talking about had just been the sound of one of Ariana Grande's many pink balloons bursting under the feet of her enthusiastic young fans.
When Dormand awoke on Tuesday and checked his phone, he saw that friends in far-flung places already knew much more about what had happened in Manchester the night before than he did. Twenty-two people attending Grande's Monday night performance at Manchester Arena were killed when an improvised bomb went off in the foyer of the concert hall; among those murdered were 8-year old Saffie-Rose Roussos, who was attending the performance with her mother and older sister, 18-year-old Georgina Callander, and 26-year-old John Atkinson. Many concertgoers, including young children, remain missing; of the 59 people being treated for injuries, 12 are under the age of 16. Police identified the attacker as Salman Abedi, a 22-year-old man of Libyan descent who was born in Manchester.
"I feel kind of numb … It's been a weirdly sunny day in Manchester—the streets are quite busy," Dormand told me. "It's a weird thing to be proud of, but the blood banks are saying they have enough blood. Everyone's being nicely defiant."
Holly Cruise, an analyst who has lived in Manchester for nine years, woke up not knowing whether it was safe to go into the office. "Waiting to hear from work if they want us to come in or work from home. Totally prepared to go to the office if allowed," she tweeted. When she got into the office, she arrived to find a subdued atmosphere. Her colleagues were sharing what they had heard and seen the night before.
In Paris, Brussels, and Berlin, these disorienting mornings may seem all too familiar. When three gunmen killed 89 people during a rock concert at Paris's Bataclan theater in November 2015, people woke up to find that too many of their loved ones still hadn't returned from the night before. Then as now, people searched for the missing on the ground and online. When in March 2016 bombers struck the Brussels airport, employees woke up uncertain if they were expected to come into the office; some of those who made their way in were killed in a second bombing that hit a central metro station.
As terrorist attacks hit the European continent over the past year—in Nice, Berlin, Stockholm, and St. Petersburg—Britain had remained largely unscathed. After voting to definitively break with the EU, it was as if the nation was, for a time, able to take comfort in its geographic and political isolation, to indulge in the illusion that the coming severing of ties with the continent, introducing harsher border controls, and slashing immigration, while maintaining rigorous surveillance and enforcing a controversial counterterrorism strategy, would keep it insulated.
Of course, officials warned that the U.K. would, eventually, be targeted. In August 2014 the official threat level was raised to "severe," meaning an attack was "highly likely"; on Tuesday evening, it was raised to "critical." The March attack on Westminster, which killed five people, shook London. Yet its relatively limited scale and narrow, political target, allowed it to be quickly described as the attack that "security chiefs have long been preparing for"—an example of the nation's readiness. When police thwarted a similar attack on Westminster last month, it may have seemed the country was safe.
On Tuesday, authorities were quick to call the explosion a suspected terrorist attack; by mid-afternoon on Tuesday, the Islamic State had issued a statement taking responsibility for the apparent suicide bombing, the worst terrorist attack to hit the U.K. since the July 7, 2005, rush-hour attack on the London transport system, which killed 56 people. Observers compared the carnage to the 2015 attack on the Bataclan, both sites of the needless slaughter of young people enjoying moments of freedom and fun.
Manchester is a highly multicultural city, with a large student population and the country's largest community of Libyans. The city voted overwhelmingly to remain in the EU and has a long history of resilience and inclusion, a history that the country at large might learn from. In 1996, the Provisional Irish Republican Army detonated a 3,300-pound bomb in the city center, leveling the heart of the city. The attack, known as the Arndale bombing, shocked the community of Mancunians, the term for those from Manchester. No one was killed, but 202 people were injured.
"I was a teenager when the bomb went off in 1996, and I remember the completely shattering impact that it had on a lot of people. It's something that's very key in the Mancunian consciousness, in the way the city has grown and developed," 34-year-old Christina McDermott, who grew up in south Manchester and lives in nearby Liverpool, told me. The Manchester Arndale Shopping Center was evacuated on Tuesday afternoon in an event unrelated to the bombing, police said.
At a moment when the city could have turned against its resident Irish population, blaming them for the bombing, officials "made the effort to dissociate the Irish from the IRA," Cruise, who is British-Irish, wrote on Twitter, sharing a friend's memory of the events. "They never blamed us. Wikipedia lists the anti-Irish incidents cos [sic] they were so few in number. Manc[unians] knew that ordinary Irish [were] not to blame."
Monday's attacker, Salman Abedi, was part of Manchester's Libyan community, an integral part of the city's fabric. He attended a moderate mosque that held weekly open days for non-Muslims to engage with its community, according to The Guardian. While some community members who knew him as a quiet, respectful boy, were shocked by the news, others said they had seen the "hate" within him. While detail about the plot, including his motivation and whether he had help from others, remain unclear, his horrific act is a stark reminder that in the U.K., disaffected Muslim youth can face marginalization comparable to that of their peers in Europe.
In the aftermath of Monday night's bombing, Mancunians pooled their resources: Cafés opened their doors, restaurants sent donations to those still searching for their families, taxis offered free rides, and residents opened up their homes to the stranded.
"I want to say I'm surprised, but I'm not, because I'm Mancunian," McDermott said. "There's a reason why our symbol is the worker bee—that's the ethos of Manchester—people will work together to look after our own." That, Dormand said, is "definitely the mindset of Manchester. It always pulls together and looks after itself," he said, recalling how after the 2011 riots in the city, "everyone came out to clean the streets to find the council had already done that."
And so the city is pulling together again, even after the news that the attacker was one of its own. "The Muslim community is a huge and important part of Mancunian life," said McDermott. "I think as a city we're better than blaming a community for one person's complete and utter idiocy.
"We owe it to our city's past, present, and future to protect all our ordinary people," Cruise wrote. "We did it with dignity last time. We can do it this time."