The Problem With Calls for 'Resilience'
Why shouldn't a community fear random violence?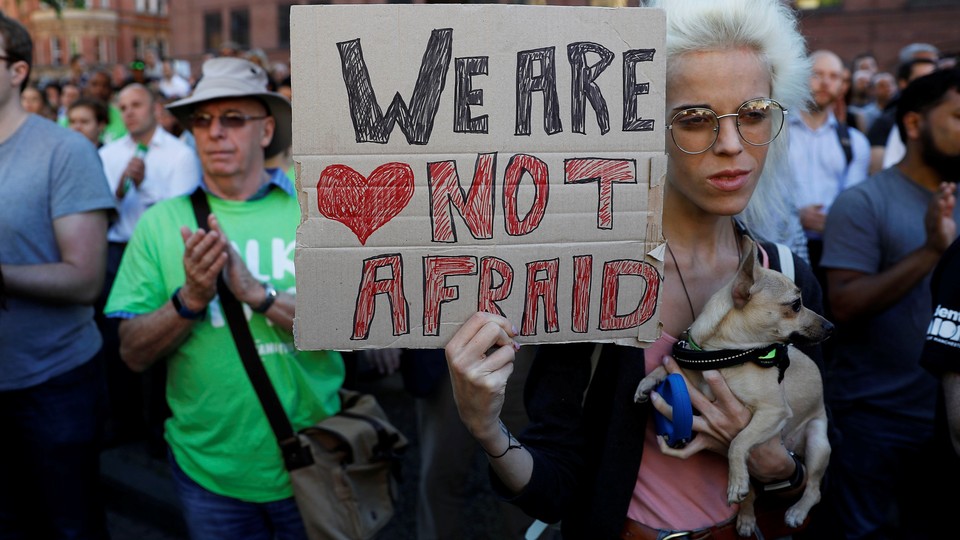 In the wake of a terrorist attack like Monday's in Manchester—and the far too many others around the world recently—press coverage can follow a particular pattern. There's the immediate scramble for detail; the death toll that ticks gradually upward; the testimonies pouring in from the scene and the descriptions of the truly brave and compassionate members of the community who pull together to support total strangers in their suffering. There are the searing biographies of the innocents cut down, which somehow always seem to command less attention than that of the killer or killers and his troubled life, centered as it is on the fascinating question of "how could he do such a thing?"
Then there are the urgings for calm, from politicians as well as faraway essayists. "I would urge all Londoners and visitors to remain calm and vigilant, and to report anything suspicious to the police," London Mayor Sadiq Khan said Wednesday, as the U.K. raised its terror-alert level to critical. Writing in the South China Morning Post, Rachel Blundy said, "The road to healing is long and unsteady, but I know that Manchester's spirit is ultimately unbreakable." And in The Guardian, Owen Jones wrote:
And, inevitably, there are vultures driven by hatred already circling over this atrocity, and they will respond just as the terrorist wanted them to. But we have a choice. When the names of the dead emerge, and the loved ones share with us who they were and what they were like, let's all remember just one. Let's celebrate the warmth and talent of Manchester. Let's emphasise all the things that unite this diverse society, and reject those who urge us to do otherwise. And let's be mindful that whatever twisted motive was used to rationalise slaughtering laughing teenagers and children, Manchester will always overcome.
These messages, which have emerged following the attacks in Paris, Brussels, San Bernardino, Orlando, various German cities, London, and now Manchester, are rooted in goodwill and concern, but they generally give too little weight to the very basic emotions terrorism can inspire in its victims: fear, anger, and often justifiable hatred for the terrorists.
I came of age in Mumbai in the 1990s, a city where life was punctuated by everyday horrors, the occasional deadly religious riot, and, in March 1993, serial bomb blasts in various locations that killed 257 people. Those blasts, which were carried out as retaliation for religious riots in which Muslims were targeted, remain the deadliest carried out in the city, which has witnessed more high-profile carnage in the years since. Terrorism on that scale was new to us—not to mention something that happened in other places.
We received word of the blasts quickly—even though it was before the era of 24-hour news coverage. Our biology exams were postponed, and we were told to stay indoors. Rumors spread of additional explosions, there was palpable fear, as well as grief for what had happened to our city. And yet Bombay, as the city was still known then, sprang back to life almost immediately. Newspapers lauded the city's resilience; they cited the famed "Bombay spirit"; they, and we, reveled in self-congratulations. And then it happened again and again and again—and those were just the major ones. On each of those occasions, there were calls for calm, calls for resilience, calls for not letting terrorism win. I don't know whether people were still paying attention at that time, but Mumbai did bounce back, leaving few traces of the previous day's events.
President Bush echoed such sentiments nearly a decade later after the attacks of September 11, 2001, urging Americans to "go about their business. We cannot let the terrorists achieve their objective of frightening our nation to the point where we don't conduct business, people don't shop. That's their intention." Other leaders have followed in the years since then as militants have struck cities from Sydney to Islamabad to Madrid, and beyond.
These are worthy sentiments: After all, who can argue with calls for calm in the wake of an attack, so that innocent individuals who may share a name, a faith, or a resemblance with a suspected attacker is safe? Who would oppose the idea of resilience so a city or a community bounces back stronger from the terror inflicted upon it? Who, in short, wants the terrorists to win?
But those questions have no answer for a fundamental reality: Terrorism is not normal—even if it now occurs with a frequency that makes it seem so. And it can be simultaneously completely true and completely unreassuring that people are far more likely to be killed in a car crash than a terrorist attack. Raw numbers matter, but so does intent: Cars aren't out to destroy communities and cut down innocents. Car crashes aren't targeting young women at an Ariana Grande concert. Terrorists kill innocent people in horrific ways, bring untold grief to their families, and tear communities apart. Empathy with its victims means acknowledging the very real fear, anger, and, often, loathing people feel after a terrorist attack.