Macron's Win: The Center Holds Firm in France
Independent centrist Emmanuel Macron beat out far-right Marine Le Pen with 65 percent of the vote.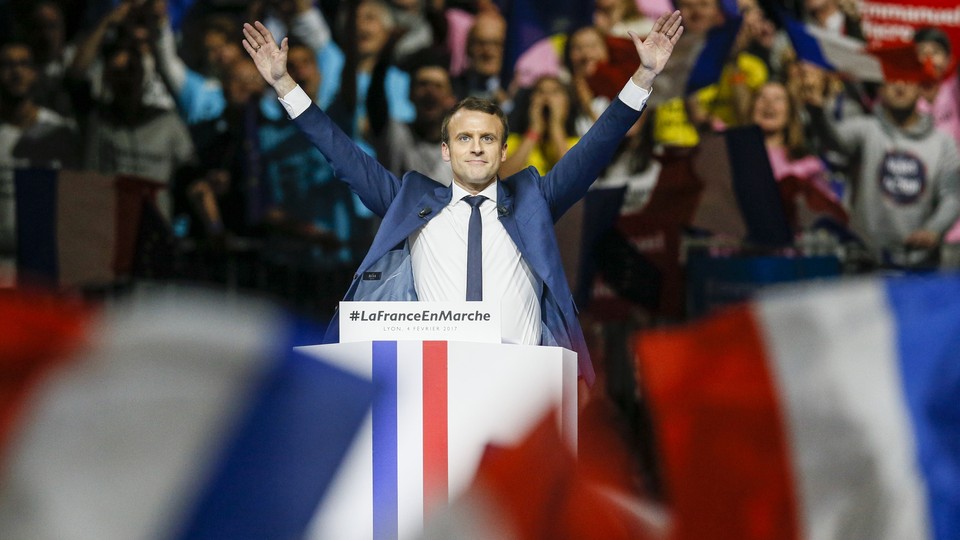 French voters handed Emmanuel Macron, the independent candidate, a decisive victory in the presidential runoff Sunday over Marine Le Pen, the far-right candidate, buoying Europe's political establishment that had watched with despair as populist movements threatened to derail the European experiment.
Macron, 39, who had all but been endorsed by Europe's leaders after his first-round victory on April 23, earned 65.5 percent of the vote, according to early exit polls; Le Pen won 34.5 percent—slightly lower than polls had predicted. The polls projected Macron would win approximately 64 percent of the vote. Voter turnout was 74 percent by the time polls closed at 8 p.m. local time, markedly lower than the 80 percent that turned out in 2012. Approximately 4 million blank votes were cast.
Not only is Macron the youngest president in French history (he's a year younger than Louis-Napoléon, Napoléon Bonaparte's nephew, who was 40 when he was elected in 1848), he is also the first president in modern French history who does not belong to a major political party. Despite briefly serving as economy minister under outgoing Socialist President François Hollande, Macron quit the government in August 2016 to launch his own independent party, En Marche!, which he said aimed to "reconcile the two Frances that have been growing apart for too long."
"A new page of our long history is turned," Macron said in his first statement after the results were announced.
Macron's victory brings an end to a presidential contest labeled a rebuke of the political establishment. Both Macron and Le Pen cast themselves early on as outsiders who are far removed from the established parties that have ruled France for decades. It's an anti-system characterization the two attempted to use against one another—Le Pen derided Macron during the final presidential debate as a Hollande 2.0, whereas Macron cast Le Pen as "the heiress of a name, of a political party, of a system that has prospered for years and years on the back of French people's anger," in apparent reference to her National Front (FN) party, which has maintained a fringe presence in French politics for most of its 45-year history. But Le Pen was able to capitalize on French disaffection with the existing political system, an erosion of the parties that once championed the working classes, and the notion that something fundamental—foreign—ails France.
Addressing her supporters in Paris, Le Pen said the country had "chosen continuity" and wished Macron "success in the face of the immense challenges facing France." She added that her party must renew itself "to form a new political force."
Hollande, the outgoing president, congratulated Macron on his victory, which he said "confirms that a very large majority of our fellow citizens wanted to gather around the values of the Republic and mark their attachment to the European Union as a gateway for France to the world."
Macron's victory is merely the first step of his efforts to govern France: He must now turn his focus to the next month's parliamentary elections, during which voters will return to the polls to elect members of the National Assembly, the country's lower but more powerful house of parliament. The election is particularly important because it will likely determine who becomes Macron's prime minister, an individual who almost always comes from the party that controls the chamber.
Although Macron's young party doesn't hold any parliamentary seats—making the chances of him commanding a legislative majority or having a premier from his party less likely—it won't be that way for long. The centrist candidate has vowed to field candidates for all 577 of the chamber's seats, pledging not to make "backroom deals" with other parties and instead putting forward a diverse pool of candidates, half of whom he said would be new to politics.
It's an ambitious goal that polls suggest Macron may be able to pull off. A Wednesday poll by OpinionWay-SLPV Analytics puts Macron's En Marche on track to win between 249 and 286 seats in the National Assembly, making it the largest party but just short of a majority. Centrist and conservative parties are expected to win between 200 and 210 seats, while the Socialists are projected to have the greatest loss, slumping from 280 seats to between 28 and 43 seats. Conversely, the far-right FN is anticipated to win between 15 and 25 seats, a marked increase from the two seats it now has.
Though Le Pen's electoral defeat follows similar far-right populist losses in Austria and Netherlands, the ideological surge is far from dead. Indeed, while Le Pen may have lost the presidency, she also boasted her greatest political performance to date. Not only did she nearly double her 18-percent finish in the 2012 presidential election, but she also managed to take her father's historically fringe party and, for perhaps the first time in its decades-long history, push it into the political mainstream. Should the FN win as many seats in the legislative election's as polls suggest it might, Le Pen could enjoy another five years of being in the opposition before trying for the presidency again in 2022.
Such a result demonstrates neither the rise nor fall of the populist wave, but rather, the disintegration of the political establishment as we know it. As my colleague Uri Friedman noted shortly before the first round of the French contest:
A disaffected and discouraged citizenry isn't just a boon for populists, who condemn the "establishment" and ease worries about the future with nostalgic appeals to past greatness. It also has consequences for left-right politics. If you lack confidence in the government in general, you're unlikely to distinguish much between left, right, and center. If you doubt that your future is bright, you're unlikely to be satisfied with the same old ping-ponging policies of the center-right and center-left.
As Macron assesses the task of governing and Le Pen revels in her unprecedented performance, France will confront a future with its two traditionally main parties—the Republicans and the Socialists—being eclipsed, many of the issues that have made this election a contentious one—immigration, terrorism, employment—still relevant, and a legislative election that's likely to be as rancorous as this one.