Marine Le Pen's Real Victory
Her National Front party may have lost on Sunday, but its political future is bright.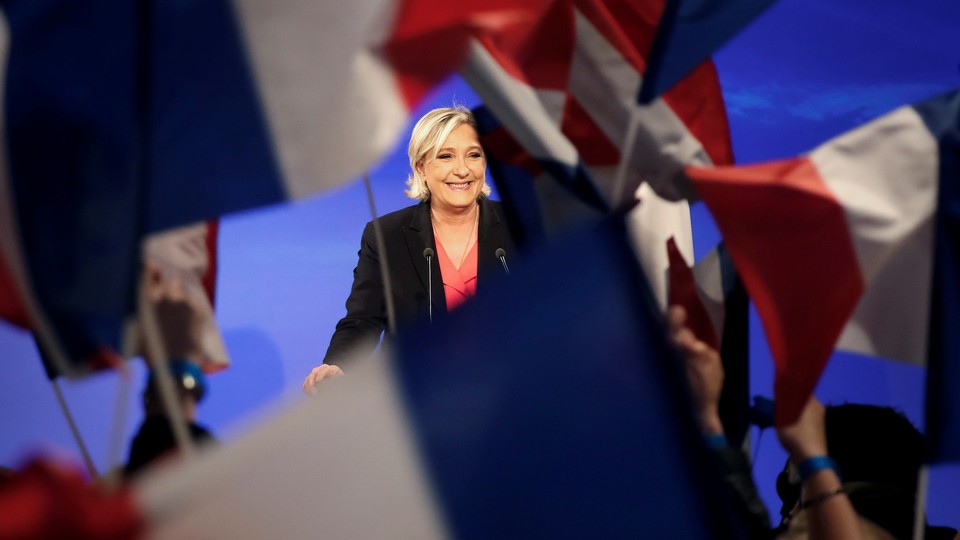 PARIS—Sunday was undoubtedly Emmanuel Macron's night. In a race watched around the world and billed as a fight for the future of Europe, the 39-year-old centrist candidate, who started and grew his own party in just over a year, defeated the National Front's Marine Le Pen by a wider-than-expected 30-point margin. "What we've done, for so many months, has no precedent, no equivalent," Macron said, speaking to thousands of supporters in front of the famous pyramid at Paris's Louvre Museum on Sunday night. "Everyone told us it was impossible, but they didn't know France."
Meanwhile, elsewhere in Paris, Le Pen was conceding the race, vowing a "deep transformation" (and, aides suggested, potentially a name change) for her far-right populist party. "The National Front ... must deeply renew itself in order to rise to the historic opportunity and meet the French people's expectations," she said, vowing to make her party the primary opposition to Macron in what she called a battle between "patriots" and "globalists."
Observers across the West may say Macron's big victory signals the definitive end of far-right populism in France. Coupled with the defeat of the far-right Freedom Party's candidate in December's presidential election in Austria, as well as the middling performance of the Dutch Freedom Party's Geert Wilders in March, it's certainly clear that right-wing European populists have had a tough time translating their fervent movements into political victories.
But writing a political obituary for Le Pen's National Front would be foolish. While she did not win the presidency, Le Pen accomplished much of what she set out to do. In just over five years, she has transformed the National Front from an archaic fringe party into one that many voters consider an acceptable mainstream option. With an estimated 35 percent of the vote, she earned the party its biggest-ever vote share in a presidential election, nearly doubling the 17.8 percent her father got in the 2002 presidential election. In spite of this loss, Le Pen has set the National Front up for potentially unprecedented victories in the French parliamentary elections next month—and perhaps bigger ones in the months and years to come.
Le Pen's most notable accomplishment is her dramatic expansion of the party's base, broadening its appeal in a way her father, Jean-Marie Le Pen, never could during his nearly 40 years leading the National Front, a process that involved quite literally throwing him out of the party and working to expel its other anti-Semitic elements (the party's still very open xenophobia toward Muslims notwithstanding). Under Le Pen, the National Front shifted its focus to issues like immigration, terrorism, and anti-European Unionism, while avoiding hot-button social issues popular among its conservative Catholic base such as abortion and same-sex marriage. (That said, the recent revelations about Jean-François Jalkh, the man Le Pen chose as her interim replacement as party president, and his skeptical comments about Nazi gas chambers during the Holocaust, are a reminder that this image change may have been more superficial than substantive.)
This strategy allowed Le Pen to expand beyond the more conservative Mediterranean coast and the southern parts of France, where Jean-Marie Le Pen thrived and where the party's supporters had previously been concentrated. Her new message appealed to working-class voters in France's industrial north, often referred to as the country's own "Rust Belt." These areas have suffered most in the economic downturn and seen an influx of new immigrants.
Even beyond those who enthusiastically supported Le Pen throughout the campaign, she was able to serve as an acceptable second choice for many voters, unlike her father: She went from 21.3 percent support in the first round to just under 35 percent in the second round. (Her father, by comparison, increased his support between the first and second rounds by only about 1 percentage point.) The idea of the so-called "Republican Front" that helped vanquish the elder Le Pen so decisively in 2002—the voters for all the mainstream parties who, in theory, would band together to oppose Le Pen in the second round—did not fully hold up this year. Exit polling found that an estimated 20 percent of those who backed center-right candidate François Fillon in the first round voted for Le Pen, for example, despite his explicit plea for them to vote for Macron.
"Many within the party will see [Le Pen's performance] as a success," Dorit Geva, an expert on gender and the National Front at Central European University, told me several days before the run-off. "The people I've had contact with have assumed that she [would] not win the election. ... And for them it fits into this longstanding narrative that it has to do with the structure of the elections process, which is designed to always discriminate against the National Front."
That relative success is likely to continue in June's legislative elections, where all 577 seats in the National Assembly are up for grabs. Currently, the National Front holds just two spots; while no one expects the party to gain a majority, experts suggest it could win as many as 60 seats this year. Given Le Pen's desire to turn the National Front into a real governing party, securing a solid block in the parliament could be a way for her party to prove it is capable of legislating. And given the challenges Macron's brand-new party will face in winning a legislative majority, there is an opening for other parties to pick up seats.
The National Front's plans also go far past this election. At a meeting for new National Front supporters in the Rhône-Alpes region of France last November, Geva said, the party members were already discussing their plans for the 2019 European Parliament elections and the 2020 municipal elections. In addition, the National Front's gains in regional elections in 2015 suggest there could be more room for growth for the party at that level, too.
Add to that the fact that the National Front has a loyal and active following among the French youth, and there is a real sense that, even after its loss, Le Pen's party will continue to find support after 2017, and potentially put up an even stronger fight in the 2022 presidential election. In the first round, exit polling estimated Le Pen won 21 percent of 18- to 24-year-olds and 24 percent of 25- to 34-year-olds. (In the second round, youth support appeared to mirror the overall results: Ipsos exit polls suggested Macron won about two-thirds of 18- to 24-year-olds, while one third went for Le Pen.) The Front National Jeunesse, or the youth wing of the party, has kept young supporters active in the party, and many young members have run—and even been elected—as National Front candidates at the local level. Le Pen and her team have made a deliberate effort to involve and empower young people in the party. While the full list of legislative candidates is not yet available, it's likely that some of the party's younger members will be included.
"It's not just a coincidence. It's the result of a long-term strategy that has worked so far," Geva said. "The National Front has been really good at saying all along that they're the party of change, so they … have given young people a lot of responsibility."
All of this, of course, is only possible if Le Pen can keep her party united. As the French press has documented, the party is very much split between those who support Le Pen's efforts to "de-demonize" the party and loyalists of her father, who would rather see a return to the more hardline politics of its early days. This internal debate is personified by Florian Philippot, the younger Le Pen's right-hand man and the architect of much of her current political strategy, and Marion Maréchal-Le Pen, her hardline niece and darling of the alt-right site Breitbart. She views herself as the continuation of Jean-Marie Le Pen's legacy. With Le Pen's promise of a coming National Front "transformation," divisions about the direction of the party could spill out into public view.
No matter what happens next, the idea that Macron's victory will extinguish far-right populism in France is doubtful. "She's certainly not going away," Mabel Berezin, an expert on the European far-right at Cornell University, told me. "And she will continue to try to make it the kind of conservative nationalist party [she envisioned] … I would think she would be able to contain the dissent and move forward." Despite Le Pen's loss, her party might be exactly where she wants it to be.