Is France's Political Crisis Just Beginning?
The greatest challenge facing Emmanuel Macron isn't ISIS or the economy, but something more basic: governing.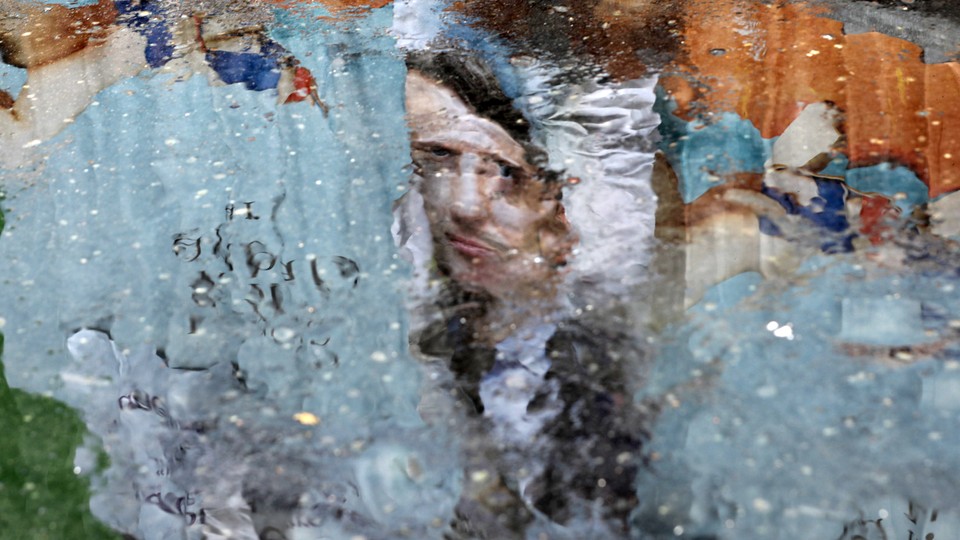 Emmanuel Macron, the next president of France, campaigned on a slogan of "Together, France!" And why not? He is a sunny centrist who attracted votes from the left and the right to decisively defeat the far-right nationalist Marine Le Pen on Sunday. The center seems not only to have held, but to have swelled.
But Macron's victory could further fracture French politics rather than bridge the country's political divisions, illustrating a challenge confronting many democracies at the moment, especially in Europe: A disenchanted public has blown up the political establishment, but it's difficult to then fashion a well-functioning government out of the pieces. This can produce more disillusionment with politics, not less.
For signs of trouble ahead, consider the fact that a full quarter of the French electorate didn't cast a ballot in this weekend's runoff presidential election—one of the highest abstention rates in the history of France's Fifth Republic, which was established by Charles de Gaulle in 1958. French voters are so disillusioned with their political leaders that, for the first time in the history of the Fifth Republic, the runoff didn't feature a representative from the main parties of the left and right. Whether that's a response to the government's failure to boost a stagnant economy, secure the nation from ISIS-inspired terrorism, or assimilate immigrants and address the downsides of globalization, the French consistently express low levels of trust in government. In the run-up to Sunday's vote, a survey found that French voters are more polarized than the citizens of other European countries, with 20 percent describing themselves as politically extreme (compared with 7 percent in the EU as a whole) and 36 percent identifying as centrist (compared with 62 percent in the EU). So much for togetherness.
This protest against politics-as-usual is what catapulted Macron, a former government official who has never held elected office, into the Elysee Palace. He doesn't belong to a party and only founded his "On the Move" movement a year ago. But the political independence that proved an asset during the presidential campaign could become a liability during parliamentary elections in June.
Macron has promised to field On the Move candidates in every French electoral district, and polls suggest the movement could win more seats in France's National Assembly than any other party—maybe even enough to achieve a majority in the 577-seat lower house, which would be astonishing for an organization that has only just burst onto the political scene.
If, however, Macron falls short of a majority, he will need to form a governing coalition with other parties. And if another party wins a majority, he will need to deal with that rival party, in a scenario the French refer to rather euphemistically as "cohabitation."
In France, presidents have for the last several decades generally been drawn from the major center-left or center-right party. Their victory in presidential elections has typically paved the way for their party to win a majority in parliament, allowing the president to appoint a prime minister from his party who will run the government according to the president's wishes. This hasn't always occurred; the Fifth Republic has experienced cohabitation three times. But the system has been running smoothly for a while: France hasn't endured divided government since a constitutional amendment in the early 2000s that made both presidential and parliamentary terms five years, and scheduled parliamentary elections shortly after presidential elections to reduce the likelihood of cohabitation.
"During cohabitation periods, the presidency diminished in stature, and the premier tended to exercise the main executive policymaking authority," writes John Carey, a comparative-politics professor at Dartmouth College. "For example, in the late 1980s, [Jacques] Chirac as premier engineered a major tax cut and privatized state-owned enterprises while the Socialist [President Francois] Mitterand could only watch. But when Chirac was president, Socialist Party Premier [Lionel] Jospin pushed through legislation to shorten the workweek from 39 hours to 35."
Now, however, France's traditional party system has imploded—and the risks of cohabitation and political dysfunction have returned. If an opposition party ends up controlling the National Assembly, Macron will likely be blocked from carrying out his ambitious policy agenda, which includes cutting government spending and giving employers more flexibility to hire, fire, and negotiate with employees. If he has to cobble together a coalition of diverse factions, he will have to painstakingly build support for each vote on each piece of legislation. As Francois Fillon, the Republican candidate who lost in the first round of the presidential election, memorably put it, Macron might have to again and again "cook up parliamentary dishes of impotence and compromises"—the very worst kind of French cuisine.
In these scenarios, the election of Macron would have the opposite effect of what his supporters intend: A man elected to finally get things done would struggle to get things done; a man elected to break with the traditional parties would have to work closely with them. Desires for political change and disillusionment with government might only grow.
This vicious circle is playing out across Europe, where frustration with establishment politics is hollowing out center-right and center-left parties, splintering the political landscape into an array of small- and medium-sized parties competing for influence. "The more fragmentation occurs, the more difficult it's going to be [for fragile, unstable coalition governments] to pass any type of coherent policy program," the political scientist Robin Best told me after the Dutch election. "And voters are probably going to end up being even more dissatisfied" and inclined toward protest votes and politicians on the political extremes.
If, on the other hand, On the Move secures a parliamentary majority, or if Republican and Socialist lawmakers decide to be uncommonly cooperative, Macron's presidency could go swimmingly. As the historian Aline-Florence Manent has pointed out, De Gaulle designed the Fifth Republic so that it wouldn't be dependent on political parties, which he viewed as sources of gridlock and instability. The founder of modern France "designed the Fifth Republic as a hybrid regime, combining the institutions of a parliamentary system with a powerful presidential office so that a crisis in the party system might not necessarily provoke a crisis of government," Manent notes.
Macron's presidency will "be a true test of the Fifth Republic as De Gaulle envisioned it," she added. "So far, this has never really been tested, because the system developed into a de facto two party system."
"It may have taken 60 years," Manent writes, "but De Gaulle's vision of the Fifth Republic could well be coming to a point of crisis."