Eurovision Will Be Extra Political This Year
Beneath the song contest's glitz and glamour lies some tricky geo-politicking—especially when Ukraine plays host.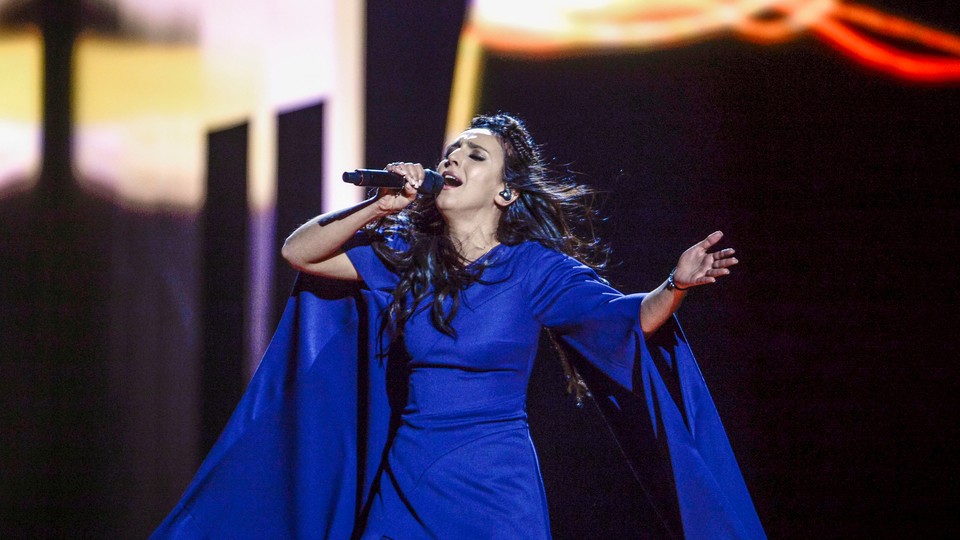 When the Eurovision Song Contest starts today in Kiev, Ukraine, one country will be noticeably absent: Russia is sitting out the competition. The supposedly unifying contest has been the stage of tensions between the two countries for the past several years.
Ukraine was last year's winner, and therefore this year's host country, but its 2016 victory was not without controversy. Despite Eurovision's explicit ban on political lyrics, the country's contestant Jamala sang "1944," which she said she wrote about her family's removal from Crimea amid Joseph Stalin's mass deportations of Crimean Tatars. The Muslim Turkic ethnic minority now makes up almost 15 percent of Crimea's population; Jamala was the first member to perform at Eurovision, and she later dedicated the song to Tatars living under Russian control in Crimea, much to Russia's dismay.
But some viewers point out that Russia hasn't steered clear of politics either: Russia's poorly received 2014 entry could be interpreted as a reference to that country's annexation of Crimea, which happened just months before the competition. After all, the song does feature the lyrics, "Living on the edge/ Closer to the crime/ Cross the line a step at a time/ Maybe there's a place/ Maybe there's a time/ Maybe there's a day you'll be mine."
Jamala's win last year set the stage for more strained politics, which have surfaced in the months leading up to Tuesday's contest. In March, Ukraine banned Russia's contestant, Yuliya Samoylova, from entering the country to participate because she visited Crimea in 2015 after it was annexed by Russia. Barring Samoylova, who has used a wheelchair since childhood, has created a public-relations headache for Ukraine—and it's been argued that was part of the point. According to the BBC, "some suspect Moscow knew what would happen when it chose [Yuliya] Samoilova, knowing that she had travelled to Crimea." While Russia has protested Ukraine's decision, it has refused to replace her, saying she will go on to represent her country in next year's Eurovision contest. Russia also rejected Ukraine's offer to have her perform remotely, and has since announced it will not broadcast the contest at all.
This is the first year a country has banned another nation's contestant, and Eurovision's organizers are not happy that their event seems to be the new continental theater in which Ukraine and Russia's drama plays out. But it's certainly not the first time international confrontations have factored into the competition. From Georgia's 2009 withdrawal over a restricted song that subtly protested Vladimir Putin to the outcry over human rights abuses in Azerbaijan (where the contest took place in 2012), the concert meant to showcase European talent and unity often features an unspoken, but not necessarily unsung, political undercurrent.
Americans might view Eurovision as an annual oddity: It's where Sweden's ABBA got its start with "Waterloo" in 1974 and where Austria's bearded drag queen Conchita Wurst won 40 years later. But the contest's history provides an illuminating perspective on postwar Europe. Eurovision started in 1956 as a way to help unify the continent in the aftermath of World War II. As William Lee Adams, a close observer and obsessive chronicler of Eurovision, wrote for The New York Times, it began as a decidedly less flashy affair, with "women in ball gowns singing classy chansons." Only decades later did it transform into a showcase for nationalism on psychedelics: Every year features outrageous sequined and bejeweled costumes and set designs (not the least of which included a man in a giant hamster wheel).
In part, the breakup of the U.S.S.R. offered a chance to reconceive the contest as former Soviet countries began participating. Since the end of the Cold War, Eurovision has served as a form of "cultural diplomacy of East European states in order to express their aspirations for European integration," according to the European Commission's study of the event. Participation can also offer an opportunity for building national prestige; as The Atlantic explained in 2014, "The contest, much like Miss World, the World Cup, and the Olympics, is a stage for countries to come out to the world after years of oppression, and showcase the first flushes of independence."
Today, it serves as a stage for countries to express their national pride and affirm their European affiliation, and this is true even for competitors who come from well outside Europe's geographic boundaries. From the seven countries that participated in the initial concert, Eurovision has grown to include over 40, including some non-continental ones like Australia and Israel. (Nations are allowed to participate if their broadcasters are members of the European Broadcasters Union.) In fact, offering an expansive and inclusive vision of Europe is now central to the contest's mission: This year's theme is "celebrate diversity."
Over the course of three rounds in one week, the performances are scored by both official juries and by European viewers. The voting portion gives countries the opportunity to renew perennial pop alliances (mainly because voters aren't allowed to pick their own countries' contestants). A 2006 statistical study found that they tend to vote in blocs: You can count on the Scandinavians to support each other, and the Balkans have each other's back. Even the U.K. and Ireland trade points with one another.
More than 200 million people tuned in to last year's contest (this year, Europhiles in the U.S. can watch on Logo TV). While it's hard to say how much the Russian broadcaster boycott will affect this year's viewership, plenty of eyes will be trained on Kiev—and not just to see what ridiculous outfits and choreography will take the stage.