Around the World in Election Interference
Four upcoming votes where foreign powers are playing an outsized role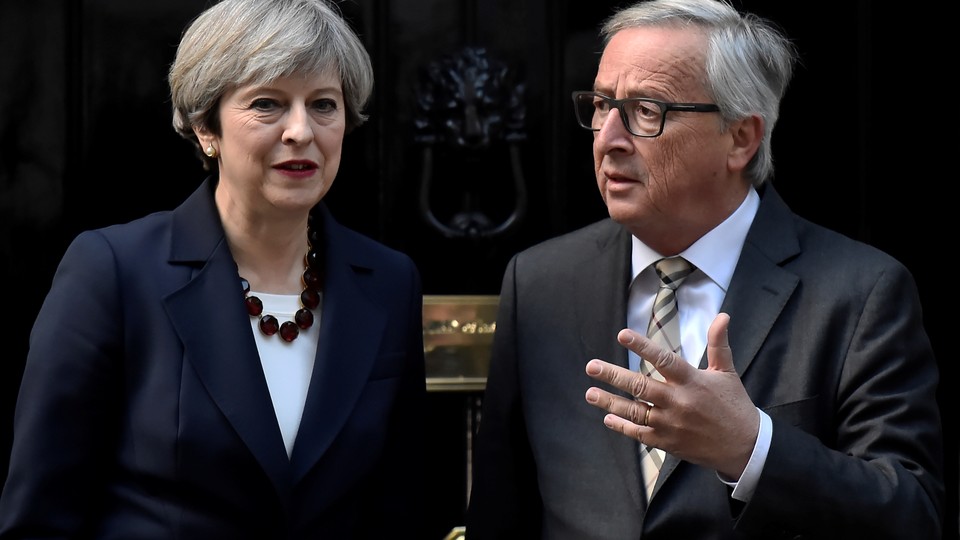 All politics may be local, but foreigners still like to have their say in their friends' and adversaries' elections. Russia's interference in the U.S. presidential election is the most famous case, but it's long been popular for countries to put their thumbs on the scale of others' votes—and for politicians to make strawmen out of the specters of foreign meddling. In several major elections coming up in the next two months, the power of outside parties is playing a big role. Here are four stories of the foreign mixing with the domestic.
United Kingdom. In Britain's fast-approaching election, Prime Minister Theresa May's main opponent is arguably not another British political party but the European Union itself. This week she accused the EU of trying to sway the outcome. "Threats against Britain have been issued by European politicians and officials," she said. "All of these acts have been deliberately timed to affect the result of the general election." That outburst was prompted, in part, by reports that the EU will seek as much as €100 billion in payments to complete Britain's separation from EU institutions. But if EU officials are indeed trying to sway the election, making expansive Brexit demands won't favor May's opponents. With the Labour Party under Jeremy Corbyn unwilling to take a strong stance on Brexit, the perception that the EU is ganging up on Britain only helps May's case that Britain needs a strong hand to guide it through tough negotiations.
France. If there are shades of gray to Europe's approach to British politics, its involvement in the French election is black and white. European Commission President Jean-Claude Juncker is overtly backing Emmanuel Macron, the centrist candidate who is facing off against Marine Le Pen in the second-round vote on May 7. "It's a simple choice," said Juncker's spokesman, between a candidate who supports European institutions and one who wants to dismantle them. He has a point. Le Pen wants a referendum on French exit and has called for France to start walking away from the euro. But if Wednesday's debate between the two candidates is any guide, Macron doesn't feel like he needs help from eurocrats. (After all, he's got Barack Obama's endorsement.) Responding to Le Pen's plan to introduce a parallel currency in addition to the euro, Macron was blunt: "Stop saying stupid things." The EU would approve.
South Korea. Donald Trump's approach to North Korea is getting tangled up in South Korea's presidential election. Last week, Trump dropped a political bombshell on Seoul. Beyond the recent heightening of rhetoric over North Korea, Trump insisted that the South Koreans should pay for the installation of a U.S. missile defense system, THAAD, and declared that he wants a NAFTA-style renegotiation of KORUS, a bilateral trade agreement ratified only five years ago. Moon Jae In, the center-left candidate leading the polls ahead of the country's May 9presidential election, all but asked the Trump administration to back off. "I don't believe the U.S. has the intention [to influence our election], but I do have some reservations," he told The Washington Post. Though administration officials quickly walked back Trump's comments about THAAD—the U.S. will pay for it, as promised—the moves are emblematic of Trump's signature approach to foreign policy. Link national security and economic issues and throw your opponent off-balance at a moment of instability.
Iran. With Iranian President Hassan Rouhani battling for re-election on May 19, the country's real power is on the lookout for signs of foreign interference. "I will confront anyone who wants to tamper with the results of the people's vote," warned Supreme Leader Ayatollah Ali Khamenei in a speech in March. Khamenei has blamed foreign powers for ginning up protests in the last two elections, particularly in 2009, which saw large protests against the hard-line candidacy of Mahmoud Ahmadinejad, who went on to win. This year's vote is a round-about referendum on Iran's nuclear deal with the West. Rouhani has become the face of the deal, and the country's sluggish growth is a main line of attack for opponents who argue that Rouhani has not delivered on the promise of a revitalized post-sanctions economy. Rouhani has not exactly embraced the West, but he has taken a less combative tone than that of his clerical boss. In the election, he says, "the issue is if the society should be more open or closed." That's a tough line to walk for a country whose political identity is largely defined by its struggle with external powers.