Donald Trump's Excellent Abrahamic Adventure
For his first foreign trip later this month, the president will visit Saudi Arabia, Israel, and the Vatican, symbolic homes of three major world religions.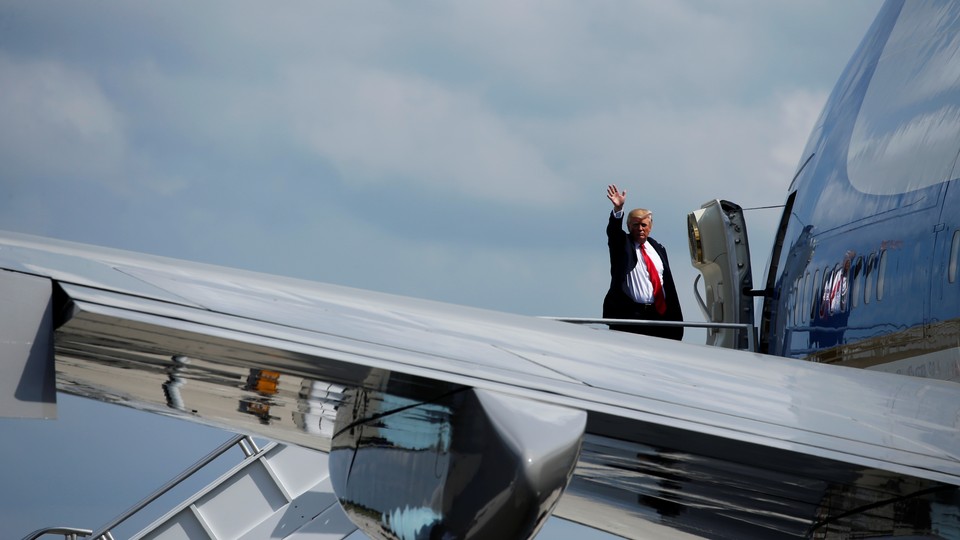 President Trump is going big on his first foreign trip, planning to visit the symbolic homes of the three Abrahamic faiths as he makes a plea for global unity.
Trump will visit Saudi Arabia, Israel, and the Vatican, where he plans to meet Pope Francis, later this month. He'd already announced plans to visit NATO and G7 summits in France and Italy respectively, and will complete those visits afterwards.
"Our task is not to dictate to others how to live, but to build a coalition of friends and partners who share the goal of fighting terrorism and bringing safety, opportunity, and stability to the war-ravaged Middle East," Trump said in announcing the trip on Thursday.
During a background call for reporters, a senior administration official added, "The purpose of this meeting is to bring together all the different countries and all the different religions in the fight against intolerance and to defeat radicalism." The official said that the idea for the trip had begun with Saudi Arabia, and said one major focus would be pushing back on Iran.
Trump is somewhat slower in taking his first foreign trip than his recent predecessors—every president since Reagan has traveled abroad by April. But in many of those cases, the initial trips have been to visit Mexico and Canada, not a major tour like Trump's. (Reagan did not leave the Western Hemisphere as president until the second year of his presidency.)
It's notable that the president's first stop will be Saudi Arabia, home to the Muslim holy cities of Mecca and Medina, and somewhat confusing that he is couching the tour as combating "intolerance." Trump has stridently criticized Islam and Muslims—"I think Islam hates us," he said in March 2016—and hired anti-Muslim advisers, and his two attempts at curtailing Muslim immigration to the United States have stalled out in federal courts. (In fact, Trump announced his trip in the Rose Garden, at ceremony marking the National Day of Prayer attended by the outspoken anti-Muslim evangelist Franklin Graham.)
But Trump has gotten along well with the Saudis, who were rattled by President Obama's criticism and by his efforts to improve diplomatic relations with Iran, a long-standing Saudi rival for regional hegemony. The kingdom favors Trump's harder line toward Tehran. If, however, Trump sees Saudi ties as the key to the Muslim world, he is likely to be disappointed. While the administration official who briefed reporters on the trip said he expected the Saudis to convene leaders of other Muslim countries, Saudi Arabia can hardly claim leadership of the Sunni Muslim world, to say nothing of majority Shia countries like Iran or Iraq.
Trump will then travel to Israel, the center of Judaism. The president has also cultivated close ties with the government of Prime Minister Benjamin Netanyahu, another leader who clashed with Obama and opposed the American negotiation with Iran. On Wednesday, Trump met with Mahmoud Abbas, president of the Palestinian Authority, at the White House. Though Trump will receive a warm welcome from the Israeli government, that leg of the trip could be fraught. He has made a series of strange and sometimes contradictory statements on the Israeli-Palestinian peace process. Trump has wavered on his support for a two-state solution, and has refused to condemn Israeli settlements in the West Bank, a break with longstanding U.S. policy. On Wednesday, he promised to get a deal done between the sides, adding a surprising claim: "It is something that I think is frankly, maybe, not as difficult as people have thought over the years."
Israeli media reported that Trump plans to give a speech at Masada, the hilltop fortress that was site of a mass suicide by Jewish rebels against the Roman Empire in the first century, and to visit Bethlehem, a Palestinian city in the West Bank. Two previous presidents, Bill Clinton and George W. Bush, have visited Masada, though neither spoke there. Going off script during the visit, as Trump is wont to do, could risk a diplomatic blowup.
Trump will also likely face questions about his promise to move the U.S. Embassy in Israel from Tel Aviv to Jerusalem. Previous U.S. presidents have suggested they would do the same, only to back down over worries such a move would inflame violence. Trump has not spoken much about the pledge recently, though Vice President Mike Pence said this week he was seriously considering it.
Every president's first major foreign trip constitutes a test of their leadership style and abilities. The tour through the Abrahamic faiths makes for a splashy narrative, but it also risks disjointedness. Trump and his allies accuse Obama of distancing the U.S. from its allies, and the White House is portraying this voyage as a way to help rebuild those ties. The trip will test whether Trump can avoid the gaffes that have plagued him stateside when he's in sensitive foreign settings, and will offer some indication whether the master of symbolism can turn those gestures into concrete progress.