'A Plunge Into Crisis': How Foreign Correspondents Are Explaining the Comey Affair
"Sometimes I feel I'm not covering reality, but fiction."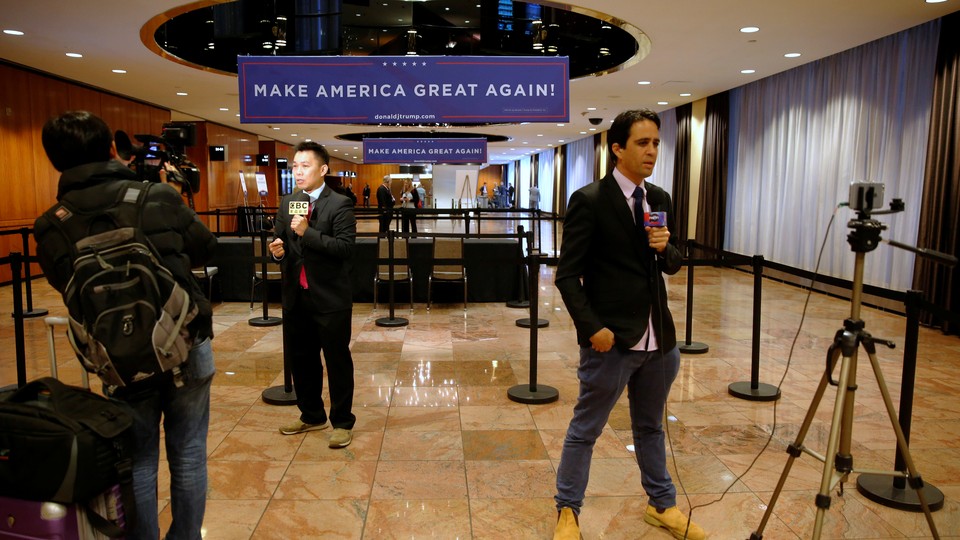 When Donald Trump pictures the world, it's often laughing. For decades he's claimed that crafty foreign leaders are laughing at the incompetence of American politicians. On Thursday, in reference to alleged Russian interference in the U.S. presidential campaign, he tweeted that Russia "must be laughing up their sleeves watching as the U.S. tears itself apart over a Democrat EXCUSE for losing the election."
But something else is occurring now that Trump has fired FBI Director James Comey and partisan warfare has broken out in Washington. The world—or, more precisely, the small segment of the world inclined to care about an American law-enforcement official losing his job—seems not so much gleeful as alarmed and amazed and … pretty perplexed.
Media outlets from France to Israel have questioned the White House's shifting accounts of the firing and expressed concern about the health of U.S. democracy. In Brazil, a political scientist wondered what the news meant for a probe into government corruption by his country's equivalent of the FBI. "[W]hen you see something like that happening in the United States, we fear for the future of this kind of investigation in a country such as Brazil, where the institutions are not as strong as they are in America," he explained. "There are many people in Brazil who have a very romantic view of the United States, who think that the American government has solved all the important problems in American society. But it's much more complicated."
Shortly after Comey's dismissal, Dana Shell Smith, the U.S. ambassador to Qatar, vented her frustration on Twitter. "Increasingly difficult to wake up overseas to news from home, knowing I will spend today explaining our democracy and institutions," she wrote.
If that seems challenging, imagine waking up in Washington these days and having to explain American politics to folks back home. That task falls to D.C.'s foreign correspondents.
"What will it actually take for Republicans in Congress to dissociate themselves from Trump and start reining him in?" asked Clemens Wergin, the Washington bureau chief for the German newspaper Die Welt, in an email. "Trump already started eroding America's institutional integrity and he is dishonoring the American presidency and American democracy, which once was a beacon to the world."
Wergin told me that, in his reporting, he has been describing the Comey episode to his readers as "an institutional crisis" for which the most likely explanation is "that the man in power doesn't like the way the Russia investigation is handled, it might even become dangerous for him. So he fires the one leading official who is not beholden to him, hasn't been nominated by him, and has a reputation for standing up to power."
"I try to identify for our readers what the most likely sources of danger for Trump in the Russia saga might be, but I also caution that most Republicans are still lining up behind Trump and that it is difficult to imagine a Nixon scenario with the Republicans in control of Congress," he said.
Wergin added that he's also written a commentary on the developments, which made the argument that "up to Comey's firing, Donald Trump had only spoken and tweeted like the head of a banana republic; now he also acted like one."
Chidanand Rajghatta, a D.C.-based foreign correspondent for the Times of India, told me that it's difficult to explain to readers in India "the minutiae of who said what when why." Instead, he's "trying to stick to [conveying] the broad themes of a very different and temperamental president in action, the inexperience and incoherence of the administration, [the] breakdown of trust/internecine political warfare, etc.," Rajghatta said in an email.
A recent dispatch did just that. The U.S. political system "erupt[ed] into a firestorm over the motive and the manner in which President Trump dismissed Director James Comey from service on Tuesday, plunging the rocky four-month old administration into yet another crisis," Rajghatta wrote. "Trump's aides and spokespersons tripped over each other in trying to explain and rationalize the President's decision amid explosive disclosures that surfaced by the hour on Wednesday and Thursday."
It's hard to "filter so much information, misinformation, contradictions, and false statements from a wide range of sources," Raquel Krahenbuhl, the Washington correspondent for Brazil's GloboNews, wrote to me. "The firing and the aftermath deepen the credibility crisis within the White House. The White House's struggle to explain such a consequential firing is something that is important to translate to our audience."
"We dedicate a lot of space at ABC to the U.S. president just to explain his way of being and his behavior," Manuel Erice, a foreign correspondent for the Spanish newspaper, wrote to me. "Definitely Donald Trump is today the most important American topic for our readers. Although we make an effort  to explain [the] Comey news, I am not sure that our audience has been able to fully interpret exactly what happened and why Trump decided to fire him. It is a complicated issue for Spanish people. Even for American people…"
In Brazil, which is in the midst of a massive corruption scandal known as Lava Jato, or "Car Wash," nearly "every week we have powerful politicians and businessmen being arrested," Krahenbuhl told me. There was speculation that the country's president, Michel Temer, was considering dismissing the head of Brazil's version of the FBI. But Temer didn't do so, perhaps because the Federal Police were carrying out the Car Wash investigation. "So I was quite perplexed when President Trump fired Comey and admitted he had the Trump/Russia investigation on his mind when he made the decision. Sometimes I feel I'm not covering reality, but fiction."
Brazilians are paying close attention to the Comey news, as they are to most moves Trump's White House makes, Krahenbuhl said. The firing of the FBI director was the biggest international story in Brazil this past week, eclipsing the results of the French election.
Both Krahenbuhl and Wergin said Trump supporters back home often criticize coverage of the new U.S. administration. "Trump's legion of fans in Brazil are blaming the media—especially for focusing on the Trump/Russia investigation, which they think is fake news," Krahenbuhl said. "A very small but very loud segment of die-hard Trump fans who are usually part of the populist right in Germany ... defend the firing of Comey," Wergin noted. "They generally question everything we write, they think that Trump critics are hysterical, and that we in the [mainstream media] are willfully reporting only bad things about the American president."
Perhaps the most concise commentary on the bewildering events of the past week came from the Lebanese journalist Joyce Karam, who serves as the Washington bureau chief for the pan-Arab newspaper Al-Hayat. "Weird things I read this a.m post- #Comey," she wrote on Twitter. "Trump screaming at TV. Spicer hiding in bushes. Sarah Sanders: 'it's just another Tuesday @ WH'!"