The Decline and Fall of Turkish Democracy
How a constitutional referendum could give President Recep Tayyip Erdogan undisputed power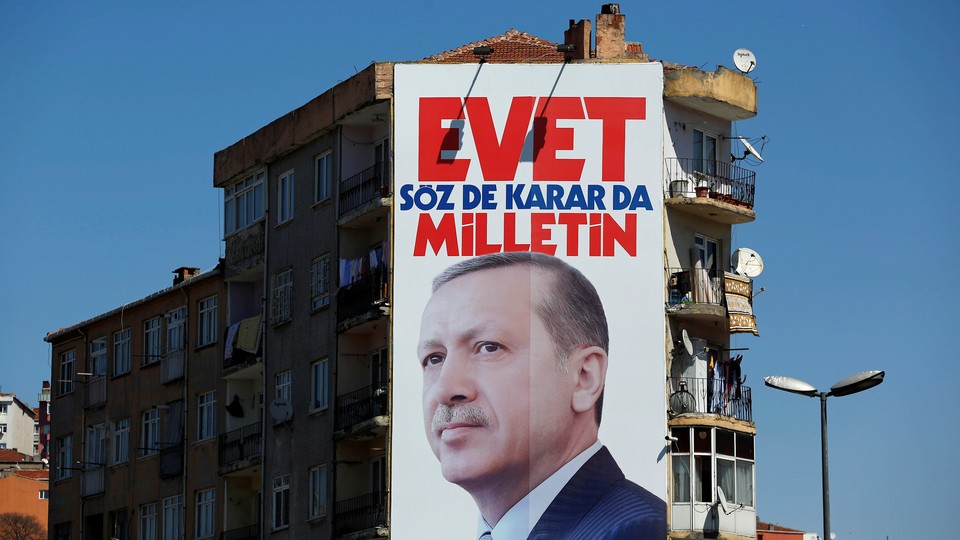 ANKARA—When Ismail Ok, a minister of the Turkish parliament, broke ranks with his party leadership, he knew what would come next.
In January, Ok's party, the far-right Nationalist Movement Party (MHP), announced its alliance with President Recep Tayyip Erdogan's ruling Justice and Development Party (AKP). The move helped secure the parliamentary votes necessary to set a constitutional referendum in motion that, if approved, would convert the country's parliamentary system into a presidential one. In February, Ok announced he would be campaigning for the "No" side in the April 16 vote. Ok's choice turned him and a group of fellow MHP dissenters into pariahs within the MHP; by mid-March, they had been kicked out of the party.
Since then, he has maintained opposition to a presidential system. "I see this decision to dismiss me as an honor badge," Ok said when we met at his office at the Turkish parliament in February. "Most of our supporters are against the constitutional amendments. They are voting 'No' and I am their representative."
From the U.K., to Italy, to Colombia, to Hungary, popular referendums have convulsed the world in recent months. But Turkey's is in a class of its own. A win for "Yes" would diminish the role of parliament, dissolve the office of the prime minister, and increase legislative, judicial, and executive powers under the presidency, endowing Erdogan with unparalleled dominance over Turkish politics.
Under his expanded authority, Erdogan would be able to appoint judges and an unlimited number of vice presidents, while the parliament would lose its current ability to introduce no-confidence motions on government officials. Instead, MPs would be allowed only to submit written proposals against high-ranking ministers, while the president would remain immune to inquiries. More generally, the government's rule-by-decree powers, which Erdogan has employed during the state of emergency, would become commonplace and streamlined under the proposed system. According to the Venice Commission of the Council of Europe, all this would amount to a "dangerous step backwards" for Turkey's democracy. The consolidation of executive power under Erdogan, the Commission concluded, "would introduce … a presidential regime which lacks the necessary checks and balances required to safeguard against becoming an authoritarian one."
In the run-up to the vote, opponents have feared voicing their dissent against Erdogan. After all, the country remains in a state of emergency following the failed coup attempt of July 2016. Public assembly is prohibited, and 13 opposition party members remain behind bars, preventing key figures from campaigning against Erdogan. Meanwhile, more than 100,000 state and private employees have been dismissed in ongoing purges and 47,000 people have been jailed for alleged terror links. The country also hosts roughly half of the world's jailed journalists, with correspondents who publicize their intentions to vote "No" quickly stripped of their positions.
And still, with the referendum fast approaching, many more risk their careers, particularly state employees like Ok, by standing against Erdogan. "I'm quite sure, among my colleagues, there are people who want to vote 'No,' but they can't say this out loud," Ok said. "All around the world, this has only one name: It's called a dictatorial regime. A one-man rule regime."
Erdogan, the former mayor of Istanbul, rose to prominence in 2003 after winning elections as co-founder of the AKP, eventually becoming prime minister. Soon, he enacted a series of ambitious economic reforms that modernized infrastructure and improved living standards. After serving a record three terms as prime minister, Erdogan assumed the presidency in 2014, and has since transformed what had traditionally been a ceremonial role independent of party politics. Along the way, he has cast himself as a champion for the nation's pious voters who have long felt exploited by the ruling urban elite and followers of the republic's secular founder, Mustafa Kemal Ataturk. Such moves have made him the most popular, and the most divisive, leader in modern Turkish history.
Though public opinion is difficult to gauge amid the ongoing purges, recent polls suggest about half of Turkey's voters support the proposed presidential system, while the other half largely accuses Erdogan of using religion and last year's coup attempt to consolidate power and extend his tenure. If the referendum passes, he would be eligible for two additional five-year terms as president.
To bolster support, Erdogan has claimed Turkey could only achieve stability and security under a stronger presidency. A "No" vote, he has implied, would be a vote for terrorists or the supporters of Fethullah Gulen, the exiled cleric living in America that Erdogan has accused of plotting the failed coup. Such rhetoric has has helped to effectively criminalize those who disagree with Erdogan's vision, who have been the targets of at least 231 violent attacks between mid-January and April 7, according to an opposition party report. Many feel a "Yes" vote could serve as a stamp of approval for Erdogan's post-coup crackdown, leading to further repression.
"If you talk to [Turks] and ask them to compare Turkey before Erdogan and Turkey under Erdogan, you'll get two answers: Either they'll tell you it was hell and he made it heaven, or they'll tell you it was heaven and he made it hell," Soner Cagaptay, senior fellow at the Washington Institute, told me.
Perhaps the steepest challenge facing the "No" bloc is exposure, or a lack thereof. Back in the Turkish parliament, a fatigued Huseyin Camak, an MP with Ataturk's original Republican People's Party (CHP), Turkey's largest opposition party, sat at his desk and watched the news on a recent afternoon. His constituency, he said, has been increasingly muffled in recent months. "Our supporters are being detained for hanging posters of Ataturk," he told me in February.
Indeed, Ankara is filled with countless pro-"Yes" billboards and large banners, while opposition parties have been reduced to spreading their message through stickers and posters the size of concert advertisements, many of which are ripped shortly after being taped to light poles. AKP officials also hold rallies regularly with thousands of supporters, whereas attendance at "No" is usually limited to several dozen people waving Ataturk flags next to a campaign bus in central Ankara. (Six members of parliament with the AKP did not respond to a request for comment for this article.)
And then there is the media. In February, the Council of Ministers passed a decree removing the legal obligation for news stations to give impartial, equal airtime to each political party during elections or referendums. A study of TRT Haber, the publicly financed national broadcaster, found that from March 1-22, the "Yes" campaign had received 485 hours of coverage versus 45.5 for the opposition. "Almost all of the TVs and newspapers in Turkey are broadcasting the same thing. The people are learning as much as [the government] wants them to," Murat Sevinc, a former constitutional law professor at Ankara University, told me.
It's an apt metaphor for the ways in which Erdogan has, over time, tried to make the opposition disappear from Turkey's political life—and it reflects the trajectory of Turkish democracy under his leadership ahead of the referendum.
While at the outset of his career Erdogan struck a balance between religious and non-religious voters, promising religious freedom to the former and economic growth to the latter, in more recent years, he has demonized and cracked down on demographics that oppose him, Cagaptay explained. Following the Gezi protests of 2013 and the renewed fighting with Kurdish separatists in 2015, the coup attempt, and post-coup purges, Erdogan has vilified groups ranging from secularists to Kurds, Alevis, liberals, and social democrats, all for political gain. But now that these factions "make up nearly 50 percent [of the electorate] … the strategy has run its course."
For this reason, Cagaptay believes, Erdogan has brought the fight to Europe, where he has repeatedly called Dutch and German officials "Nazis" and proponents of modern-day "fascism." After AKP officials were banned from campaigning for "Yes" in several European cities, Erdogan monopolized on the situation to rally nationalist voters around his platform. The use of insults and name-calling frayed Turkey-EU relations, but allowed Erdogan to assert his place on the world stage as a leader with backbone. More importantly, demonizing EU governments did minimal damage to his electorate at home.
"The Netherlands is Turkey's number one source of direct investment," Cagaptay said. "It's also, sadly, the country with which Turkey has had the longest, permanent relations among European nations. … The fact that [Turkish-Dutch] relations have had their first crisis under Erdogan suggest to me that foreign policy now serves Erdogan's electoral gains and nothing is sacred."
In Ankara, such electoral strategies come as no surprise. About a mile east of the Turkish parliament building is the headquarters of the HDP, the socialist party that focuses on minority rights. HDP received about 6 million votes in the June 2015 elections, but if one follows only the state media, it would appear more like a criminal organization serving as the mouthpiece for the outlawed Kurdistan Workers' Party (PKK).
Inside, HDP spokesperson Osman Baydemir sat in the vacant office of Figen Yuksekdag, an HDP co-chair currently in jail along with 12 other party members. Most have been charged with spreading terrorist propaganda or working for a terrorist organization. Collectively, these elected officials face hundreds of years of imprisonment. Night raids and surprise arrests continue to target party members, and Baydemir was well aware of the risks he faced.
"In one month, if you happen to have an interview with the spokesperson of HDP, I'm not sure if it's going to be me," he said in mid-March. "I am a deputy today, but tomorrow I might be arrested."
Baydemir, who is also the MP for the southern Turkish city of Sanilurfa, said two-thirds of his district's officers are currently in jail and have been replaced with state-appointed trustees. From his perspective, the Kurdish opposition has long lived under state of emergency rule and the approval of the presidential system would legalize such practices in the rest of the country. While the outcome of Sunday's referendum remains too close to call, Baydemir said remains hopeful that democracy will prevail in Turkey.
"In my opinion, AKP will lose eventually," he said. "Erdogan is repeating the practices of dictators from world history. Pinochet lost eventually. Franco as well. Hitler also lost. But until these figures lost, they made their societies lose, made their societies suffer under their rule."