What Turkey's Election Observers Saw
Behind the allegations of fraud marring Recep Tayyip Erdogan's claim to have won a constitutional referendum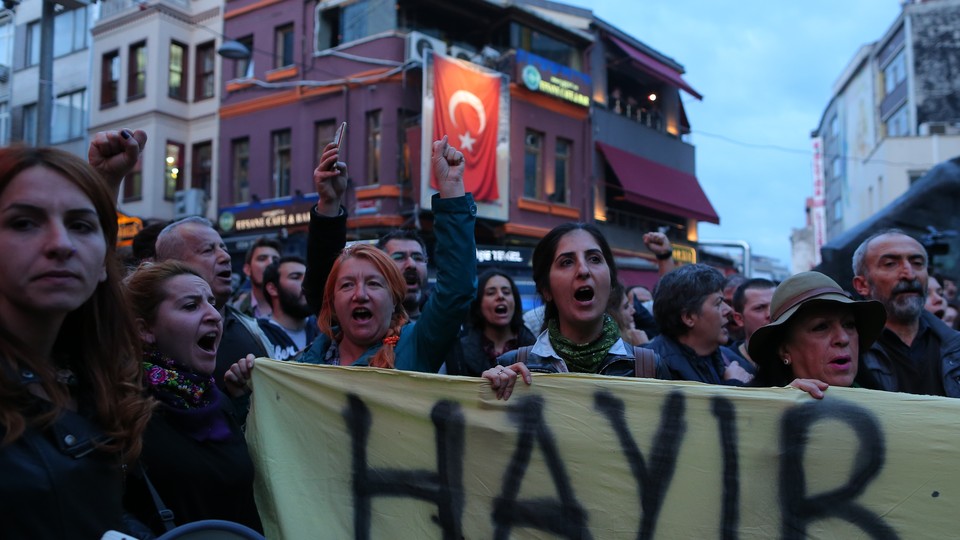 When attorney Necmi Acar arrived at a polling station this past Sunday in Oyuktas, a village in southeast Turkey, he was greeted by an armed squad of rural policemen. Voting had just begun in a referendum that, if passed, would consolidate governmental powers under the presidency, currently held by Recep Tayyip Erdogan. Acar, a volunteer with the pro-Kurdish Peoples' Democratic Party (HDP), had come to the station in response to a complaint of voter suppression in Oyuktas: Villagers claimed they were being forced to cast their ballots openly, under the watch of the Muhtar, or village leader, who they said was forcing them to vote "Yes." The Muhtar allegedly did so while carrying an unconcealed handgun in the waistline of his pants.
Acar tried to enter the school where voting was taking place, but the Muhtar and the local jandarma, or rural law officers, confronted him. "They [asked] me 'what are you doing here? We don't want you here. … When I introduced myself as a lawyer and said I would take them to court, they let me pass,'" Acar said in a phone interview on Tuesday. He said he then entered the polling site to find four to five armed jandarma in each voting room. Under Turkish law, voting is supposed to be conducted in private booths, without security personnel or others seeking to influence voters present.
The ballot-box observer who called in the violations Acar had come to investigate had left the polling site by the time he arrived. He told Acar he had been beaten by the Muhtar for snitching, and had gone into hiding. A shootout at another polling station had already claimed three lives that day, and the observer had no interest in being the fourth. Acar told me that the Muhtar claimed he and the law officers were present only to provide security during the voting process, and that the observer "was causing trouble," so they kicked him out.
Acar eventually learned that the rural police officers were allegedly telling people they would regret casting a "No" vote—a clear form of intimidation. He pointed out the misconduct to the Muhtar, and threatened legal action if he and his subordinates did not exit the polling sites; they complied, and voting continued, unimpeded. But the HDP had asked Acar to monitor voting sites throughout the entire district, and he could only stick around for an hour. "The people told me that once I left, the Muhtar and security forces would enter the voting areas again, and I don't doubt they did," Acar said.
Acar tried to report the violations to the district's electoral board, but the office had already closed, preventing him from filing the complaints before results were announced. Erdogan would prove triumphant, claiming victory with a vote of 51.4 percent in favor of "Yes." The result will transfer legislative, executive and judicial authority to the presidency, while allowing for the potential extension of Erdgoan's tenure until 2029.
Yet reports of voting irregularities are tainting the referendum's legitimacy. Opposition parties have claimed that as many as 2.5 million votes may have been manipulated in a vote that passed by a margin of 1.3 million "Yes" ballots. Such allegations of fraud could undermine Erdogan's drive to consolidate power during chaotic times in Turkey, further fueling the international community's deepening conviction that he is edging closer to an illiberal autocracy.
Initial reviews of the voting process have brought forth a slew of complaints, particularly in the nation's southeast. "We have 65 pages of violations reported today," HDP spokesman Osman Baydemir said on the night of the referendum. "Voting is supposed to be done in secret and counted openly," whereas, in some places on Sunday, the opposite seemed to occur.
This certainly seemed to be Acar's experience in Oyuktas. By the end of the day, the village had registered 375 votes, 219 for "Yes" and 134 for "No,"—which is odd, Acar said. Situated in the province of Batman, Oyuktas residents are majority Kurdish and known to oppose Erdogan's agenda, as they have felt largely disenfranchised by his Justice and Development Party (AKP). Kurds represent roughly 20 percent of the country's 75 million citizens. While not all are opposed to Erdogan and the AKP, questions remain over why regions with HDP-leaning Kurdish majorities produced some of the most significant swings in voting patterns.
During the last elections in 2015, Oyuktas voted heavily in favor of the minority-focused HDP, a party with 12 MPs currently jailed for, among other charges, spreading terrorist propaganda for the outlawed Kurdistan Workers' Party (PKK). The HDP has opposed Erdogan since the collapse of the peace process between his government and Kurdish militants. Since 2015, southeast Turkey has experienced renewed fighting and round-the-clock curfews that razed large parts of Kurdish cities to the ground. Following last year's failed coup, 82 Kurdish mayors have also been replaced with state-appointed trustees, and many Kurdish media outlets have been forced to close.
Another election observer for HDP who declined to give his name said he monitored a school serving as a voting site in the southeastern city of Suruc on the Syrian border, just opposite of Kobane. When polls closed at 4 pm, the observer said roughly 50-60 unused ballots were left in each room at his polling station—about 150 in total. He alleged that polling staff collected the extra ballots and stamped them all with "Yes" votes before placing them in ballot boxes. "Nobody said anything and I was left alone, so I didn't have the courage to say something," he said. "I didn't have a smartphone to record it either." He also said that the son of the Muhtar, who was present during the voting process, told illiterate voters where to stamp their ballots.
In a phone interview on Friday, a press official with Turkey's High Electoral Board (YSK) said the body could not comment on such claims, as reports of voting irregularities were still being gathered and would soon be reviewed.
The observer in Suruc isn't alone in his allegations of blatant election rigging. On Sunday, videos surfaced on social media showing people stamping ballots, assembly-line style. When the 237 votes cast at this station were counted, the results produced 185 "Yes" votes and 49 "No" votes—again, an unusual result considering past voting patterns, he said. Additionally, Omer, another HDP observer at a different polling station in Suruc, said about 60 ballots and envelopes went missing from his voting room after an AKP official had entered, accompanied by a large crowd, to cast his ballot.
While Erdogan has so far dismissed claims of fraud, on Tuesday, Turkey's main opposition group, the Republican People's Party (CHP), demanded that the referendum be annulled until further investigations could be conducted. But on Wednesday, the YSK rejected the party's appeal after seven hours of deliberation; the CHP vows to continue challenging the results, one observer told me. An international observer with the Council of Europe has echoed CHP's claims that as many as 2.5 million votes may be fraudulent. Meanwhile, the Organization for Security and Cooperation in Europe (OSCE), which also monitored the referendum, recommended a recount on Thursday. In eight weeks, it will release an official review of the voting process.
In some ways, it seems as if the Erdogan government wanted to invite scrutiny. Initially, the YSK had required envelopes for ballots to be stamped twice—once by the district's electoral board, once by the electoral staff at individual ballot boxes, who are a mix of party representatives and government employees. This measure was to ensure the validity of the votes, allowing a set number of ballots to be traced back to specific ballot boxes. But on Sunday afternoon, after polling had begun, the YSK declared envelopes without stamps would be valid "unless it [could] be proven that they were brought from outside the voting room." Two days later, the YSK published its rationale for accepting unstamped envelopes, saying the ruling was made to insure voters weren't disenfranchised.
"By European standards, those ballots needed to be, in fact, invalid," Marianne Mikko, rapporteur for the monitoring of Turkey with Council of Europe, told me. "I could only guess that if every polling station had some number of unstamped ballots, then of course there would be an impact on the outcome." Mikko, who observed polling sites in Ankara during the referendum, said a late change in the criteria for ballot validity undermined "an important safeguard" and contradicted the law. More broadly, Mikko said the notion of passing 18 complex constitutional amendments with a simple "Yes" or "No" vote, as the referendum did, was itself problematic. The intimidating atmosphere, alleged voting irregularities, and Turkey's ongoing post-coup crackdown, mean Europe will need to "toughen its rhetoric" with Erdogan, she said.
Another irregularity cited in an upcoming CHP report is the emergence of 960 ballot boxes that produced only "Yes" votes, mostly from polling sites in the east and southeast that were reported to have barred observers from overseeing the voting process. While it's possible that some areas did vote 100 percent "Yes" on Sunday, the spike in such cases seemed to be an anomaly, according to a preliminary study on voting patterns in the referendum by Erik Meyersson, an assistant professor at the Stockholm School of Economics. He noted a sharp drop in "Never AKP-ers," or people that normally voted against the AKP, and a significant swing to pro-AKP "Yes" votes in regions where the party had been least popular in recent elections. (Some city districts in the southeast were leveled during military operations in 2015 and 2016, causing the displacement of an estimated half a million, mostly Kurdish, citizens. The outward migration from the southeast, coupled with the inflow of security forces that are allowed to vote in polling areas where they're stationed, may provide part of the explanation for such swings in voting patterns.)
While Meyersson acknowledged that these analyses could have multiple interpretations and aren't necessarily proof of voter fraud, the political environment under which voting took place may have impacted the results. "Given the numerous authoritarian mechanisms in play during this referendum, I find it hard to imagine a scenario where the constitutional amendments would have passed without them," Meyersson wrote in an email.
In next week's Council of Europe assembly, Mikko plans to propose instituting monitoring procedures in Turkey. "At the moment we can't see another way that we could have dialogue between European institutions and Turkey," she said. The move would be a blow to the nation's long-stalled aspirations of EU accession.
But after 54 years of waiting at Europe's door, Turkey seems to have lost patience. Following the release of the OSCE's initial critiques, Erdogan said it "should know [its] place" and that Turkey would not "consider, see, or recognize" its report. "[A] win is a win," he said in a CNN interview on April 18. "I come from a football background. It doesn't matter if you win 1-0 or 5-0. The ultimate goal is to win the game," Erdogan said.
And yet, citing an 87 percent turnout in the referendum, Mikko said there are clear indications that Turkish people have democratic values and should not be abandoned by European institutions. Protesters in major cities have taken the streets every day since the vote, holding sentiments that Erdogan's power grab was rigged. What comes next depends on the Turkish government's response, which has so far involved the arrest of some prominent activists and journalists, and how the international community reacts.