Egypt Is Trump Country
But is the American president's embrace of Abdel Fattah al-Sisi as radical as it seems?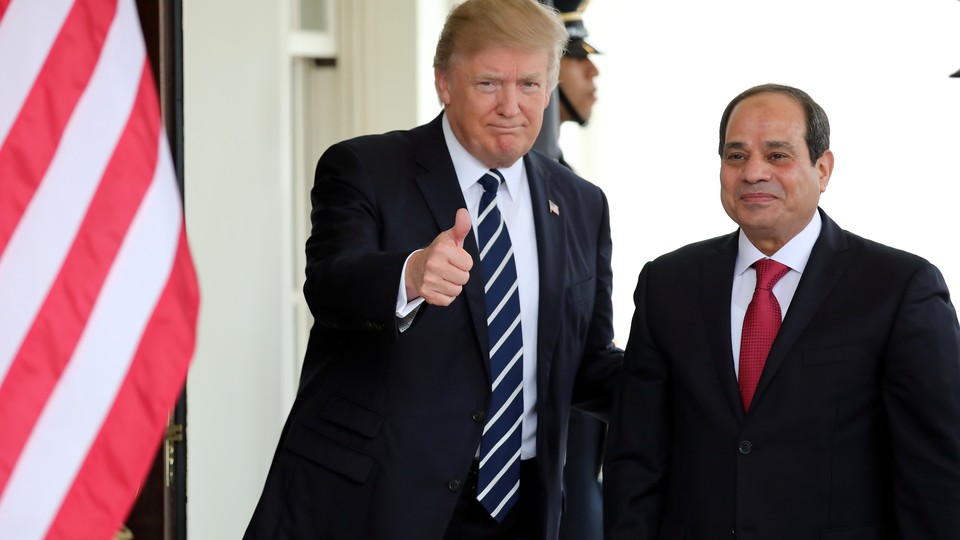 In one of his first acts in office, President Donald Trump phoned his Egyptian counterpart, Abdel Fattah al-Sisi. The symbolism was telling: Sisi wasn't just another Arab autocrat but one of the region's most repressive. The Trump-Sisi mutual appreciation society of two continues this week during President Sisi's much-hyped (in Egypt) visit to Washington.
The authoritarian instinct is easily recognizable among fellow travelers. Like liberalism, it too is universal, cutting across national boundaries. I, like many Americans, have relatives who are Trump supporters. The only difference is that they live in Egypt, which, like Alabama or Texas, is Trump country, at least among a certain group of so-called liberal elites. These "liberals" (who are liberals in some senses but not in others) and of course Sisi himself, did little to hide their enthusiasm for the Republican nominee. Most of my relatives enthusiastically backed the August 14, 2013 massacre of Muslim Brotherhood supporters. And this is what they like about Trump—that he seems to hate the Brotherhood just as much as they do.
Of course, that massacre happened on President Obama's watch, and Obama, beyond some initial rhetoric, did relatively little in response. Not too long after those tragic events (and the military coup against the country's first democratically elected president that preceded it), the Obama administration began normalizing and legitimizing the Sisi regime. Secretary of State John Kerry regularly heaped praise on Sisi, even as a crackdown on regime opponents intensified. There was a partial aid suspension, but senior U.S. officials repeatedly telegraphed to Egypt that there was little to worry about. Kerry, just a month after the partial aid suspension was announced in October 2013, reassured Egyptian officials that the "aid issue is a very small issue."
The partial aid suspension lasted 18 months, but to call it "partial" is probably overstating matters. During the suspension period, Egypt still received $1.8 billion in assistance, "representing 92 percent of the 1.3 billion per year annual rate during that period," according to the Project on Middle East Democracy's 2015 report on U.S. budget assistance. In other words, it's not correct to say that President Obama tried to use his leverage with the Egyptian regime, as former administration officials contend, because he never actually did.
This raises the question of whether Trump's embrace of Sisi is as radical as it seems. In one sense, it isn't. The Trump administration is merely, as with recent comments on Syrian President Bashar al-Assad, explicitly confirming what had already, in effect, been Obama's policy. As the Egypt analyst Evan Hill notes, March 2015 was "a turning point," after which "internal repression escalated by almost every metric." But, in another sense, the shift under Trump is quite important, although hard to measure. At least under Obama, there was a pretense. At least under Obama, there was pressure to release the political prisoner and U.S. citizen Mohamed Soltan.
Even as his administration's support for liberal democrats in the Middle East was tepid, there was little doubting that President Obama, himself, was both a liberal and a democrat. Obama's problem was a traditional one: the longstanding tension between theory and practice, between what we, as Americans, did and who we wished we could be. The difference, under Trump, is that his values—illiberal, populist, and even authoritarian—fit quite naturally with his view of American interests. The next time an American citizen is unjustly imprisoned in Egypt's notorious jails, he or she will have little reason to do what Mohamed Soltan did. While languishing in prison under inhuman conditions, Soltan wrote a letter to President Obama, asking him to stay true to America's values and to not forget his plight and the plight of tens of thousands of other prisoners (including at least one other U.S. citizen):
For months, every day I woke up thinking: Today is going to be the day Americanness counts. Today will be the day those promises my president made me will materialize, today will be the day the Egyptian authorities will have no choice but to treat me like a human being.
There was no guarantee that Obama would step in. But at least Soltan could hope, and at least Soltan had reason to hope. My worry is that the next time an American citizen is unjustly imprisoned in Sisi's Egypt, he or she will begin drafting a similar letter to President Trump, but then quickly realize that the American president will likely not be listening.