What Could Possibly Motivate a Chemical-Weapons Attack?
Assad is proving that the international taboo against chemical weapons is effectively a sham.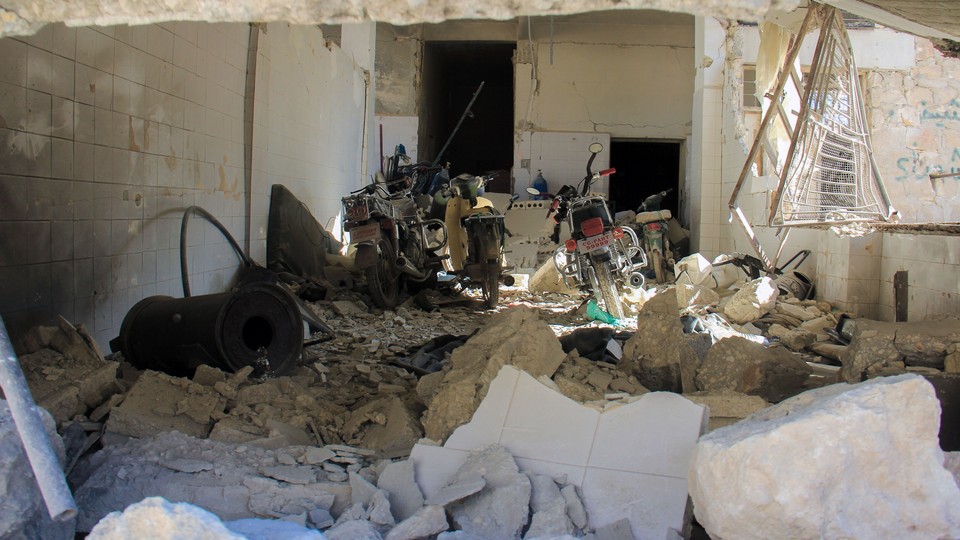 BEIRUT—The horrifying reports of the latest war crime in Syria, which the Assad regime has been accused of carrying out—another apparent nerve gas attack against civilians, including children, this time in Idlib—manage, somehow, to shock us even after years of outrages that have dulled our sensibilities.
At present, U.S. intelligence officials say the attack has the "fingerprints" of an Assad regime strike. In a statement on Tuesday, President Donald Trump directly condemned Assad for the attack, but suggested that President Barack Obama's weakness set the stage for the continuing use of chemical weapons in Syria. "Today's chemical attack in Syria against innocent people, including women and children, is reprehensible and cannot be ignored. ... These heinous actions by the Bashar al-Assad regime are a consequence of the past administration's weakness and irresolution," the statement read.
None of this answers the central question of motive, which remains as much a mystery today as it was after the 2013 nerve gas attack on the Damascus suburb of Ghouta. There are a few clues, however. Some can, indeed, be found in Obama's hasty retreat from his red line on chemical weapons. Another can be found in Trump's warm words for Egyptian dictator Abdel Fattah al-Sisi, uttered on Monday at the White House during the official debut of a new, unabashedly transactional foreign policy that marginalizes issues of human rights and governance.
This is not to suggest a causal link between Trump's bear hug of Sisi and the attack the following day on one of the last persistent rebel holdouts in Syria—the Ghouta attack took place after Obama explicitly threatened retaliation for such a thing, after all. But the brazenness and horror of the attack suggest a gutting of the very heart of foundational international norms. Whether intentional or not—and it might well be a calculated move—this attack marks a second frontal assault on global norms against chemical warfare, along with the international institutions that undergird that ban.
The first challenge, the Ghouta chemical attack in August 2013, was sadly successful. It put to rest any notion that the U.S.-led international order was willing to enforce its red lines, even one as globally important as the taboo against chemical weapons, which grew out of universal horror at the gas attacks on the trenches during World War I. Obama's red line, and the flawed deal that followed that dismantled most but not all of Assad's chemical weapons capacity, taught Syria and its backers an important lesson: at least in this current epoch, the guarantors of the international order are no longer heavily invested in its ethical core or its literal enforcement. Obama laid down only one explicit marker that would prompt him to intervene in Syria—the use of chemical weapons. Assad used them anyway, and found great reward in testing even the most supposedly sacred limits. That was the real lesson of 2013, and it wasn't lost on Assad, Sisi, Putin, or other transactional authoritarians.
For nearly the entire Syrian civil war, Assad has offered a deal to the foreign powers that backed the rebellion. If these foreign governments returned to the regime's fold, all would be forgiven, and Assad's nexus of intelligence services would resume (or in some cases, start) a morally compromised but effective counterterrorism partnership against common enemies, from ISIS to jihadi operatives now in the West. American and European diplomats expressed distaste for such a Machiavellian deal. But after Europe's unity fractured in the wake of the refugee crisis, some of its governments began, discreetly, to discuss the inevitability of Assad's permanence. While his gulag and the methods of his intelligence services horrified them, they also could imagine tangible benefits from intelligence cooperation to root out terrorists. Privately, Syrian officials remind their Western counterparts that their extensive files could help them identify militants or jihadis currently hiding in plain sight in Turkey, the European Union, or the United States. Obama gave up on regime change, but was eager to keep his distance from the dictator in Damascus.
Not so for Trump. His administration's official policy was recently changed to let Assad's fate "be decided by the Syrian people." More importantly, Trump has no truck with American exceptionalism. Secretary of State Rex Tillerson all but disowned the agency's annual human rights report, traditionally used by administrations of both parties to outline America's moral priorities and push despots around the world in a better direction, even if only slightly. (Tillerson didn't even bother to show up for the report's public release.) Trump's positions on Russia, NATO, immigration, and a widening gyre of issues, make clear that he will act on behalf of a narrow set of American interests, mistakenly confident that he will escape any measurable blowback for symbolic or political shifts.
Trump might not care whether a dictator in Syria conducts mass murder, via chemical weapons or otherwise; the new regime in Washington might not detect any U.S. interest at stake in policing even the most minimal norms against war crimes. But Trump will quickly find that he needs allies, and not just to fight terrorist groups targeting America.
When Washington does seek international cooperation to check chaos in some roiling war zone or roll back expansionism by a rising power, or even simply and crassly to protect American commercial interests or markets somewhere around the globe, Trump will realize he needs the very same quilt of institutions and norms that has been so thoroughly eviscerated over Syria. America has already been reminded of the importance of allies as it confronts a bellicose North Korea. It is probably coming to similar realizations about managing the South China Sea, maintaining the benefits of the Iran nuclear deal, and safeguarding Old Europe.
Institutions and governments that stand by idly or ineffectually as Assad makes a mockery of the chemical weapons taboo and the agreement that supposedly emptied Syria of chemical weapons years ago will find themselves ill-equipped to cope with later crises about which they care far more than they do about Syria.
This leads back to the question of motive.
The U.S. government's confidence aside, it will take time for conclusive proof about this latest attack to emerge in the public sphere, as it did in 2013, of the regime's culpability. From a Syrian tactical viewpoint, this attack was utterly gratuitous. Syria's government, which at this stage is handily winning the civil war, does far more killing with conventional weapons. So in terms of the human toll, chemical attacks are but one piece in a horrifying network of crimes.
But the attacks do more than just murder Syrians: they expose the international order as a sham, and weaken the same institutions that are supposed to restrain Assad and his chief backers, Russia and Iran. A weakened and humiliated United Nations—or European Union or United States for that matter—behoove the maneuvers of Moscow, Tehran, and Syria, which more often than not find themselves targets of the wrath of an international order dominated by Washington and Brussels.
It could be that the attack in Idlib was the work of a rogue or a madman. But it's all the more likely, given the carefully studied impact of the 2013 chemical fiasco in Syria, that Assad expects even greater dividends this time than he reaped during the last round. If he can drop chemical weapons on the same day that a conference in Brussels is discussing plans to reconstruct Syria, without any substantive response, then he'll inch even closer to his current goal of winning a Western-funded rebuilding plan on his own terms. He hopes to cudgel the West into funneling reconstruction money through his regime, which committed most of the destruction in the first place. It's absurd that until last year, the same Western governments that were calling for Assad's ouster and funding for armed militants to overthrow him would now pay to restore his abusive authority— it's also very possible.
A chemical attack seems folly at this pivotal moment, with Europe and the United States pondering whether to reluctantly restore relations with Assad. But sadly, it's the kind of gamble that has worked for Assad in the past.
As usual, the first victims are Syrian civilians, caught in Assad's total war. But an equally important casualty might be what remains of the international institutions that are supposed to fight war crimes and atrocities. Today Syrians suffer. Tomorrow, the world.