The Quiet Death of an Anti-Apartheid Hero
The ghost of Ahmed Kathrada will haunt his corrupt successors.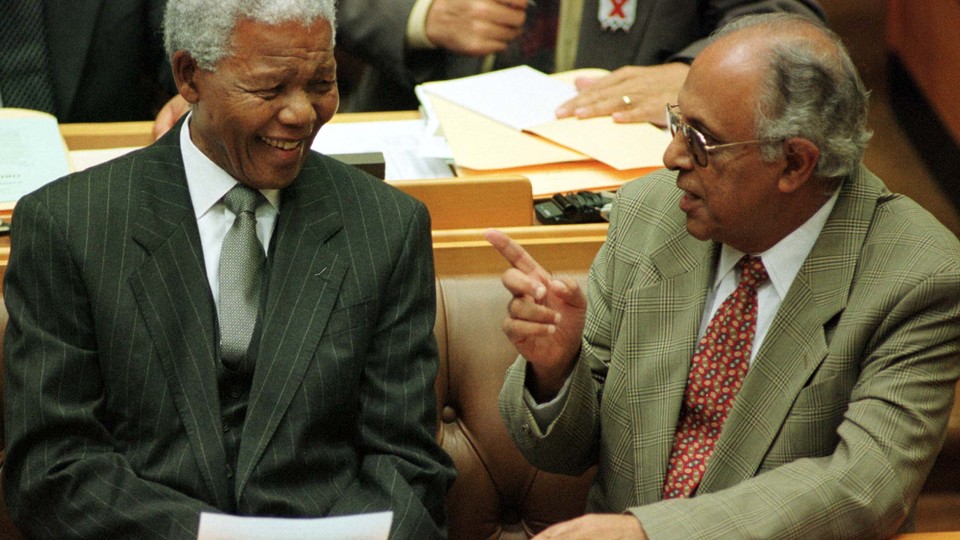 Uncle Kathy was the quiet one. In movies and TV shows depicting South Africa's apartheid struggle, he stood in the shadows of A-listers like Nelson Mandela or Govan Mbeki, ready to offer a chunk of expository dialogue or a well-timed joke. Ahmed Mohamed "Uncle Kathy" Kathrada was, according to these reenactments, a background figure, a gnomic Leatherman tool employed by writers, and occasionally by actual South Africans, to advance the narrative of racial reconciliation and general lovey-dovey-ness. In truth, Kathrada was a fearless political activist and an expert organizer, dedicated to a non-racial Rainbowism that has become dusty and unhip in recent years. Last week, at the age of 87, he passed away following complications from a cerebral embolism.
On March 29, a perfect fall day in Johannesburg, thousands of the most powerful figures in South Africa gathered under a tent at West Park cemetery for Kathrada's funeral. Many belonged to the African National Congress, the 104-year-old alliance of liberation movements and organized labor to which Kathrada had devoted the bulk of his political energies. The ANC, which employs Mandela's smiling likeness as its unofficial logo, has governed Africa's richest and most influential country since 1994. Today it is falling apart, bleeding both members and voters as it lurches from one corruption scandal to the next. Deservedly or not—the smart money is on "not entirely"—most of the blame has been attributed to Jacob Zuma, president of the party since 2007, and of the country since 2009.
In a relentless attempt to control every aspect of the state, the day after Kathrada's funeral, and for the second time in 15 months, Zuma unilaterally fired his finance minister. The casualty on this occasion was Pravin Gordhan, something of a superstar among the global financial elite, who was just settling into his second stint atop the ministry. The sacking was premised on a widely dismissed, undercooked intelligence report claiming that Gordhan wanted to undermine Zuma. But from the moment he assumed the position in December 2015, Gordhan has faced an unrelenting assault from Zuma stemming from his refusal to sign off on spending initiatives in various ministries and state-owned enterprises. His removal, along with a wider cabinet reshuffle, has precipitated what could be one of the major crises of the democratic era.
Kathrada's funeral, meticulously curated by his family, was a pre-emptive response to Gordhan's axing, designed as a rebuke for an inevitable act of political sabotage. The Kathrada family had made it clear to Zuma that while his presence at the ceremony would be tolerated, he would not be asked to speak. This was not the first of Uncle Kathy's political broadsides. At the outset of last year's treasury crisis, Kathrada sent Zuma an open letter culminating with the line, "Submit to the will of the people, and resign." From a wooden box draped in the ANC flag, Uncle Kathy was leading calls for the president's removal, voluntary or otherwise. In this way, it represented a national first: a state funeral without a state president.
This is just not how thing are done in the South African khongolose, or congress, as the faithful call it. ANC stalwarts like Kathrada are treated as local deities, and the unspoken deal is that they serve as such, while observing the strict Omerta regarding the party's innumerable scandals. Meanwhile, their backstories—Mandela's long walk to freedom; Walter Sisulu's unimaginable bravery—have become the party's moral currency. Kathrada was born into a family of Gujarati immigrants in 1929, and was radicalized in his pre-teen years by the routine humiliations and violence of enforced segregation. At the age of 12, he joined the Young Communist League of South Africa; from there, it was a short walk to the ANC. He was one of the last of the surviving Rivonia Trialists, the group of struggle veterans who were arrested at a safe house in Rivonia in 1963, and were subsequently sentenced to life in prison. Along with many of the giants of the movement, he spent 26 years in prison, 18 of them on Robben Island.
Kathrada's release, followed shortly by Mandela's, was greeted with universal jubilation. But by then, the party he represented was already in trouble. The ANC faced an existential question: Without colonialism or apartheid to combat, what exactly did it stand for? The answer, as far as Western observers were concerned, was uncomplicated— nationalization down to the last privately owned teacup. And yet the ANC was both far more sophisticated and less ideologically monolithic than outsiders could appreciate. If Kathrada and Mandela spent their time on Robben Island reading Shakespeare and developing their own bespoke brand of non-racial liberal humanism, their outlook was not always shared, even if it was promulgated. ("Just call me a Thatcherite," Thabo Mbeki said shortly before becoming the country's second president). The yawing back and forth remains the party's hallmark, and has resulted in an endless loop of convoluted discourse and factional backbiting.
Mandela's Rainbow Nation, celebrated worldwide as a triumph of racial comity, was effectively a trade off: political enfranchisement for the black majority, in exchange for leaving the white-operated economy more or less intact. Trickle-down economics was the imperative, intoned as a mantra by the new government. Ultimately, all but the vaguest pretenses of communism were discarded in favor of a hyper-liberalized social-democratic welfare state. Meanwhile, those connected to the ruling party were deployed into a purged a civil service and, more to the point, into bidding pools for lucrative state contracts.
Kickbacks flowed the ANC's way, but in terms of real redistribution to the country's poorest, apartheid's beneficiaries— namely, the country's white minority—were asked to give up nothing. Nor did the ANC seem interested in addressing increasing levels of social inequality. How did it all work out? Racial apartheid was replaced with an economic apartheid, which has manifested back into racial apartheid. Observed from above (literally, via satellite and drone images of cities and townships) the old spatial and racial divisions remain entirely intact.
That said, the ANC that Kathrada left behind has changed the country for the better as measured in terms of social grant disbursement, electrification and sanitization, and the overall dignity that accrues to the politically enfranchised. But it hasn't done nearly enough, and its achievements are offset against the fact that it functions mainly as a looting machine. For many South Africans, the president exemplifies this tragic imbalance. In 2007, Zuma defeated Mbeki as in a battle for the party presidency, and subsequently installed members of his own faction in most of the important leadership positions. Zuma was cast as something of a leftist, but he was in fact an ideological vacuum, and in the intervals between his innumerable court cases, he has proven an expert practitioner of chaos capitalism: whip up as much legislative tumult as possible; play dumb to the tenets and the spirit of the constitution; ignore the rulings of "so-called" judges; destroy the administrative functioning of the state. Into the void steps a shadow state, run by the powerful and the connected. The technique, with which Americans are growing familiar, is as simple as it is effective.
Through Zuma's one-and-a-half terms, the economy has stagnated, youth unemployment sits at a staggering 48 percent, and in what is perhaps the grimmest reminder of the failure of South African democracy, in April 2012, following a strike in a mining community called Marikana, 34 miners were gunned down by police. Meanwhile, Zuma's ceaseless attempts to enrich himself and his family culminated in 2014, after the breaking of the so-called Nkandla scandal, in which he was found to have illegally benefited from security upgrades to his homestead. In early 2016, the constitutional court ruled that he was in dereliction of his oath of office regarding the affair.
Looming over all of this are the Guptas, a family of Indian businessmen who seem yanked straight from a Scorsese-Bollywood mash-up. Last year, South Africa's corruption ombudsman investigated reports of "state capture," and alleged that the Guptas were connected to the president and his own family, a network allegedly conspiring to fleece state-owned companies and take over entire ministries. The recently fired deputy finance minister, Mcibisi Jonas, went so far as to claim that the Guptas offered him nearly $40 million to assume the finance minister position.
In a radical act of South African political magic realism, Kathrada, the wise elder, used his passing to rally South Africa against this scourge. After the drama of the funeral, the presidency cancelled a state memorial service scheduled for last weekend, and the Kathrada and Nelson Mandela Foundations held their own impromptu ceremony in Johannesburg City Hall. Thousands, including a fired-up Gordhan, showed up to celebrate the life of a stalwart. The gathering, hardly representative of everyday South Africa given its shiny middle-class trappings, doubled as a Zuma Must Fall rally.
But South African democracy has failed to craft a coherent nation from the wreckage of apartheid. If Zuma does fall, what will replace him? While Gordhan has the support of the middle and upper classes as well as the center right and business establishment, he has been depicted as a stooge for white capital. These tensions are enflamed by a Zuma-friendly state media, backed up by Gupta-owned newspaper and TV outlets, and a Russian-style paid Twitter campaign. And this is to say nothing of a young, black left that derides what it considers to be a white-led project to save a treasury that does virtually nothing for poor blacks.
Nonetheless, Zuma now faces the possibility a parliamentary no-confidence motion, led by a united opposition and supplemented by (perhaps chimeric) breakaway ANC backbenchers. His succession plans, premised on his securing the ANC presidency for a political ally, are ongoing—nothing is certain. Well, some things are certain: screw with an economy to this extent, and the ratings agencies tend to respond. The currency has tanked against the dollar, while Standard & Poor have downgraded the country's investment status to junk. (Moody's will surely follow shortly. By all means, ask a Venezuelan how this pans out.)
As the local political commentator Ranjeni Munusamy noted, "[Kathrada's] funeral opened a new struggle for the liberation of his country, and in his name, another evil system must and will fall." Days after his death, Uncle Kathy is still fighting for the soul of both his homeland and his party—not that he ever seemed to distinguish the two, of course. Indeed, the quietest stalwart in the ANC pantheon checked out making quite the racket.