North Korea's Missile Launch
An apparently failed test comes amid rising regional tensions.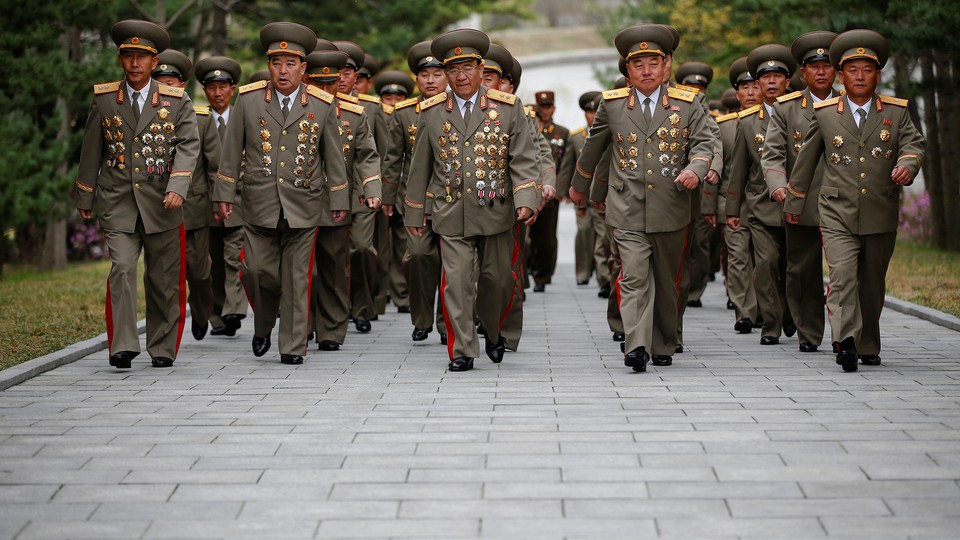 North Korea tested a missile on Sunday local time (Saturday evening U.S. East Coast time), following its Saturday military parades marking the "Day of the Sun"—the 105th birth anniversary of Kim Il Sung, North Korea's founder and the grandfather of Kim Jong Un, the country's present leader.
The United States Pacific Command said the missile "blew up almost immediately." In a statement, Defense Secretary Jim Mattis said that "the president and his military team are aware of North Korea's most recent unsuccessful launch. The president has no further comment." That statement was consistent with one from Secretary of State Rex Tillerson in response to another North Korean missile test last week, when in unusually terse terms the secretary declared that "North Korea launched yet another intermediate range ballistic missile. The United States has spoken enough about North Korea. We have no further comment."
In a statement reported by Reuters, South Korea's office of the Joint Chiefs of Staff said that "the North attempted to launch an unidentified missile from near the Sinpo region" on the country's east coast, where it has a submarine base, "but it is suspected to have failed."
The move, which came ahead of U.S. Vice President Mike Pence's visit to Seoul, was not unexpected. The country has in the past marked important national holidays with missile or nuclear tests; it has also been accelerating both ballistic-missile and nuclear tests since Kim Jong Un took over the leadership in 2011.
Meanwhile, earlier this week, satellite images of the Punggye-ri testing facility showed that North Korea might be preparing for its sixth test—potentially its largest yet, leading observers to speculate that such a test could be imminent, though it hasn't occurred as of this writing. North Korea has tested increasingly powerful nuclear devices with the intention of fitting a nuclear warhead on an intercontinental ballistic missile that can strike targets in South Korea and Japan, as well as in Guam, a U.S. territory. There have been five previous tests since October 2006.
The North's activities could have particular significance in South Korea because the 1950-53 Korean War ended with an armistice—not a peace treaty. Seoul lies about 35 miles from the Demilitarized Zone, the de-facto border between the two nations, and about half of South Korea's 50 million people live around the area. Past nuclear and missiles tests by North Korea have been met with condemnation from the U.S. and its allies in the region, as well as from China, the North's main patron. Those actions have been punished with increasingly tough sanctions against Kim's regime, but they appear, at least outwardly, to have had little effect on Pyongyang's actions.
The tenor of the criticism has changed, however, since Donald Trump assumed the U.S. presidency. The Trump administration has declared the era of "strategic patience" with North Korea, adopted by the Obama administration, over (which itself followed from the Bush administration's ultimately unsuccessful approach with six-party talks). The U.S. also said that it will not talk to the North unless it first renounces its nuclear program. Last week it ordered an aircraft carrier, Carl Vinson, and warships, three guided-missile destroyers and cruisers, toward the Korean Peninsula, a show of force that's also intended to reassure U.S. allies in South Korea and Japan. The North, which labels even routine U.S.-South Korea military exercises as acts of aggression, said the latest move "has created a dangerous situation in which a thermo-nuclear war may break out any moment." Concerns the U.S. might respond militarily to North Korean provocations only grew after American missile strikes against Syria last week and this week's use of the "mother of all bombs" against ISIS in Afghanistan.
On Friday, China said tensions over North Korea's missile and nuclear activities must not reach an "irreversible and unmanageable stage."
"There has been heightened tension between the United States, the Republic of Korea (ROK) and the Democratic People's Republic of Korea," Foreign Minister Wang Yi said, urging calm. "This precarious situation deserves our attention and concern." China has much to lose. Trump initially said Beijing wasn't doing enough to curb North Korea's activities—before acknowledging that Chinese President Xi Jinping had explained the complexity of the situation to him—though he later said he was prepared to deal with the problem alone if necessary. China does have influence in North Korea but it also fears the impact an unstable North Korea will have on its own borders and the region. Then there is South Korea, which is in political turmoil after the removal of President Park Geun Hye. Elections could result in victory for a left-wing candidate who favors rapprochement with Pyongyang. Any U.S. action against the North is likely to take that into account—along with the fact Pence is in the region for 10 days.