Does Israel Have a Special Duty to Stop a 'Holocaust' in Syria?
Why religious leaders say yes and political leaders say no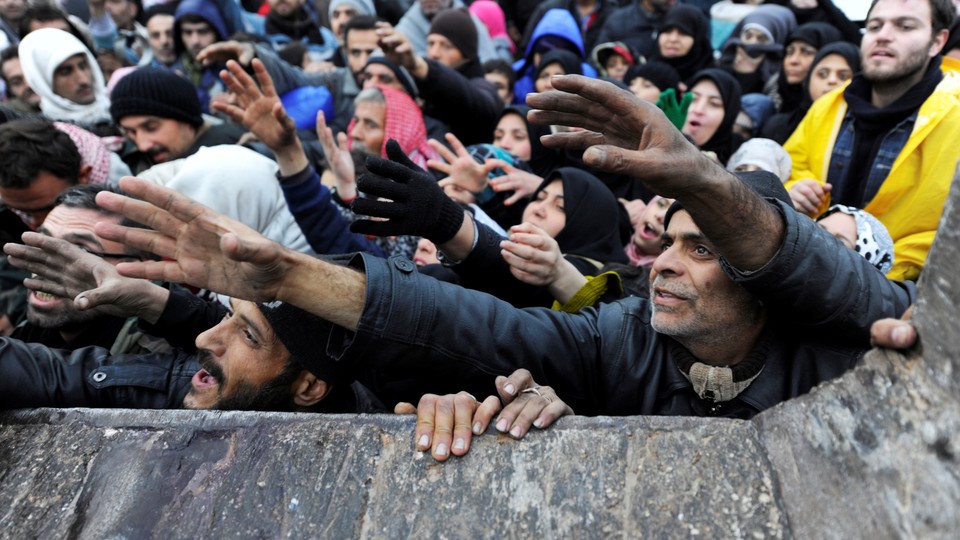 Just hours before the Trump administration struck Syria on Thursday night, Israel's former chief rabbi Yisrael Meir Lau said that what is happening in the war-torn country is a Holocaust.
"This is certainly a shoah of the Syrian people and it did not start today. For the past six years they have been living in a Holocaust," Lau said. The word shoah, which means "catastrophic destruction" in Hebrew, is typically used to refer to the Nazi Holocaust, which the rabbi himself survived as a child.
Lau went further, suggesting that Israel, which rose out of the ashes of the Holocaust, now has a special responsibility. As "a nation that has suffered more than any other nation," he said, Israel must go in and help Syrian civilians, dozens of whom had just been killed in a chemical attack in Idlib. The rabbi has long been vocal about the Syrian war, in which neighboring Israel mostly declines to involve itself militarily, although it has carried out a number of airstrikes.
He's not the only major spiritual leader to make the Holocaust comparison: Israel's Sephardic chief rabbi, Yitzhak Yosef, likewise called the war in Syria "a small Holocaust" last October.
"The people of Israel underwent a horrible Holocaust 70 years ago," Yosef said. "Millions of Jews were murdered … and the world saw and remained silent; we as Jews who felt this silence in our own flesh cried out for years, we asked how the world knew and remained silent? … As Jews it is forbidden for us to remain silent … Genocide cannot be ignored, not in Syria and not anywhere, and not against any people, even if they are not our friends."
While Israel's religious authorities are eager for their country to get involved in the war, several political figures say it's not Israel's job to rescue Syrians. The disagreement draws out a complex psychological tension not only among the country's leaders, but also within Israeli society writ large.
Prime Minister Benjamin Netanyahu, for one, is holding firm to his years-long resolve not to intervene. Although he was quick to voice his outrage that Syrian civilians had been gassed, he conspicuously refrained from saying that Bashar al-Assad was behind the outrage. Looking out for Israeli interests, Netanyahu is now calling for the eventual establishment of buffer zones on the borders between Syria and Israel and between Syria and Jordan, so as to keep Iran and Hezbollah from gaining a foothold there.
Unlike Netanyahu, Defense Minister Avigdor Lieberman pointed the finger directly at Assad, saying he was "100 percent certain" that the Syrian dictator was to blame for the Idlib attack. But like Netanyahu, Lieberman prides himself on prioritizing Israeli security, and this past week was no exception. "Why do we need to take the chestnuts out of the fire?" he said Thursday. "This is the responsibility of the international community. I won't be the schmuck that the whole world pisses on. Let the world take responsibility and act instead of talking."
Israel, of course, is part of "the international community" and part of "the world." But Lieberman sees things through his own ultra-nationalist lens. He is not shy about making Holocaust comparisons, but he prefers to invoke the tragedy to defend Israeli settlement building against EU criticism or to liken the Palestinians' national poet to Hitler, rather than to urge action on behalf of embattled Syrians. Or, as a social psychologist might put it: When he deploys the Holocaust analogy, it's to buttress his own ingroup, not to support an outgroup.
In fact, for Lieberman, the world's non-interventionism on Syria reinforces his own Israel Firstism. "The international community's response is zilch," he said. "It simply doesn't exist. It brings me back to the conclusion that Israel must rely only on itself."
Meanwhile, Jewish Home party leader Naftali Bennett took a slightly more forceful interventionist line. "Children are choking to death. The world MUST ACT against the chemical massacre in Syria," he tweeted. Still, he placed the responsibility for that intervention squarely on others: "I call upon President Trump to lead this effort." Bennett has also been calling for a security cabinet meeting to discuss the situation in Syria; he will get his wish on Sunday, Haaretz reports.
Bennett and other members of the security cabinet—including Interior Minister Aryeh Dery, Finance Minister Moshe Kahlon, and Transportation Minister Yisrael Katz—have recently said that Israel should increase its humanitarian aid to Syrian refugees or take in endangered Syrian children. Israeli hospitals already offer medical treatment to thousands of injured Syrians.
Similarly, the chairman of Yad Vashem, Israel's Holocaust memorial museum, urged world leaders and the international community on Thursday to "end the human suffering and provide humanitarian aid to the victims."
It's no surprise that many Israelis feel compelled to help Syrian civilians—through humanitarian means, if not military ones. The sight of innocents being gassed resonates for Israelis not only because many of them are descendants of European Jews gassed in the Holocaust, but also because Syria's chemical weapons were originally produced to kill Israelis. As Anshel Pfeffer explained, "Syria's chemical weapons program is believed to have begun in earnest in the mid-1970s after the Syrians realized following the 1973 Yom Kippur War that their conventional forces were no match for Israel's army."
But the Holocaust comparison, and the victimhood narrative that accompanies it, is double-edged: Even as it causes some to reach out to contemporary victims, it causes others to focus only on looking out for themselves.
This phenomenon is familiar to social psychologists, who note that a victimhood narrative can cut both ways. For instance, Johanna Vollhard, a psychology professor at Clark University and faculty member of the Strassler Center for Holocaust and Genocide Studies, wrote in her 2009 study of the Israeli-Palestinian conflict that "victim beliefs do not inevitably contribute to violence. Instead, victim beliefs that recognize similarities of experiences between victim groups may give rise to empathy and prosocial behavior toward outgroups, even toward the other party in the conflict." She refers to this behavior as "altruism born of suffering."
In a 2013 psychology study, a research team argued that Israelis' Holocaust narrative has dramatically transformed over time: Whereas it defined "what Israeliness is not" in the decade after World War II, today it represents a core part of Israeli identity. The researchers further argued that among Israelis, the Holocaust narrative yields different psychological responses, which can be classed into four categories: "Never be a passive victim; never forsake your brothers; never be a passive bystander; and never be a perpetrator."
These different psychological responses play out again and again in Israeli society, as different elements within it react to world events. In the aftermath of the Idlib attack and the U.S. strike in Syria, the country's religious leaders are loudly giving voice to the "never be a passive bystander" response, while the political top brass is mostly privileging the "never be a passive victim" response.
This, too, should come as no great surprise: It's by promising Israelis security that the politicians currently at the country's helm got there in the first place. In other words, they're reacting precisely as they were elected to.