How Being a Woman Helped Marine Le Pen
The right-wing presidential candidate tried to use her gender to dispel memories of her party's toxic past. But some legacies are hard to shake.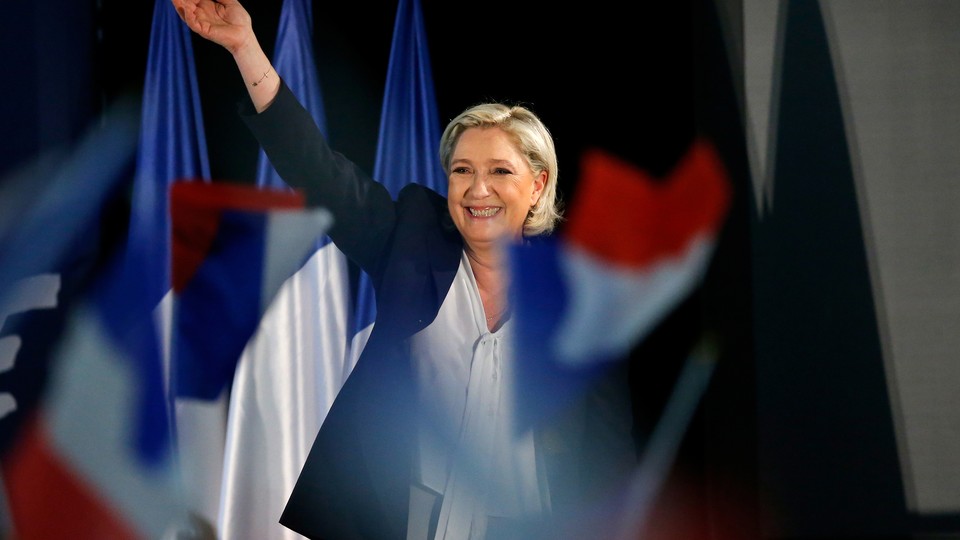 When voters in France cast their ballots in the first round of the country's presidential election on Sunday, Marine Le Pen, the candidate of the far-right National Front (FN), is projected to become the second woman in French history to advance to the second round of a presidential election. That's probably as far as she'll go in her quest to become France's first female head of state—recent polls say she will win the first round, only to lose to whoever she faces in the runoff in May.
Still, Le Pen's ascent coincides with a historic far-right resurgence taking place across the Western world—one that, if successful, could have major implications for Europe's institutions, its establishment parties, and its future. Le Pen's candidacy is also historic in a country like France, whose political history, much like that of other western democracies,  doesn't boast much female representation. French women were only afforded the right to vote and serve in public office in 1944, decades after women in Britain (1918), Germany (1918), and the United States (1920). Édith Cresson became the country's first and only female prime minister in 1991 under President François Mitterrand, but lost the post less than a year later due to low approval ratings that some attribute to the misogynist attitudes of Socialist-party elites. Ségolène Royal, a Socialist politician who in 2007 became the first woman to be nominated for the presidency by a major party, faced similar discrimination.
Le Pen, remarkably, has managed to sidestep the fate of her predecessors, and even wield her gender as an asset. "If anything [her gender] has provided a slight benefit," Rainbow Murray, an associate professor focusing on gender politics, representation, and political institutions at Queen Mary University of London, told me. "She's actively set out to detoxify the party brand and I think her gender has helped."
Le Pen has done this by attempting to soften the FN's extremist edges and embrace her role as a woman, while keeping the party focused squarely on immigration and security. Her illiberal rhetoric about Islam and the Holocaust are still likely to curb the support of some voters who aren't entirely convinced the FN has shed the racist and xenophobic image that has defined it for years. Still, while Le Pen may have no viable path to victory this year, her overhaul of the FN guarantees it has a chance of competing going forward for perhaps the first time in its 50-year history.
Much of Le Pen's success during this presidential election stems from her project to modernize the FN, the historically fringe party founded in 1972 by her father Jean-Marie Le Pen to promote far-right policies such as opposing the European Union, globalization, and immigration. After taking over leadership of the FN in 2011, the younger Le Pen shed some of its more anti-Semitic (her father once called the Holocaust a minor "detail" of history) and homophobic (he also likened homosexuality to pedophilia) elements—an effort which culminated in her father's public expulsion from the party in 2015.
Her efforts didn't go unnoticed. Though the party has tended to rely on an older, predominantly male voter base—attracting nearly twice as many male votes for every female vote—Le Pen's "de-demonization" of the party helped narrow the gender gap among its supporters. This was most evident during her first presidential bid in 2012 when she won a record 17.9 percent of the vote (approximately 6.4 million votes), of which the number of male and female voters was nearly equal.
If the FN's loyal base is any indication, the gender gap is projected to remain narrow. A recent study by French pollster Ifop found that women make up 48 percent of voters who have voted for the FN previously, with men making up 52 percent.
Gilles Ivaldi, a political-science researcher at the National Center for Scientific Research (CNRS) and the University of Nice, told me Le Pen's ability to draw the support of these female voters again will be tested in 2017. "It was a big change," Ivaldi said of the 2012 outcome. "Current polls suggest she could win 24 or 25 percent altogether in the first round, and out of these you'd have 26 percent among men and 22 percent among women, so the gap is slightly bigger."
Another way Le Pen has drawn more women to FN: by promoting herself as a modern woman of the people. In a recent campaign ad, she discussed being a woman, a mother, and a lawyer—aspects of her identity that she says makes her "proudly, loyally, and resolutely French." It's a populist, anti-elitist characterization that has helped her attract new voters to the party, including former Socialist voters who are disillusioned by the deeply unpopular presidency of François Hollande. "She's twice divorced, she is effectively a single mother, she has a partner of several years who she isn't married to," Murray said. "She can put herself forward as someone who understands the dilemmas faced by other women in that situation."
But not all women have been persuaded. The women's rights group FEMEN, for instance, staged a protest during an FN conference in February, shouting "Marine: fake feminist!" during the candidate's speech. In a statement, the group condemned her for being a "fictitious republican" whose platform neither "promotes the emancipation of women" nor "advances equality between the sexes." Rebecca Amsellem, the founder of French feminist group Les Glorieuses, criticized Le Pen for invoking famed French feminist Simone de Beauvoir in an op-ed about refugees in order to "illicit a fear of foreigners and a hatred of immigrants." French feminist group Osez le Feminisme called Le Pen a "pretend feminist," telling Politico: "The fact that she uses the right of women for racist purposes, and xenophobic, to express herself on migrants, we find that intolerable."
Though Le Pen's remaking of the FN has helped it attract disenchanted left-wing voters, so too have her efforts to campaign on more liberal economic policies. In contrast to her main opponents Emmanuel Macron, who advocates cutting public spending and reducing the corporate tax, and François Fillon, whose platform calls for slashing public spending, cutting the public sector in half, and abolishing France's infamous 35-hour work week, Le Pen boasts an economic plan more closely aligned with the center-left. In addition to the FN's traditional calls to shield domestic industries from international competition and withdraw France from the European Union, Le Pen supports increasing welfare benefits and lowering the retirement age from 62 to 60. "Now she's more protectionist and has more social policies and redistribution," Ivaldi said. "This has helped increase support among the working class and the lower-salary class. And you will find that women especially in the lower-salary class are overrepresented."
Indeed, studies have shown that French women are overrepresented in the service proletariat. A 2013 report by the European Commission about gender equality in France found that 41 percent of French women work as personal-service workers, clerks, and cleaners—sectors known for their lower salaries and limited advancement opportunities. But Murray described Le Pen's gestures towards these women as "welfare chauvinism," adding that: "It's about [giving] more money to French people by getting rid of everybody else, so there's still that xenophobic element to it."
In reality, the FN's modernized campaign promises are not much different from its traditional positions. Much in the same way its economic platforms are rooted in its protectionist, anti-globalization agenda, Le Pen has used her status as one of the election's only female candidates to further her party's anti-immigration, anti-Islam policies. In one of her campaign ads, she states proudly, "I am a woman, and as such I experience the ever-increasing restrictions on our liberty in our country through the development of Islamic fundamentalism."
"She's tried to refrain some of the anti-Muslim sentiment by trying to pass it off as a form of feminism and suggesting that Islam is oppressive for women and that Sharia law would oppress women," Murray said. "It's a way of trying to legitimize her actions by saying, 'It's not that we're prejudiced against a particular group, it's just that I'm standing up for women's rights, I'm defending French values, and one of those values is women's rights.'" Murray added: "That would sound very paternalist coming from a man. But coming from a women, it sounds more credible, especially when she does publicity stunts."
One such stunt occurred during a two-day visit to Lebanon in February, during which the far-right leader made headlines for canceling a meeting with Sheikh Abdellatif Deryan, the country's Grand Mufti, after refusing to wear a headscarf. Le Pen, who has been a vocal proponent of banning headscarves and other religious symbols from public spaces, was reportedly offered a white shawl to cover her hair upon her arrival to the meeting in Beirut—a gesture she refused before she returned to her car and left.
The Grand Mufti's press office said in a statement that Le Pen had been informed in advance that she would need to cover her hair for the meeting, prompting critics to allege the move had been planned. Le Pen refuted the claim, saying she warned the Grand Mufti's office she would not wear a headscarf at the meeting, adding: "They wanted to impose this on me, to present me with a fait accompli. Well, no one presents me with a fait accompli."
But despite Le Pen's success in attracting more female voters to the FN, the party can hardly claim to be focused on championing women's rights. The word "women" only appears once in the FN platform in its "defending women's rights" section, which the party describes as "fighting against Islamism, which reduces fundamental freedoms," "putting in place a national plan for equal pay for women and men," and "fighting against job and social insecurity." Issues such as abortion—which the FN has historically opposed, likening it to "anti-French genocide"—no longer appear at all.
Murray told me this divide stems from Le Pen's efforts to attract new voters without losing old ones. "She's walking a tight rope of being conservative enough for the party's electorate and moderate enough to draw in new voters," Murray said. "She's been quite successful at doing it because, for one thing, she's a very skilled politician. And for another, she is able to use her own identity to market the policies in an effective way."
The issue of female representation in French politics will likely persist regardless of how well Le Pen performs, despite the passage of laws intended to address the disparity at the municipal, legislative, and European level. Today, only 25 percent of lawmakers currently in the French National Assembly are female; in the Senate, it's 27 percent.
Ivaldi said the disparity persists in part because most parties don't abide by the laws, and just don't seem to play fair. "Parties will give women the almost unwinnable seats whereas they will keep the safe-seat constituencies for male candidates," he said.
The problem goes beyond the party level. Top-level cabinet posts, like the minsters of interior, defense, and foreign affairs, typically go to men, while women are given issues such as culture, housing, and social affairs. "There are very few women on the finance committee, there are very few women on the foreign affairs committee, and there are a lot of women on the social affairs committee," Murray said. This creates the impression that only men "should be talking about the presidential issues."
Le Pen's efforts to remake the FN may be futile so long as the party continues to stumble over issues that made it such a pariah in the first place. From Le Pen's vocal affinity for Russian President Vladimir Putin to her remarks this month denying France's responsibility for sending tens of thousands of French Jews to the Nazi concentration camps during World War II, the party has failed to shake off its fringe reputation. Indeed, a March poll found that more than half of French people regard the FN as a danger to democracy.
For as long as the FN remains a controversial party, a glass ceiling may be the least of Le Pen's worries. "When people think of the Front National, it's really about the policies and extremist background," Ivaldi said. "The candidate doesn't really matter."