When Passover Is About American Slavery
A plantation houseboy grew up to be a prophet—and inspired a religious movement.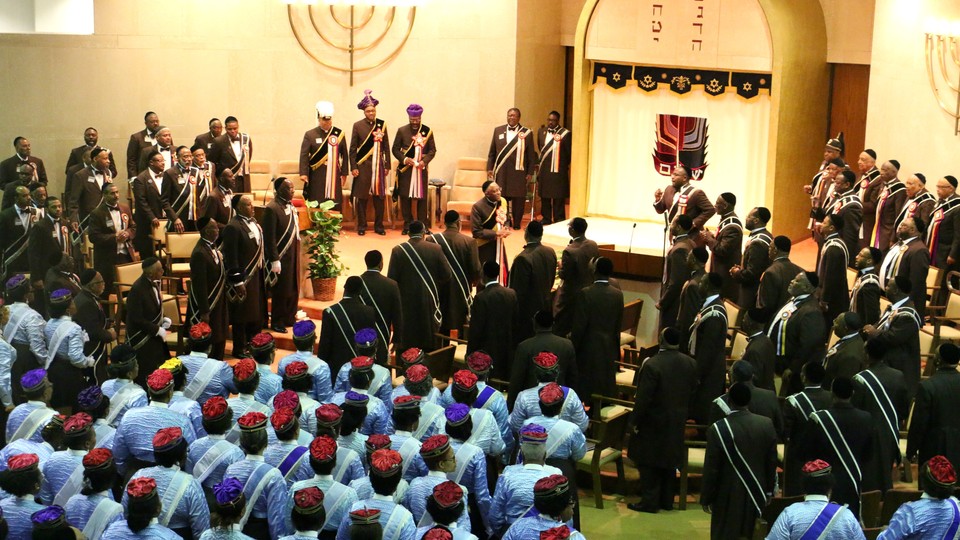 More than 1,000 men and women gathered this past week in coastal Virginia to celebrate Passover and retell the ancient story of how Moses led the Israelites from bondage to freedom. They were observing holiday traditions that Jews all across the world observe—only these celebrants were not Jews.
Their memories of slavery and liberation concerned not a distant past in Egypt, but a story set in the United States. Their prophet was an African American man born into slavery. He preached to a Christian audience, telling them to incorporate Hebraic practices into their faith out of a desire to return to the true Church as he envisioned it, and based his new Church on both Old and New Testaments. Their Promised Land was a plot in Virginia where descendants of black men and women could gather and be safe from the scourge of white supremacy.
Temple Beth El in Belleville is the headquarters of the Church of God and Saints of Christ, the largest and oldest organization of Hebrew Israelites in the country. Hebrew Israelites are people of color, mostly African American, who identify as descendants of the biblical Israelites. Passover is among the holiest weeks on this group's calendar. Members travel from across the country and abroad to spend days in near-constant worship in a place they call Canaan Land, after the land promised by God to Abraham in the book of Genesis.
"Just as Israelites of the Bible had their Land of Canaan filled with milk and honey, this is our land of milk and honey," said Melvin Smith, 46, a fourth-generation congregant from nearby Portsmouth, Virginia. "This is our refuge."
The group remains little known outside its own ranks, despite over a century of history, tens of thousands of members, and outposts that fan across America, Africa, and the Caribbean. Religion scholars are given scarce, if any, access to the organization's archives. Leadership guards the legacy of the group closely. Photography is rarely permitted inside sanctuaries. Internal materials, like the group's unique hymnal, are not to be reproduced or shared with outsiders.
"The Church of God and Saints of Christ is one of the most important religious bodies in America that few people have ever heard of," said Jacob Dorman, professor of history at the University of Kansas and author of Chosen People: The Rise of American Black Israelite Religions.
At an evening service last week, hundreds of congregants filed into pews. The sanctuary, opened only on special holidays, was filled nearly to capacity. Saints, as members call themselves, were dressed in the formal garb that has been part of their tradition for generations. The men wore sashes across their shoulders, long-tailed suit jackets, black kippahs, and white gloves. Some wore thin white prayer shawls, or tallits, on their necks. The women were dressed in sashes, brown pleated skirts, and brightly colored headdresses fixed with glittering brooches.
At the center of the room was a large Torah ark decorated with a fabric banner that read "Shalom" in Hebrew, flanked by two seven-pronged menorahs. The chief rabbi, a retired math professor named Phillip E. McNeil, stood behind the pulpit. At 75, he exudes a quiet authority. He spoke lightly into a microphone and the crowd hushed. They had been worshipping together for a week straight. "Are you tired yet?" McNeil joked. "There's nothing like worshiping the God of Israel, is there?"
A younger evangelist followed McNeil onto the stage and picked up the Passover theme, which ran through almost every sermon. "I'm here to remember that day we came out of Egypt," Frank Johnson said. "In every age, He's still passing over, still executing judgment, still demanding that the oppressed go free."
A choir of hundreds broke into song, complex four-part a capella sung by heart. The lyrics of the songs are composed by congregants and delivered to them, it's said, through divine dreams. This evening's choir master pumped his fists in the air, readjusting the kippah on his head as music filled the sanctuary.
Collin McGhie, from North Carolina, sang along, shifting his weight from right to left and clapping. McGhie was raised a Seventh-day Adventist and joined this organization six years ago. "I come here for a spiritual recharge," McGhie said.
This past week, it seemed that not only McGhie but the entire congregation had come to spiritually recharge and regain its balance. Last year, the group's leader, Chief Rabbi Jehu August Crowdy, died suddenly just before Passover. He was only 46. The organization reeled. McNeil was quickly selected to take his place. This Passover marked a year since McNeil assumed the position.
The late Crowdy was the great-grandson of a man named William Saunders Crowdy, who founded the Church of God and Saints of Christ in 1896. He was born in Maryland in 1847 and spent his childhood as an enslaved houseboy on a plantation where his mother was a cook. As a free adult, Crowdy was one of a generation of spiritual leaders who taught that African Americans were descended from the Israelites of the bible—and that they should return to this ancient way of life.
"He preached a way of life to people who were just out of slavery, some folks who were just wandering," McNeil said. "He brought meaning to their lives, preaching that those biblical characters they read about—Abraham, Moses, Isaac, Jacob, even Jesus—were people of color."
Members observed the Hebrew calendar, including the Sabbath and feast days. Crowdy traveled across the country, setting up scores of congregations. Remarkably, on the heels of slavery and in a time of extreme racist violence, Crowdy preached a message of racial integration and attracted many white followers early on. Sometimes, his message was received well; other times, he was chased out of town. By the early 1900s, Crowdy had thousands of followers who revered him as a prophet.
In 1903, Crowdy bought a plot of 40 acres in the Tidewater region of Virginia for the saints. He died five years later, in 1908, but his successors built up the land as their headquarters and a center of communal living. By 1920, about 300 families lived here full time, constructing their homes and a place of worship using wood from the trees they cleared. Farms, a school, and an orphanage cropped up.
Today, the property spans about 400 acres and includes a hospital, a hotel, and neat rows of housing developments, complete with manicured lawns and cul-de-sacs. Old remnants of fruit orchards dot the streets, which are named after the group's prophets and leaders.
Since the elder Crowdy's passing in 1908, the group has withstood a number of schisms. The branch headquartered here, the largest, is much more Judaic than others. For example, they incorporate prayer shawls and head coverings into services. And, importantly, they call Jesus a prophet, but not the Messiah.
"Our leaders wanted to be more in step with contemporary Judaism," McNeil said. "Not to the extent that we would deny our own heritage and legacy of Prophet William Saunders Crowdy, but to bring in some of the good parts, parts that would reconnect us with the ancient Israelites."
The organization has carved out their Judaism, clearly apart from major American Jewish denominations, and distinctly their own.
"The Church of God and Saints of Christ practices a beautiful and meaningful form of Judaism that has not attempted to erase the traces of Christianity in its heritage," said Dorman, the University of Kansas professor, "but also has not asked anyone's permission to practice Judaism: They simply do."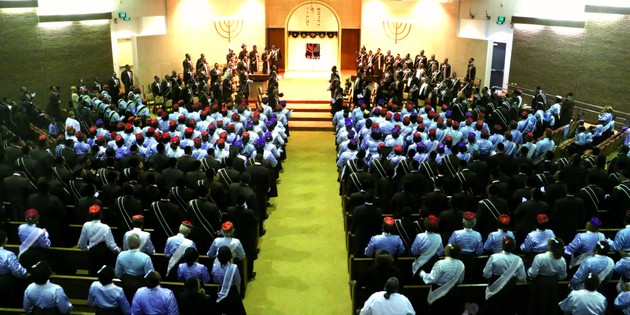 For saints, the land is their anchor.
"For an earlier generation of saints, Canaan Land was seen as a place that was safe and free from white supremacy," said Walter Isaac, a member of the Church, lecturer at Savannah State University, and author of Locating Afro-American Judaism. "You can still feel echoes of that today. They feel that God will never remove that canopy of safety."
After an evening ceremony, the saints sat at foldout tables in small groups, eating. Someone played Caribbean music on a stereo. The younger saints stood in a small circle, trying out dance moves, mimicking each other and breaking down in laughter.
Dennis Dawson, a 50-year-old Lyft driver from Cleveland, Ohio, was finishing his meal. He joined two months ago and already keeps portraits of the group's patriarchs hanging from his rearview mirror. When his passengers ask, he points at the faces and says, "These are my rabbis, these are Israelites."
Sitting nearby, Louis Marshall, a 47-year-old lifelong saint from Brooklyn, added, "This is home; I see this as our city. What makes it sacred? It's ours."