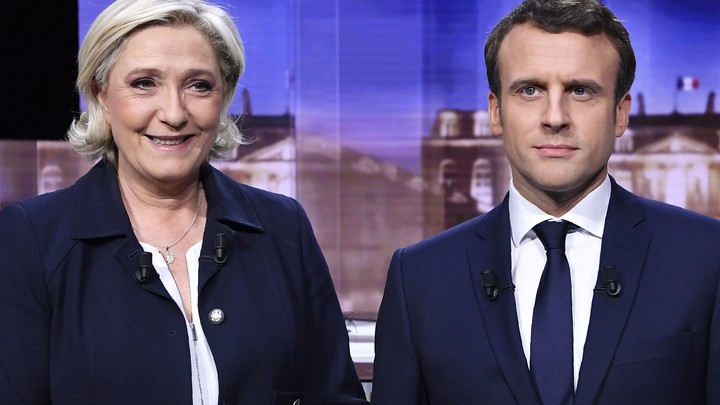 French voters will return to the polls Sunday to decide which of the two finalists, independent centrist Emmanuel Macron or far-right leader Marine Le Pen, will become their next president. The runoff pits for the first time in modern French history two candidates who are from neither major political party, each of whom boast very different visions for the country's future. Though polls predict Macron will beat Le Pen comfortably with 60 percent of the vote, turnout could affect the outcome.
Either way, the winner's victory will be nothing short of historic.
---
Emmanuel Macron — En Marche!
The 39-year-old independent is favored to become France's youngest president. He emerged the victor of the first round with 23.7 percent of the vote, and recent polls project he'll win 60 percent of the vote in the runoff. A political outsider, Macron was virtually unknown before former Prime Minister Manuel Valls appointed him economy minister in 2014—a post he held for two years before breaking away from President François Hollande's Socialist government to launch his own political movement, En Marche!, or "On the Move!" Macron's centrist platform, which he says aims to "reconcile the two Frances that have been growing apart for too long," advocates business-friendly economic policies that aim to loosen France's labor laws and its famed 35-hour workweek; defends the European Union and NATO; and opposes immigration quotas, calling instead for strengthening the EU's external borders and devising a united European policy on immigration. Apart from unsubstantiated rumors about his personal life (his marriage to Brigitte Trogneux, a former teacher at his high school who is 24 years his senior, has prompted speculation about the pair), Macron has largely avoided scandals the likes of which have plagued some of his rivals. But his campaign was hit by a "massive, co-ordinated hacking" less than 48 hours ahead of the vote. The leak didn't appear to release any incriminating information, and French electoral authorities cautioned against disseminating its contents, noting that "such data, which has been fraudulently obtained and in all likelihood may have been mingled with false information, is liable to be classified as a criminal offense." The hack came one day after French prosecutors opened an investigation into a complaint by Macron that his campaign was being targeted by fake news aiming to influence the French election. It also came minutes ahead of a 48-hour blackout that bans campaigning or commentary that might influence the contest. As a result, the interior ministry declined to comment on news of the hacking. In the first and only head-to-head debate between the two candidates, Macron characterized Le Pen has a candidate who "has prospered for years and years on the back of French people's anger," pledging that if elected he would"refuse the spirit of defeatism and hatred which is that of the National Front."
Read more about Macron's independent bid for the presidency and how he built his political movement.  
Marine Le Pen — Front National (FN)
The far-right leader has already made history by pushing her National Front (FN) party into the mainstream. And though polls widely project she'll lose the runoff to her independent rival, an upset could make her France's first female president and its first far-right leader since World War II. The 48-year-old is in a much stronger position than when she made her first presidential run in 2012—an improvement that can be attributed not only to her efforts to clean up the party's fringe reputation, but also to the resurgence of populists across the West. Le Pen's 144-point manifesto proposes closing France's borders and cutting immigration to 10,000 people per year, leaving the the EU, and dropping the euro and returning to the franc; Le Pen, an opponent of globalization, wants taxes on French products made overseas and on employers who hire foreigners; she also advocates closer ties with Russia and pulling France out of NATO. Le Pen's campaign has not been without controversy. In addition to facing charges she allegedly misused EU funds to pay her staff, her xenophobic rhetoric toward Muslims (she has long conflated Muslim immigration with rising Islamic fundamentalism) and recent comments denying France's role in deporting tens of thousands of Jews to the Nazi concentration camps have prompted many to question whether the FN has truly shed the racist image that has long defined it. Still, Le Pen is hoping the anti-establishment wave will be enough to carry her to the Élysée Palace. In the final presidential debate, she cautioned voters against supporting Macron's platform, which she likened to the deeply unpopular Socialist President François Hollande, and reaffirmed her pledge to "eradicate the ideology of radical fundamentalism."
Read more about Le Pen's platform, how being a woman helped her candidacy, and her strategy to divide France's Jews and Muslims.
---
The defeated candidates:
François Fillon — Les Républicains
The former prime minister's Republican primary win over former President Nicolas Sarkozy and former Prime Minister Alain Juppé came as a surprise. Despite being dubbed "Mr. Nobody" by French newspaper Le Monde, Fillon, 62, is no political outsider. His 30-year tenure in French politics includes stints as labor minister in 2002, education minister in 2004, and, perhaps most notably, prime minister under Sarkozy in 2007. The center-right candidate's platform leaned further right than those of his Republican counterparts, calling for cuts to public spending, slashing half a million public-sector jobs, and abolishing the 35-hour work week; he supports rapprochement with Russia, but wants to maintain France's participation in the EU and NATO; and he called for annual quotas restricting immigration. Fillon enjoyed a comfortable lead in the polls early in his campaign, but began to lose support in January amid allegations he embezzled public funds by paying his wife, Penelope, and their two children for parliamentary work they are alleged not to have performed. Fillon denied the charges, and the Republican party, despite calls for Juppé to replace him, stood by him. Still, it wasn't enough to propel him to the runoff. His candidacy ended with a third-place finish in the first round, during which he earned 20 percent of the vote. He called on his supporters to vote for Macron in the runoff, warning that Le Pen would lead France to "ruin."
Read more about Fillon's candidacy and his ongoing money scandal.
Jean-Luc Mélenchon — La France Insoumise
The 65-year-old left-wing firebrand enjoyed a last-minute surge ahead of the first round, emerging as a left-wing alternative for disillusioned Socialist voters. A veteran Socialist, Mélenchon quit the party after 35 years to create the Parti de Gauche, or Left Party, in 2008. However, his latest bid for the presidency (he ran once before in 2012) was not supported by a party, but rather, a movement he calls La France Insoumise, or "Unsubmissive France." The furthest left of all the candidates, Mélenchon advocated increasing public spending, shortening the 35-hour work week to 32 hours, and introducing a 100 percent tax on people earning more than 400,000 euros ($429,000); he advocated pulling France out of NATO and renegotiating the country's EU treaties, promising to quit the bloc if his renegotiation demands are not met; and he proposed holding a referendum to write a new constitution and establish a sixth republic—a change that would mark an end to the current semi-presidential system established under former President Charles de Gaulle and the start of a new form of government in which the legislative branch wields more influence. As my colleague Uri Friedman notes, Mélenchon's popularity, like that of far-right candidate Le Pen, could be attributed in part to a populist surge taking place throughout the Western world that has been buoyed by voters' disappointment with the political establishment. Mélenchon ultimately finished fourth in the first round with 19.6 percent of the vote. He cautioned his supporters against making the "terrible mistake" of voting for the FN one week ahead of the runoff, but fell short of formally endorsing Macron.
Benoît Hamon — Parti Socialiste
The former education minister emerged as the winner of the Socialist party primary when he beat former Prime Minister Manuel Valls in January, marking a leftward shift within the ruling party marred by the deeply unpopular presidency of François Hollande. Hamon, a 49-year-old Brittany native who quit the Hollande government in 2014 citing opposition to its centrist economic policies, has long represented the far-left of the Socialist party. In his 100-point platform to "make France's heart beat," Hamon called for reducing the 35-hour work week to 32, establishing a universal income of 750 euros ($815) for all citizens, and imposing a "robot tax" on automation that replaces workers with machines; a supporter of the EU, Hamon called for closer European integration on issues such as social rights and the environment; and on immigration, he advocated speeding up the asylum process, emphasizing integration, and creating a "humanitarian visa" for refugees. Some of Hamon's critics blasted his platform as utopian, while others said it did little to differentiate him from Mélenchon. Fissures within the left made it difficult for Hamon to command support—even from members of his own party. Some Socialist leaders, including Valls, endorsed Macron instead. Hamon came in last of the main contenders with 6.2 percent of the vote in the first round and immediately called on his supporters to vote for Macron, noting that there is a distinction between a political adversary and an "enemy of the Republic," in reference to Le Pen.
Read more about Hamon's candidacy here.
We want to hear what you think about this article. Submit a letter to the editor or write to letters@theatlantic.com.