Can a French Political Upstart Ride Obama's Strategy to Victory?
If the polls are right, Emmanuel Macron is the likely next president of France.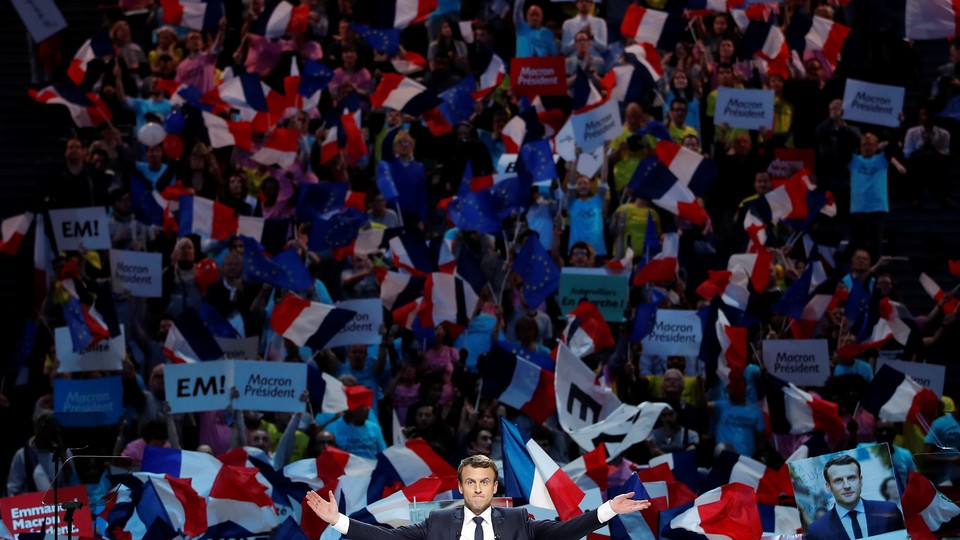 PARIS—When French presidential candidate Emmanuel Macron stepped on stage at the AccorHotels Arena Monday afternoon for his final major rally before the first round of voting, 20,000 people filled the stands, and many others watched on screens outside. "Do you hear the murmur of spring? It's the sound of a page of political life turning, that you are turning," he said. "Do you know what will happen next week? On Sunday, we will win, and it will be the beginning of a new France!"
That Macron can draw a thousands-strong crowd is stunning: A year ago, Macron had no party, no operation, and was still serving as economy minister under President François Hollande. Today, with a quarter of a million members in his En Marche ("On the Move") movement, he has cemented his status as a frontrunner in the French election—and if the polls are correct, he is the likeliest next president of France.
The 39-year-old candidate has managed to do something that, at least in France and certainly in the United States, is next to impossible: He has created a political movement of his own, one with a real chance at victory, and all in just over a year.
The political headwinds of 2017 have helped Macron along: Casting himself as an outsider in a season of extreme anti-establishment animus has bolstered his case, and he's benefited from center-right candidate François Fillon's scandals and the shrinking support for Socialist candidate Benoît Hamon. Macron bills himself as a centrist candidate who can combat the populist appeal of the far-right National Front's Marine Le Pen.
But if Macron advances to the second round of the French presidential election, it will be in large part because of the unprecedented operation of supporters and campaign volunteers he's built, using U.S.-style mobilization techniques that, in some ways, mirror the organizational style of Barack Obama's campaigns. Today, En Marche has more than 3,900 local volunteer committees and hundreds of small events each day across the country.
Macron's team clearly welcomes the association with the former U.S. president: Just three days before the election, they released a video of their candidate speaking with Obama by phone, in which Obama wishes Macron "good luck" with his campaign and Macron responds by saying he'd like to discuss "how to work together" with Obama. (Obama's team later clarified that the phone call didn't include any sort of formal endorsement.)
Should Macron win the presidency, his victory will serve as a repudiation of the French political establishment and as a vindication of a type of technology-driven, volunteer-heavy campaigning that is still new in France. But if he underperforms on Sunday—or, should he advance to the second round but then lose to Le Pen—it will be a signal that Obama-style mobilization efforts aren't enough to stop a populist candidate.
Macron, a product of the prestigious Paris Institute of Political Studies and École National d'Administration, has the profile of an establishment figure in the French elite: After four post-graduate years at the Ministry of Economy, he left to work for Rothschild Bank, then returned to government in 2012 as an adviser to Hollande. In 2015, Macron announced he was no longer a member of the Socialist Party but an independent; he resigned his post as Economy Minister in August 2016, then formally launched his campaign that November. In a sense, having no solid electoral experience has made him something of a cipher, vulnerable to being characterized by the left as just another technocrat. In an anti-establishment environment, he needed to project an image different from that of his former Socialist Party colleagues.
As Macron mulled an independent presidential bid last spring, he and his advisers sought to answer one main question: What would help them succeed where other upstart political movements had failed? The cost of a campaign may be far lower in France than in the United States, but the two major political parties in France, the Socialists and the Republicans, are decades-old forces with extensive resources and party members that make it tough for anyone else to truly compete. Since the start of the French Fifth Republic in 1958, no independent candidate has successfully captured the presidency.
So Macron turned to three young Frenchmen who got their start in politics as volunteers for Obama's 2008 campaign, and who now run a political consulting and technology firm in Paris. Guillaume Liegey, Arthur Muller, and Vincent Pons met in Boston—Liegey and Muller studied at Harvard's Kennedy School of Government, while Pons was a graduate student at MIT—and, after Obama's victory, decided to explore which Obama-style tactics they'd be able to bring to France.
While French privacy laws don't allow campaigns to target voters on an individual level, the Obama alums still saw an opening for the signature mix of technology and traditional in-person volunteer interactions pioneered by Obama's army of 2008 volunteers. Liegey, Muller, and Pons created an algorithm that combined census data with past precinct-level election results to narrow down where a particular campaign should focus its efforts—not to individuals, but to neighborhoods. They applied that approach when they ran ground operations for Hollande's 2012 campaign, aiming to knock on 5 million doors nationwide and using their data to determine which areas their 80,000 volunteers should emphasize. They credit the campaign's extensive canvassing effort—which was, at the time, a brand-new concept in French politics—with helping Hollande notch a narrow victory over incumbent President Nicolas Sarkozy.
Macron, though, needed something completely different in 2016: He needed to get a head start on organizing for the 2017 campaign, in a way that actually connected with voters and potential supporters far out from Election Day, even before he had officially announced his candidacy.
What resulted was the Grande Marche, a nationwide door-to-door campaign that aimed not to secure votes but to function as a sort of listening tour across France. Macron's team wanted to know what French voters were thinking, which issues interested them most, and what they liked and didn't like about the country's politics. They used Liegey, Muller, and Pons's algorithms to identify precincts and neighborhoods that were representative of France as a whole. The Grande Marche was a way for Macron to indirectly reintroduce himself to voters and cast his movement as one that was expressly of the people.
Through the spring and early summer, Grande Marche volunteers knocked on roughly 300,000 doors, collecting more than 25,000 interviews with voters. While typical door-to-door interactions lasted only a few minutes, the volunteers spent an average of 14 minutes with each person who opened the doors to let them inside.
The Grande Marche was unprecedented in France, both for its scope and for how long before Election Day it was conducted. The effort also benefited Macron's campaign because it served as a training ground for new volunteers, many of whom had never volunteered for a campaign before.
"The idea was not to gain votes, but to get a better understanding of the country and to give meaningful experience to the new En Marche volunteers, because many of them had never knocked on doors," Liegey said. "And they loved it."
After the Grande Marche, Macron's team created a database of quotes from the tens of thousands of voters they interviewed. That database, searchable by issue and region, has helped inform the campaign team's communications with voters since: Whenever they needed a quote from a teacher in Strasbourg about education or a farmer in Provence about the European Union, they had relevant quotes on hand that had been collected by their own volunteers. The comments they received were then integrated in the months-long process of crafting Macron's programme, or policy platform, which was released in late February.
Since then, Macron's campaign has worked to implement some of the same kinds of grassroots volunteer structures pioneered by the Obama campaign in 2008: In Paris, for example, each one of the 20 arrondissements has a référent, or a local leader, who coordinates volunteer and campaign activity in that district.
"You show people you care, because you're here," Laurent Saint-Martin, the référent for the 17th Arrondissement of Paris, told me during a recent meeting of local volunteers at a neighborhood café. "The main risk [for people] to vote for populism is when they feel lost."
In the 18th Arrondissement, emails go out several times a week notifying supporters of potential volunteer opportunities. Justine Henry, 28, is the référente; nine group leaders report to her, all of whom help oversee the more than 150 regular volunteers (and the 3,000 supporters) in the neighborhood. On Tuesday night, Henry and 17 other Parisians gathered at a small café for one such event: a dinner aimed at introducing new supporters to the party. Going around the table, Henry asked the participants to explain why they were there. Did they have any questions about Macron's platform? Were they interested in volunteering during these crucial final days?
"It's quite a start-up model, which is great because people can find a place if they want to," Henry said. "That way of letting people take initiative—this is really good, it's not top-down management."
Even though Macron has largely relied on volunteers for canvassing, all his strategy consulting and campaigning has come at a cost. In mid-March he said he was finalizing a personal loan to his campaign worth 8 million Euros, and by the start of April his campaign had reportedly raised 9.3 million Euros. Macron's commitment to U.S.-style politics, backed by data and technology, can be a major asset—but there's also the danger that, if it looks too sleek, his operation could turn off voters who in their desire for change are looking for something that feels more "authentically" insurgent. The two other non-major-party candidates doing well this year, Le Pen and far-left candidate Jean-Luc Mélenchon, are conducting decidedly less high-tech voter turnout operations, yet are both gaining ardent followers.
While the presidential election is En Marche's first test, an equally important one will be in the parliamentary elections in June. Typically new presidents have no trouble winning strong mandates in the parliament—but, should Macron win the presidency, he'll have to start from zero with his parliamentary majority as well. Macron has said he'll field candidates for all 577 legislative districts, with a focus on increasing representation among women and among people without government experience.
The Macron campaign's first announced candidates include a 33-year-old startup staffer in Paris, a farmer in the Creuse region of France, and a hospital director in Toulouse. To fill the hundreds of other candidate spots, En Marche put out a public call for people interested in running. By the end of March, the party had already received 14,000 responses.