France's Latest Terrorist Attack
Days ahead of a presidential election, a shooting could have far-reaching impact.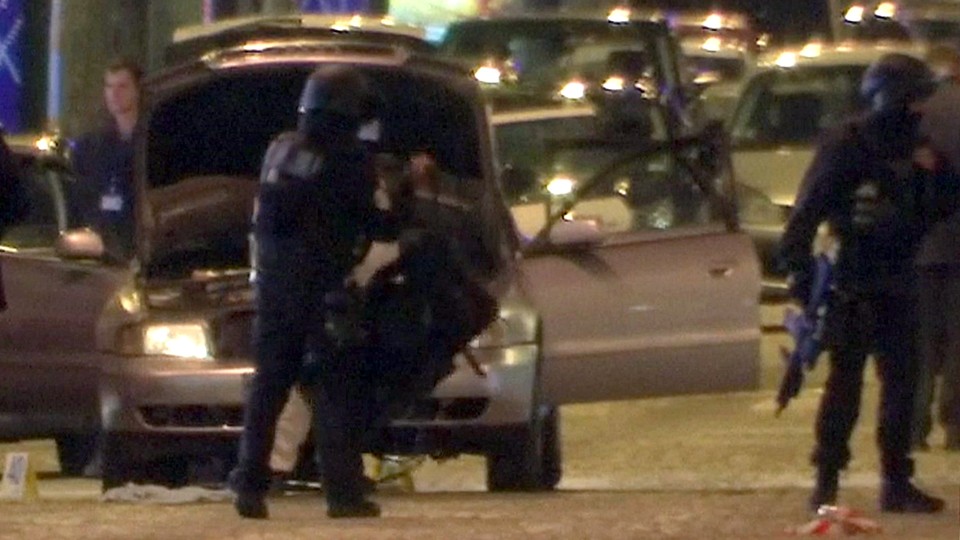 The attack Thursday on the Champs Elysées in Paris, which killed one police officer and wounded two others, is the latest terrorist assault in a country that has been repeatedly struck by jihadist militants in recent years. Since 2012, terrorists have attacked targets including a Jewish school near Toulouse; the offices of the satirical weekly Charlie Hebdo and a kosher market; the Bataclan concert hall and several other locations in Paris in a coordinated act of violence that killed some 130 people in November 2015; and a seaside promenade in Nice on Bastille Day 2016 in a truck attack that killed more than 80. In all, well over 200 people have died in the recent attacks—and ISIS has claimed responsibility for many of them, including Thursday's.
That attack came three days before a crucial presidential election in which Marine Le Pen, the candidate of the far-right National Front, is expected to reach the second round. Le Pen has channeled voters' anger and frustration over terrorist violence to call for tougher immigration restrictions. Incidents like Thursday's that appear to show ISIS's capability to strike at will in the heart of Europe could embolden her campaign and those of other far-right parties.
Despite the mass-casualty assaults ISIS has claimed in Paris and Nice, many recent attacks attributed to the group have been smaller in scale; the toll from Thursday's so far stands at one fatality. But the psychological impact could be far-reaching. The incident has occurred in an environment of skepticism and fear about increased immigration; a migrant and refugee crisis stemming largely from the Syria civil war that Europe has been unable to cope with; and continuing economic upheaval.
Thursday's attack appears to have been carried out by a single gunman, and the ISIS claim of responsibility was unusually swift in coming; the group often waits a day or two before issuing a formal claim, if it does so at all. In asserting responsibility via its official news agency Amaq, the group identified the attacker by the name Abu Yusuf al-Beljiki—as Rukmini Callimachi of The New York Times wrote on Twitter, this is a nom de guerre that translates to Abu Yusuf the Belgian. If indeed the attacker was Belgian, he would be the latest in a line of attackers in France who originated in Belgium. French authorities claim to have identified the attacker but did not publicly name him. Separately, Reuters reported Thursday that French police had issued an arrest warrant for a second suspect who reportedly arrived in France from Belgium by train.
Belgian citizens were connected to the November 2015 Paris attacks. At least one of those attackers, in turn, was later linked to an attack in Brussels in March 2016 that killed 30 people. As I wrote at the time:
There were warning signs—several of them—before the Brussels attacks: Belgium has long been known as Europe's hub for Islamist radicals. More Belgians have joined ISIS as a proportion of the population than have people from any other Western country. Many of the Paris attackers were Belgian nationals or residents. One particular Brussels neighborhood, Molenbeek, has come under scrutiny from counterterrorism officials as well as the media as the epicenter of Belgian jihadism. Another, Schaerbeek, where police raids in the aftermath of Tuesday's attacks were carried out, will likely face similar scrutiny soon. Europol, the EU's police agency, warned as far back as January that ISIS "special forces" had planned to target European cities in attacks like those on Mumbai, India, in 2008.
ISIS, despite recent territorial losses in Iraq and Syria, clearly remains capable of striking Europe—or at least inspiring followers to strike there. In the closing stages of a heated presidential campaign in France, it may be capable of swaying the country's politics, too.