Why Theresa May Called for Elections
Being 21 percent ahead in the polls doesn't hurt.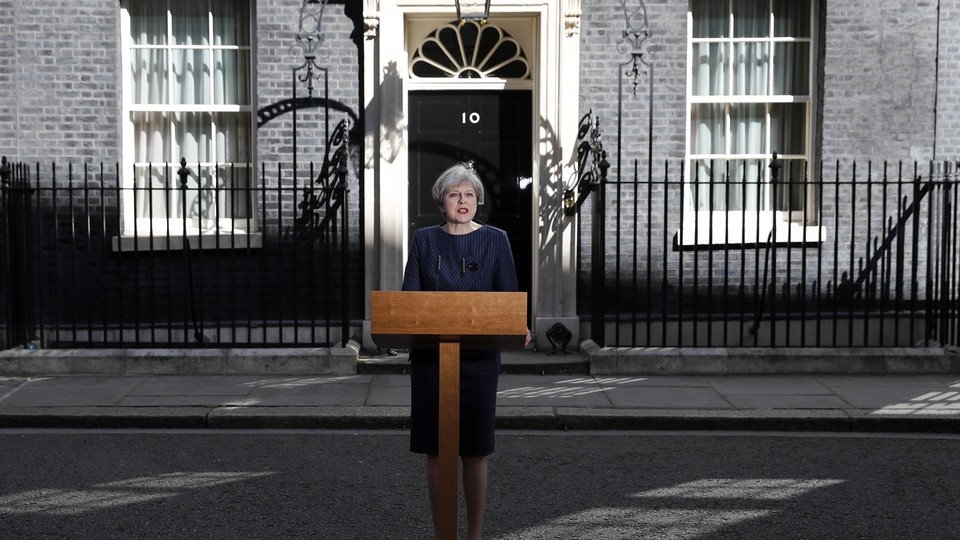 U.K. Prime Minister Theresa May's decision to call for snap general elections on June 8, three years before they were scheduled to be conducted, reflects not only her professed frustration at the "game-playing" in Parliament, but also her increasing confidence of securing a political mandate to see through tough negotiations with the European Union over Brexit.
Because May has called for early elections, she needs parliamentary approval—something she is expected to secure as early as Wednesday. "The country is coming together, but Westminster is not," May said by way of explanaton, referring to the U.K.'s Parliament. Last month the U.K. formally triggered Brexit, a process that's expected to take two years, during which time the country remains a EU member. But the debate over what negotiations with the EU should look like has been rancorous. Those who campaigned to keep the U.K. in the EU want a future relationship to be similar to the one the country enjoyed with full EU membership. But the main sticking point, access to the EU single market, depends on the free movement of the EU's citizens across the bloc. This aspect of membership is deeply unpopular in the U.K., where immigration remains a controversial issue.
May hinted at that rancor in her remarks Tuesday. "If we don't hold a general election now, their political game-playing will continue and the negotiations with the European Union will reach their most difficult stage in the run-up to the next general election" in 2020, she said.
The June 8 date comes almost one year after Britons voted 52 percent to 48 percent to leave the EU. The result stunned the political establishment, but was a validation for those who had campaigned to leave the 28-member bloc over what they regarded as the erosion of U.K. sovereignty and unfettered immigration, among other things. The worst predictions about Brexit haven't yet come to pass, and despite hand-wringing over the decision to leave, polls on whether Britons would vote once again to leave are tied—just as they were before the actual June 23, 2016, vote.
May will no doubt be buoyed by opinion polls that show her ruling Conservative Party 21 points ahead of the main opposition Labour Party, the greatest lead the party has enjoyed over its main rival in more than three decades. May remains personally popular, as well. Among other things, many Britons favor what they view as her no-nonsense approach to Brexit, a vote she at least nominally opposed; her tough stance against a second possible Scottish independence referendum; as well as her rise to the prime ministership after vaulting over several more high-profile candidates vying for the job.
She is also no doubt boosted by Labour's terrible performance in the run-up to the Brexit vote—and after it. Jeremy Corbyn, the Labour leader, remains almost as hugely popular among the party's base as he is unpopular among its elites and the U.K. public. Labour has lost parliamentary seats where it once took victory for granted; its traditional strongholds voted to leave the EU even though the party's leadership campaigned to remain in the bloc; and accusations that senior party members hold anti-Semitic views haven't helped, either. The other main opposition party, the Liberal Democrats, is staunchly pro-EU, and would hope to repeat its relatively strong performance in 2010 elections. If it wins enough seats in Parliament, it could join what would be a new coalition government, possibly with Labour and the Scottish National Party, or even with Conservatives. Such a government would minimize the impact of Brexit or, in the dreams of its most ardent opponents, reverse it.
May has had political setbacks, as well—most notably over the National Health Service, which remains popular despite the Conservatives' many attempts to overhaul it; her government's U-turn over increased contributions to national insurance by those who are self-employed; and her difficulty in getting her plan for grammar schools past her own party. But with Brexit being the dominant issue and no real political opposition in sight, May appears confident. The Conservatives have increased their seats in Parliament since Cameron became prime minister in 2010, after forming a coalition government with the Liberal Democrats and ending 13 years of Labour Party rule. If the Conservatives triumph in June and May returns as prime minister with an increased majority, as her party did in 2015, she would have the mandate to govern the U.K. through the most turbulent phase in the 21st century. May was clear Tuesday about her aims.
"I have concluded," she said, "the only way to guarantee certainty and security for years ahead is to hold this election."