Capture the Flag and When Merkel Met Trump: The Week in Global-Affairs Writing
The highlights from seven days of reading about the world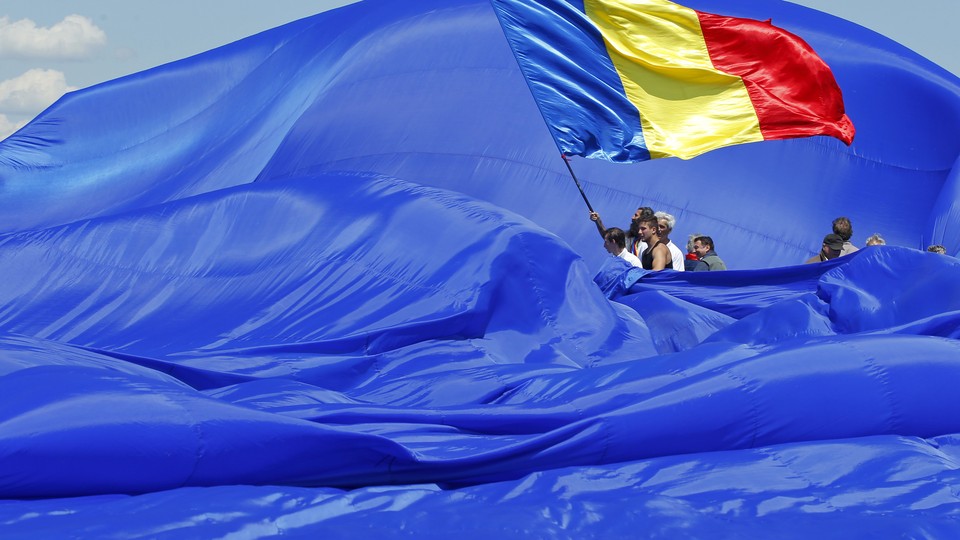 Romania Pilfered Another Nation's Flag Design—and It's Not Sorry
Drew Hinshaw | The Wall Street Journal
"Romanians remain unflustered: 'Why should we care?' said one of the protesters marching through central Bucharest last month. 'Chad is too far away.'
For all the institutions the modern world order has established to tame the furies of nationalism, there is no organization authorized to step in when one country doesn't like another country's flag.
It is a recurrent issue. Athletes from Haiti arrived to the 1936 Berlin Olympics to find Liechtenstein had adopted the same banner. The chastened European microstate changed its flag the next year."
* * *
What Merkel Wants From Trump
Matthew Karnitschnig | Politico
"Over the years, Merkel has deployed a similar strategy of de-escalation with other authoritarian regimes and would-be strongmen, from Russian President Vladimir Putin, who once tried to unnerve her with his dog, to former Italian premier Silvio Berlusconi.
Still, even if Merkel is accustomed to dealing with aggressive and uncouth men, she has never had as much riding on a bilateral meeting as she will on Friday. The two leaders were not initially expected to meet until Trump travels to Europe later this year, but amid growing transatlantic tension, Merkel pushed for an earlier meeting in Washington and the president invited her. Her aides say she's been preparing for weeks."
* * *
Want To Eat Green For St. Patrick's Day? Do It The Irish Way—With Seaweed
Deena Prichep | NPR
"Seaweed was eaten to keep alive during the Great Famine of the mid-1800s, and for many in Ireland, it never quite shook this association as a vestige of an older, poorer time. It's sold as a snack food at the centuries-old Ould Lammas Faire in Northern Ireland, but as something of a quaint tie-in to the festival's past (much like Renaissance Fair-only al fresco turkey legs). More often than not, seaweed was harvested not to be eaten itself, but to fertilize the fields to better grow other crops."
* * *
Operation London Bridge: The Secret Plan for the Days After the Queen's Death
Sam Knight | The Guardian
"The obituary films will remind us what a different country she inherited. One piece of footage will be played again and again: from her 21st birthday, in 1947, when Princess Elizabeth was on holiday with her parents in Cape Town. She was 6,000 miles from home and comfortably within the pale of the British Empire. The princess sits at a table with a microphone. The shadow of a tree plays on her shoulder. The camera adjusts three or four times as she talks, and on each occasion, she twitches momentarily, betraying tiny flashes of aristocratic irritation. 'I declare before you all that my whole life, whether it be long or short, shall be devoted to your service, and the service of our great imperial family to which we all belong,' she says, enunciating vowels and a conception of the world that have both vanished."
* * *
Vigilantes Prowl Europe's Border With a Target: Muslim Migrants
Shashank Bengali | Los Angeles Times
"There is scant evidence that extremists are posing as refugees or migrants to penetrate this border, which is guarded by a partial fence, Bulgarian police and a small European contingent. But that has not dampened the zeal of the volunteer brigade known as the Committee for National Rescue.
Alarmed by what they describe as overly permissive European policies on immigration, the vigilantes have tapped into a deep vein of xenophobia across the continent. Their English website calls on Europe-born citizens to 'help close and defend the southern border … from the hordes of radical fake Islam adherents, terrorists and [Islamic State] fighters pouring in and headed for Europe.'"
* * *
Making Victims Pay
Branko Marcetic | Jacobin Magazine
"This isn't a Trump-specific demand. Over the decades, Cambodia has requested that the debt be forgiven multiple times, to no avail. The United States has repeatedly tried to forge agreements with Cambodia to restructure the debt, but Cambodia has refused, arguing the debt isn't its responsibility.
The Cambodians have a point. For one, the debt was incurred by the government of Lon Nol, which was only in power for five years, and only thanks to a coup against its previous leader, Prince Norodom Sihanouk. During that time, as even a prominent State Department official arguing for the repayment of the debt in 2008 admitted, the 'Lon Nol regime never consolidated its hold on the country.'"