Culinary Feminism and Banksy Goes to Bethlehem: The Week in Global-Affairs Writing
The highlights from seven days of reading about the world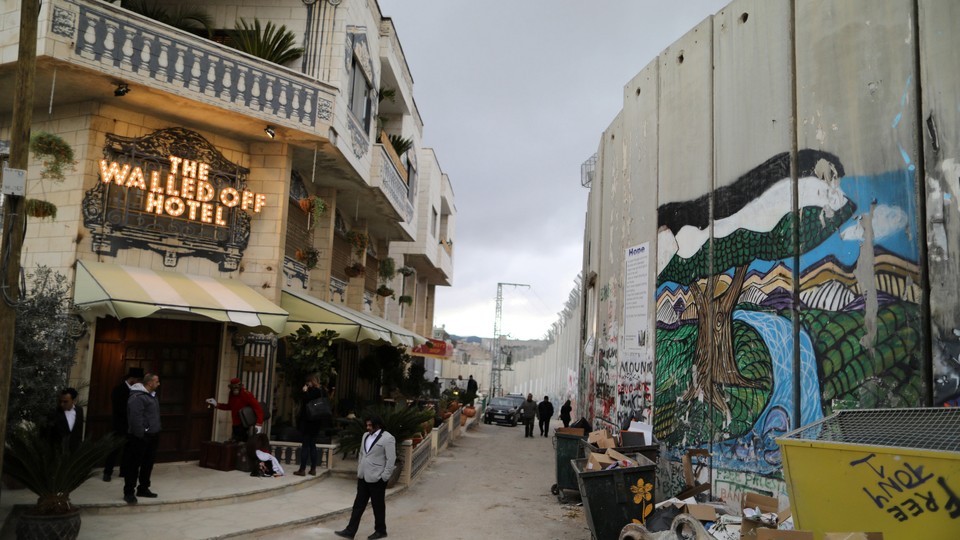 Things Only Seem to Change
Linda Kinstler | Mary Review
"When Ukraine greeted the Euromaidan Revolution in November 2013, memories of the 2004 Orange Revolution, a protest against political corruption that ultimately had little impact on government integrity, still lingered in the public imagination. The country had grown perilously accustomed to the absence of change and deeply skeptical of those who dared to promise to bring it about. Almost three years, two governments, and a small army of foreign correspondents have come and gone since then, but the sentiment remains."
* * *
The Underground Railroad for Refugees
Jake Halpern | The New Yorker
"In the fall of 2014, two Afghan police officers, Mohammed Naweed Samimi and Mohammed Yasin Ataye, travelled to America on temporary visas. For five weeks, along with other law-enforcement officers from Afghanistan, they attended lectures on intelligence-gathering techniques at a Drug Enforcement Administration facility in Virginia. One Saturday, the trainees took buses into Washington, D.C., for a day of sightseeing. That evening, they all returned to the buses—except for Samimi and Ataye.
They had contacted an Afghan family in suburban Virginia, who picked them up in Washington and drove them to their house. From there, Samimi and Ataye took a bus to Buffalo, New York. Their destination was a safe house known as Vive, at 50 Wyoming Avenue, on the east side of the city. At Vive, a staff composed largely of volunteers welcomes asylum seekers from around the world. A dozen or so people show up each day, looking for advice, protection, and a place to sleep."
* * *
Finding the American Dream in El Salvador
Priyanka Borpujari | Pacific Standard
"The story of the Rodriguez family is congruent with that of almost every household in Hacienda Vieja. Up in the hills of El Salvador, adjacent to Honduras, the village is today mostly inhabited by children and older people like Rodriguez. Seemingly every family has had a member living in the U.S. for several years now; every family has at least one family member whom they haven't seen for years. The village is home to 250 families, but only 430 people live here.
One-third of El Salvador's 6.34 million people — nearly two million — reside in the U.S. According to a Pew Research Center report of 2013, El Salvador received a total of USD 4.2 million in remittances. According to the World Bank, the remittances contribute to 16.5 percent of the country's gross domestic product."
* * *
Bolivia's Desperate Miners Are Doing Desperate Things—Like Murder
Monte Reel | Bloomberg Businessweek
"The story has played out like a murder mystery in reverse. With each passing month, a brutal yet relatively uncomplicated killing has grown increasingly complex. Only one clear conclusion has emerged: As a tiny country that pulls most of its revenue out of holes in the ground, Bolivia is still defined by its struggle to assert control of its own fate. The country has long considered itself a poor man sitting on a pile of riches, unable to cash in under the rules of international capitalism, the victim of ironies too tragic to reconcile. Illanes walked straight into that storyline, and it overpowered him."
* * *
Banksy's New Hotel Highlights a City Under Occupation
Mimi Kirk | CityLab
The timing of the installation is politically significant as well: 2017 marks the centennial of the Balfour Declaration, through which the British government expressed its support for the creation of a 'national home for the Jewish people.' It's been 'exactly 100 years since Britain took control of Palestine and started re-arranging the furniture—with chaotic results,' Banksy said in a statement. The hotel has a small museum with a diorama of Foreign Secretary Balfour signing the fateful document, his hand moving mechanically in repeated circles. An art gallery displaying the works of Palestinian artists is also on offer."
* * *
On Italy's Feminist Holiday, Women Have Their Cake and Eat It, Too
Kristen Hartke | NPR
"Today, for American women who are participating in A Day Without A Woman protest, the idea of taking a day off to celebrate their womanhood may be a new experience, despite the fact that International Women's Day has been observed worldwide for over a century. Leave it to Italian feminists, however, to take a holiday that is steeped in the struggle for women's rights and turn it into a day, the Festa della Donna, where women of all ages leave the menfolk behind to celebrate each other with flowers, wine and, above all, cake."