Five of the Toughest Jobs in International Politics
What's a Brexit negotiator to do?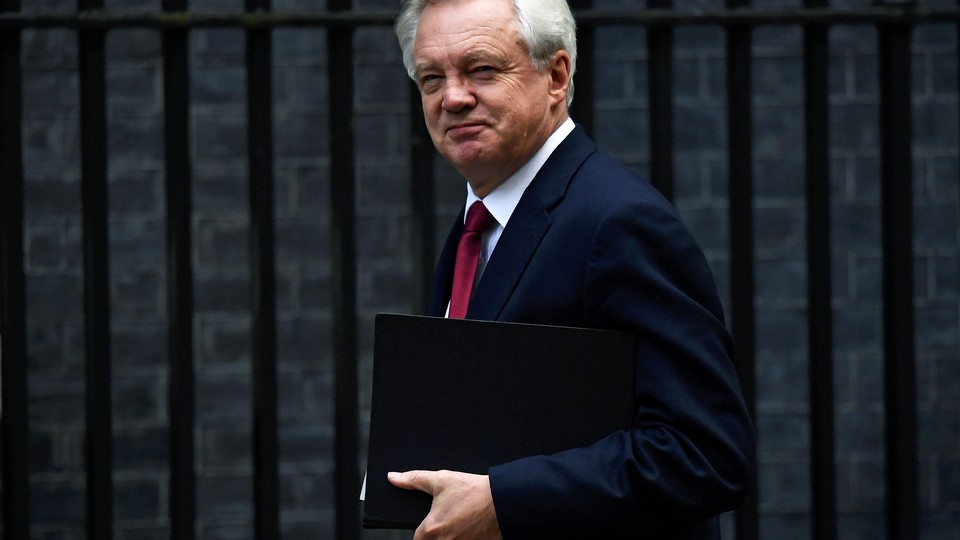 Rex Tillerson got publicly scolded by Turkey's foreign minister on a visit to the country this week; the newest American secretary of state also runs a massive bureaucracy in which portions of the workforce are suspicious, demoralized, and telling the press about it. All this for a job he says he never really wanted in the first place. But it could be worse. Some of the key roles in international politics make being a Cabinet official for Donald Trump look easy by comparison. Here are the top five.
South African finance minister. South Africa's governing party, the African National Congress, is at war with itself, and the front line is the Finance Ministry. The country is now on its fifth finance minister under President Jacob Zuma, who last night fired Pravin Gordhan, a professional respected by markets. Those five ministers include Gordhan's two separate terms under Zuma, and also one minister who lasted only four days. The president's move was an effort to sideline what he sees as an opposing faction within his own party, allowing him to consolidate political and fiscal control ahead of a party meeting to determine its next leadership. But Gordhan is going out swinging. "Our souls are not for sale," he declared after his firing, and urged the public to "organize." That is, outside of the dominant political organization, the ANC.
British Brexit negotiator. Britain's secretary for exiting the European Union, David Davis, in some ways has the easiest job in the world. With Article 50 now triggered, the U.K. will leave the EU regardless of what anyone negotiates over the next two years. Arranging any terms above and beyond simple pullout, however, is something of a taller feat. The man the BBC has described as "neither an aristocrat nor a whimsical intellectual" faces the task of corralling a deal with 27 other states that need Britain less than it needs them, and in fact have some incentive to give the U.K. a bad deal to prevent others from leaving the EU. Davis's book on negotiating instructed deal-makers to put on "a general air of visible determination and activity." That much, at least, has been accomplished.
Philippines presidential spokesman. In Rodrigo Duterte, the Philippines has elected a president who speaks his mind. And once he's done speaking, Ernesto Abella takes over. "My job is basically to be able to impart his true intentions," Abella told the Rappler news site after Duterte's inauguration last year. Articulating the true intentions behind raising your middle finger at the European Union, as Duterte has done, can't be easy. But Abella has kept at it, even when Duterte admitted in December having personally killed people as mayor of Davao city (a "legitimate police action," clarified his spokesman). And there is much imparting of true intentions left to do: Duterte isn't even a year into a five-year term.
Libyan prime minister. Succeeding a leader as flamboyant as Muammar Qaddafi was never going to be easy, and Fayez al-Sarraj has had a particularly difficult go of it. Recognized by a UN process as the legitimate leader of the country, he has faced at times two competing self-declared governments and had to enter Tripoli by sea to take office. Moscow's meddling doesn't help. Russia has been publicly supporting one of Sarraj's main rivals, Khalifa Haftar, having noted that Sarraj's government doesn't control all of Libya's territory. It hurts because it's true.
Venezuelan opposition legislator. Serving in opposition against President Nicolas Maduro's increasingly erratic and autocratic government has probably never been easy, but this week it got a lot tougher. Despite winning control of the legislature in a landslide in 2015, opposition legislators have been increasingly sidelined, leading up to a decision Thursday by the country's Supreme Court saying that the court can take over the legislature's powers. National Assembly leader ­Julio Borges responded by ripping up the court's order and calling Maduro a dictator. If Borges is looking for a less stressful line of work, he might consider salsa instruction. Last year, Maduro launched a television show where the president salsas through several hours of daily programming. Nero may have fiddled while Rome burned, but Maduro prefers to dance.