The Jordanian Airline Making Money Off the Laptop Ban
How trolling Trump became a marketing strategy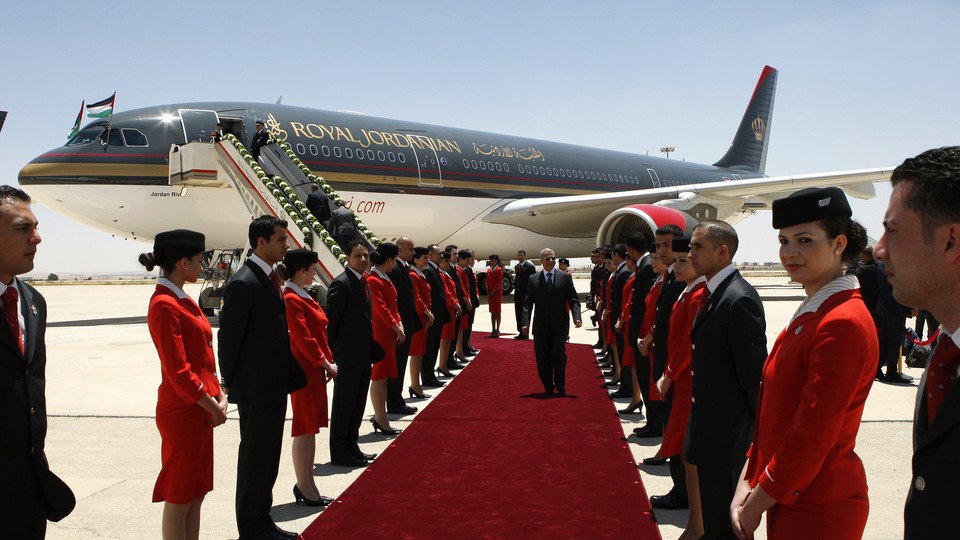 Walk into the offices of Memac Ogilvy Advize, an advertising firm on the third floor of a car rental building in a business district of West Amman, Jordan, and you'll be greeted with an immense black-and-white photo of Donald Trump's face. The red cursive text printed across it reads: "We Trumped the awards."
The sign sits behind a reception counter boasting a large trophy won at the Dubai Lynx 2017, an annual advertising competition where Memac Ogilvy won the Grand Prix for PR (a first for any Jordanian agency) along with four other silver and gold prizes, for trolling Trump in their ads on behalf of Royal Jordanian Airlines.
Royal Jordanian, the once-obscure national carrier of the small desert kingdom of Jordan, has been making a name for itself as the Middle Eastern airline that dared to mock Trump. Its first ad—the one that won Memac Ogilvy all those awards—was a simple image published on Twitter, Facebook, and Instagram on November 8, 2016, just before the U.S. election results were announced. The ad showed economy and business class prices for RJ flights to Chicago, Detroit, and New York, with a few snarky lines above: "Just in case he wins… Travel to the U.S. while you're still allowed to!"
That ad went viral, with an organic reach of 450 million, an 80.3 percent positive response, and press coverage on 26 official news sites and blogs, according to Memac Ogilvy.
The campaign summary that the agency later submitted for the advertising competition was simple. Objective? "Sell more plane tickets to the U.S." Method? "Use Donald Trump's ban of Muslims to our advantage." Campaign budget? "Zero USD."
According to a video of the award acceptance on the ad agency's Facebook page, RJ bookings to the U.S. increased by 50 percent after the campaign. "We tweeted more than Trump himself," the voiceover narration noted.
In early February, when American judges blocked Trump's ban on immigration from seven Muslim-majority countries, RJ stepped into the conversation once again, releasing an ad with the word "Ban" scratched out and changed to "Bon Voyage!" Flights to New York, Chicago, and Detroit were on sale, the image announced, urging customers, "Fly to the U.S. with RJ now that you're allowed to." The sentiment was especially pertinent for Jordan, which hosts millions of refugees and displaced people from countries like Syria, Iraq, Sudan, Somalia and Yemen—all of which had been included in Trump's executive order.
On March 22, when the U.S. Department of Homeland Security announced that electronics "larger than a smartphone" would be banned as carry-on items for flights departing from 10 Middle Eastern and North African airports, including Amman's Queen Alia International Airport, RJ spoke up again. The airline responded to the #electronicsban, first with a poem beginning with "Every week a new ban," then with a list of "12 things to do on a 12-hour flight with no laptop or tablet," and finally with a recommendation to "Do what we Jordanians do best… Stare at each other!" The posts have already garnered tens of thousands of shares as well as international media coverage lauding RJ's response to the laptop ban as "snarky," "cheeky" and "perfect."
The mastermind behind all these campaigns is the creative team at Memac Ogilvy, led by Hadi Alaeddin, a 31-year-old Palestinian-Jordanian art director who also designs posters and T-shirts on the side. He co-runs a branding service called Warsheh and does some work with Jo Bedu, a popular Jordanian brand known for its tongue-in-cheek T-shirts and arabizi (Arabic/English) puns.
When I met Alaeddin, together with Khalil Atieh and Aya Nasif, two Jordanian millennials who handle client services for the Royal Jordanian campaign, they told me that the Trump ads were a spontaneous idea.
"It was real-time, on the spot. We didn't have a strategy," Nasif said. "Hadi just thought of it."
Eight months ago, Royal Jordanian approached Memac Ogilvy seeking help with an image refresh. Founded by the late Jordanian King Hussein bin Talal in 1963, the national carrier had been faithfully flying from the Levant across the region for decades, but developed a somewhat stuffy, overly institutional feel in the process. "RJ wanted to be a 'fun brand,'" Nasif explained, especially as it struggled to compete with lavishly funded Gulf airlines like Emirates and Qatar Airways. While oil-rich competitors can afford to produce Jennifer Aniston commercials and to paint planes with roses for Valentine's Day, Jordan's airline has a far smaller budget. So, it decided to play to its strength: humor—specifically, Jordanian humor, with just the right touch of sarcasm.
"Jordan can definitely compete with the Gulf," Alaeddin said, noting that his country has a local way of being, a shared mentality rooted in Levantine culture, which an international metropolis like Dubai may lack. "We have our own humor, culture, and way of talking. We have our personality. That's our edge."
"It's never about politics. The whole world was following the election. People don't follow the election for politics. It's just what everyone is talking about," Alaeddin said. So when everyone was discussing Trump's comments about banning Muslims, the ad agency joined in, the way a Jordanian uncle would. "We just made a silly joke. And people responded to it."
Within an hour of the first Trump ad, Alaeddin's phone battery had died from all the notifications that kept popping up. People across the world were responding, even those with no ties to the region or plans to fly Royal Jordanian. "Even non-Muslims globally saw that the sweeping statement was ridiculous for a president-to-be," Atieh said. "They said things like, 'Thank you for making fun of this,' especially since the joke was coming from the people who are most affected."
I watched from inside the Memac Ogilvy office as the team released their most popular recent ad—the "12 things to do on a 12-hour flight" ad—including the pointed number 12: "Think of reasons why you don't have a laptop or tablet with you." I wondered: Was that supposed to imply that the ban is nonsensical? (DHS appeared to be concerned about potential explosives hidden in electronics following intelligence reports, and the similar British ban seems to be based on this intelligence as well.) Why didn't the ad directly name Trump, or contain an explicit message about security threats?
"We're kind of passive-aggressive," Alaeddin laughed, adding that RJ did publish an official release about the details of the ban, but that talking about terror is a poor marketing strategy. "Our job is not to tell people there's a ban. People already know. Our job is to communicate in a lighthearted way that, yeah, this is happening, but here's our point of view."
Royal Jordanian doesn't want to lose business, but they also can't force American policy to change. So they'll do the next best thing, which is to affirm the overwhelming response from their customers and from residents of Jordan writ large: "It's annoying!" Nasif said. "All of us travel. I can only imagine how it would have been when I was in university, having to worry about this whenever I flew home from the States."
"We know it's annoying and we're trying our best to accommodate," Alaeddin said, adding that they'd given RJ some ideas about ways to enhance on-board entertainment without laptops. The comments on RJ's Facebook ads are filled with requests for free inflight Wi-Fi, for example. If Jordanians can't impact the American president's decisions, at least they can feel that their airline cares what they think, and then support RJ in return.
After all, that's what made the first Trump ad so successful. "It was a lighthearted response to a somewhat hateful claim," Alaeddin said. "More importantly, it sold."