The Rise of Refugee Offshoring
Trump tries out an idea that's been gaining ground globally.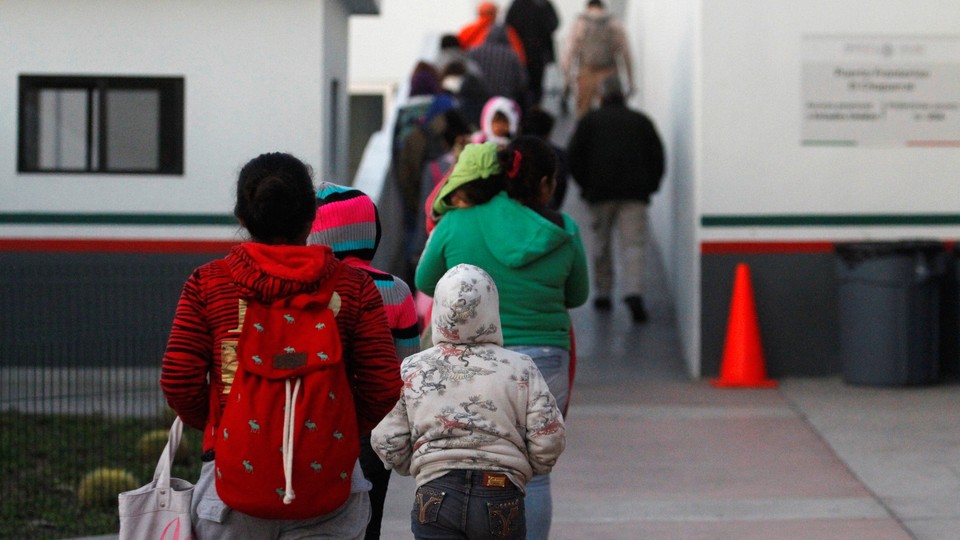 President Donald Trump's efforts to reshape American immigration policy continued apace with his speech to a joint session of Congress on Tuesday. The only solution for refugee crises, he said, "is to create the conditions where displaced persons can safely return home." The sentiment that displaced people should return home rather than resettle permanently in the U.S. complements a longer-term shift in migrant policy driven by the Trump administration, which seeks to move both the people and the focus of policy off of U.S. shores.
Trump's other major move toward refugee offshoring came amid the flurry of actions on immigration and relations with Mexico. In a memo released last week, the U.S. Department of Homeland Security outlined a plan to return apprehended illegal immigrants to Mexico, even if they weren't Mexican citizens. The idea was shot down quickly, with Mexico's government dismissing it out of hand. But while this version of the plan may be dead, migrant and refugee offshoring is an idea gaining ground globally.
Under the Homeland Security plan, individuals caught trying to enter the U.S. would have been returned to the "foreign contiguous territory from which they arrived, pending the outcome of removal proceedings." That, in practice, meant Mexico, which would have become the temporary home to individuals awaiting the disposition of their immigration proceedings in the U.S.
While it's unclear exactly how this plan was supposed to work, or if the U.S. was hoping to enact it unilaterally or in cooperation with Mexico, it is a policy that has plenty of precedents. Since the 1970s, the U.S. has employed similar measures for several different countries, including Vietnam, Haiti, Iraq, and some Central American states. More recently, Australia has blazed a path in offshore refugee policies, while the European Union has started to experiment with a similar project in its migrant deal with Turkey.
The international law governing refugees gives the right to anyone who physically makes it to U.S. territory to request asylum. This, rather than trying to hide from border agents, is increasingly what illegal immigration into the U.S. looks like: Migrants, largely from Central American countries, are making their way to the southern border and presenting themselves to border guards, and then requesting legal proceedings, which unfold within the U.S.
That's the norm today, but the U.S. processing system has moved outside of America's borders several times. In reaction to the chaos of the post-war exodus from Vietnam, the U.S. instituted a large-scale program in 1979 to process refugee claims within Vietnam. The "Orderly Departure Program" resulted in more than half a million people being brought into the U.S. Similarly, in the 1990s, the U.S. airlifted more than 6,000 Iraqi Kurds to Guam, a U.S. territory, for processing.
An early version of the Mexico plan is the U.S. Naval Station at Guantanamo Bay, which since the 1990s has been used to house migrants intercepted at sea. Under George H.W. Bush, more than 10,000 Haitians intercepted at sea were processed at Guantanamo, with many ultimately resettling in the U.S. Through the Obama administration, Cubans halted on boats under the now-ended "wet foot, dry foot" policy were taken to Guantanamo, where they were said to reside "voluntarily," without pressure to return home. Those found to be legitimate refugees were resettled to third countries.
But it is Australia that has set the standard for extraterritorial refugee policies in the last two decades. Since the early 2000s, under successive governments from both sides of the political spectrum, Australia has enacted a series of measures to permanently move would-be refugees off its territory. Its policy includes a deal with neighboring island states Papua New Guinea and Nauru, which are now home to long-term camps for those caught trying to enter Australia illegally. Individuals who are found to have legitimate claims to asylum can resettle in the countries they have wound up in, or some third country, but not in Australia. As then-Prime Minister Kevin Rudd put it in 2013, "Any asylum seeker who arrives in Australia by boat will have no chance of being settled in Australia as a refugee."
Meanwhile, the European Union has also moved to outsource its refugee policy under deal agreed to with Turkey last year. In an effort to decrease the numbers of mainly Syrian migrants making the risky journey across the Mediterranean into Europe, German Chancellor Angela Merkel negotiated an arrangement with Turkish President Recep Tayyip Erdogan. In addition to taking aid from the EU, Turkey agreed to allow irregular migrants to be sent back to Turkey from Europe. The EU, in turn, agreed to take one Syrian refugee for every refugee returned to Turkey, on the premise that it is encouraging migrants not to jump the queue.
The European approach to refugees is less hard-nosed than the Australian one—at least some refugees are to be allowed to resettle in Europe—but it fundamentally accomplishes the same thing. It physically moves the focus of migration policy into other states.
These ideas have been gaining steam in Europe for some time. The U.K. championed a policy of extraterritorial refugee processing as far back as 2003. But some would like the current regime to go much further. Merkel has said the EU needs similar deals with North African states. Hungary's populist prime minister, Viktor Orban put it in vivid terms, proposing last year that Libya create a "giant refugee city."
The problem with Orban's plan, of course, is that Libya is in the midst of a civil war. The EU's agreement with Turkey is premised on the idea that Turkey is a "safe third country" where individuals can reside without fear of persecution. For Syrians in particular, that premise has been heavily challenged, with cases of abuse reportedly conducted by Turkish security forces. With Turkey at least a pretense is possible; that's not true for Libya.
Australia's policy, too, has been widely condemned. Conditions in the camps on Papua New Guinea's Manus Island and in Nauru are poor, resulting in high rates of suicide for residents.
Nor is this a cheap solution. It reportedly costs some $300,000 a year for Australia to house someone in its overseas facilities, with a total bill for border policies coming to nearly $8 billion over the past three years.
The European Union gives Turkey some $6 billion under its agreement, while fewer than 1,000 people have been returned from Greece to Turkey since the agreement was made.
Nonetheless, proponents of offshoring plans see a humanitarian logic at work. Australia argues that its plan sharply deters asylum-seekers from trying to make the risky passage to Australia by boat. Similarly, the EU's agreement with Turkey has been accompanied by a fall-off in attempted crossings of the Mediterranean, although other dynamics may have also reduced the pressure on that migration route.
For its part, the U.S. also operates a small program under which Central Americans seeking asylum in the U.S. can be housed in Costa Rica while they await determination of their status. The rationale is to reduce the incentive to make the challenging journey to the U.S., especially for children.
Donald Trump's bad personal relationship with Mexico's leadership has ensured that the plan to process non-Mexicans in Mexico isn't moving forward any time soon. But that's not to say the idea of outsourcing U.S. migration policy is dead entirely. Mexico's interior secretary said on Friday that his government had told the U.S. sectary of state, "There is no way, legally, nor is there capacity."
Australia and the EU's arrangements have dealt with the "capacity" problem by simply handing over cash. Mexico and the United States are now in the early phase of what's likely to be a protracted renegotiation of their relationship, one that might encompass not just trade relations under NAFTA but also security and immigration policy. If what Mexico is lacking is money, a Trump administration that is willing to spend billions on a border wall might just be able to help.
Or the Trump administration may find another country that is willing to trade space for cash. As Michael Rubin of the American Enterprise Institute wrote last year, urging the Obama administration to send Syrian refugees offshore for vetting, "many Caribbean nations might use the income."
The Trump administration believes moving refugees abroad saves money and taxpayer jobs. In an interview with Bloomberg Businessweek, Trump adviser Stephen Miller claimed that "for the prices of resettling one refugee in America," a dozen refugees could be supported in their home countries. Given the Trump administration's deep interest in both saving money and changing U.S. immigration policy, it seems determined to find a way to do both.