Ranked: Bizarre Explanations for Celebrities' Meetings with Julian Assange
It's not for his cat. But maybe it should be.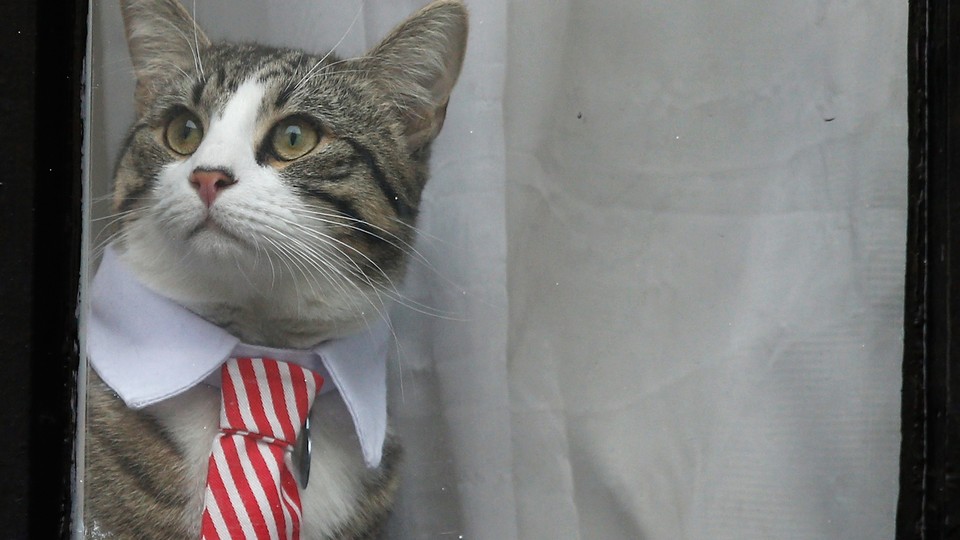 5. Writing a book. Google's Eric Schmidt paid Assange a visit in 2011 to conduct an interview that would inform a book. Fittingly, WikiLeaks proceeded to leak a transcript of the interview.
4. Peer pressure. In 2012, the singer and Assange pal MIA sent an unusual tweet to Lady Gaga: "if ur at harrods today , come visit Assange at the Ecuador embassy across the st." Lo and behold, it worked. Gaga proceeded to spend several hours at the embassy.
3. Working out. In 2014, WikiLeaks released an image of French football star and actor Eric Cantona in the Ecuadorian embassy exercising on a treadmill. The rationale? Cross-training.
2. Dating Julian? Actress Pamela Anderson has visited Assange repeatedly over the past few months, leading tabloids to suggest the two might be dating. Assange denies it, but that explanation is better than the alternative theory floated for Anderson's visits: She was trying to poison him with Vegan food.
1. "I can't recall." Nigel Farage visited Assange's embassy hideout on Thursday. When questioned by a reporter from Buzzfeed, "Farage said he couldn't remember what he had been doing in the building." Maybe Theresa May can try that excuse for Brexit.
---
This article has been adapted from Matt Peterson's weekly newsletter for Eurasia Group, Signal.