Will Pope Francis Allow Married Men to Become Priests?
The pontiff said he's open to studying the question—but that doesn't mean he'll do away with celibacy.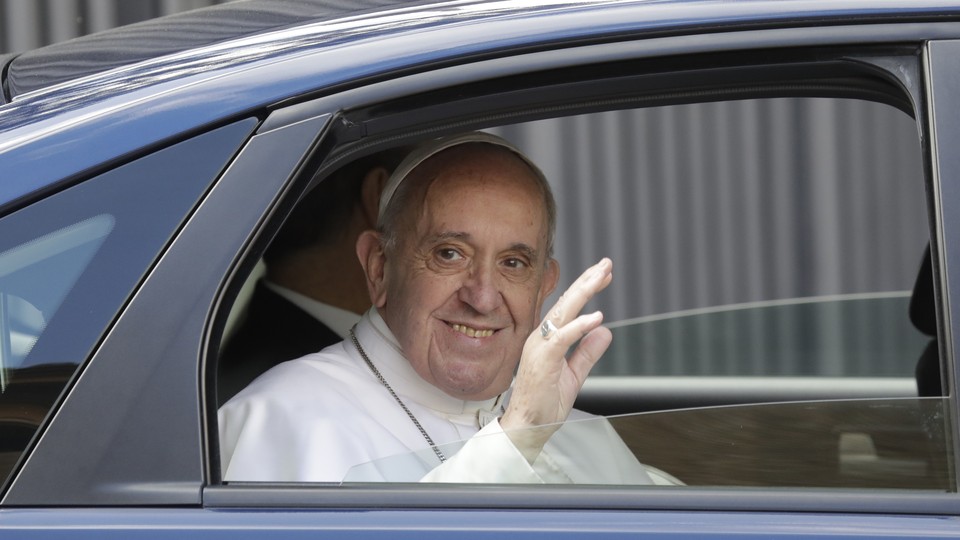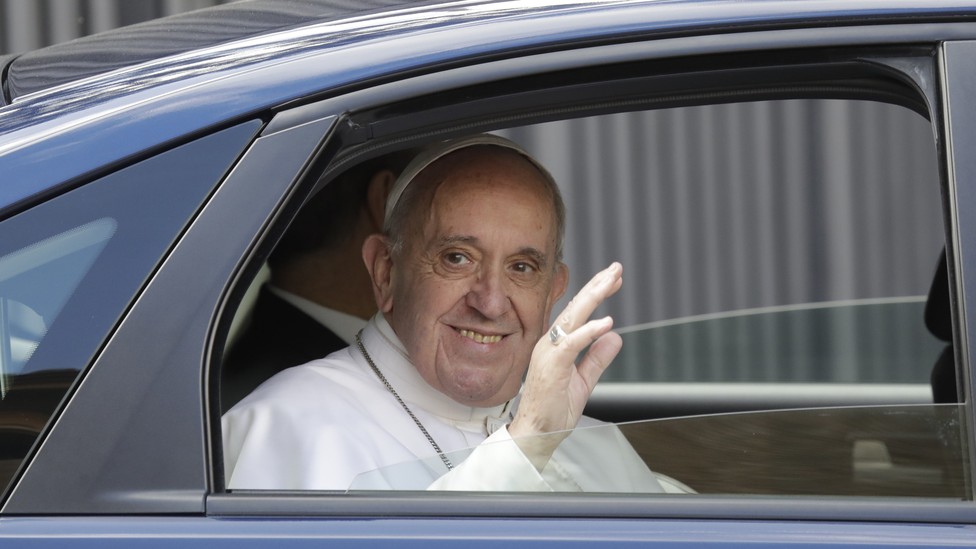 In an interview with the German magazine Die Zeit this week, Pope Francis spoke about the Roman Catholic Church's priest shortage, which has left Catholics in many rural areas without a clerical leader. The interviewer asked whether viri probati, or married men with a proven fidelity to the Church, might be able to join the priesthood. "We must think, yes, viri probati are a possibility," said Francis, according to a translation published by the Catholic News Agency. "But then we must also consider what tasks they could perform, for example in isolated communities."
The pope's comments are not a sign that major changes are coming to the Catholic Church. He affirmed that celibacy is still an important tradition, and suggested only that he's open to the possibility of studying exceptions. But his comments do show that he's keenly aware of the effects of the major priest shortage in the Church. His Argentinian background may be one reason why he's focused on this issue; the problem is particularly acute in Latin America.
Should the pope decide to change the celibacy tradition, that would come with significant challenges. "Someone who is preparing for the priesthood now has about a six-year training before him. How will he do that with other men who have ... a family?" said Kurt Martens, a professor of canon law at the Catholic University of America. "You're looking into a number of difficulties that need to be studied first before it's a done deal. Just saying that you're open to discussion doesn't mean that you've caused a revolution."
While Francis's comments might seem like a sign that he's further liberalizing the traditions of the Church, Martens said this was "absolutely not" the case. "I'm surprised that after four years of Pope Francis, we are not used to what he says and how to read what he says," Martens said. "Remember the 'Who am I to judge?' comment [on homosexuality]? Everyone thought he was changing Church teaching. But he was just paraphrasing in his own words the Church teaching."
Married men can already serve a number of roles in the Church. For roughly five decades, they have been allowed to serve as deacons—leaders who preach, conduct weddings and funerals, and perform baptisms. In Eastern rite Catholic churches, priests can be married, as can Anglican priests who convert but were married before they became Catholic. Francis has often commented that he's open to studying new forms of leadership in the Church; in May, for example, he said he was open to looking at the possibility of women deacons.
In general, though, Catholic priests remain celibate according to the traditions of the Church. "Celibacy is what you'd call a disciplinary norm," Martens said. Unlike the question of women serving in the priesthood, he added, priestly celibacy is not a matter of dogma. Thomas Green, another professor of canon law at Catholic University, noted that while celibacy is "a strong part of the Latin tradition," meaning the Catholic Church in the West, "it really wasn't concrete until around the late 1100s and 1200s."
Pope Francis does not seem open to eliminating the celibacy requirement for most priests, saying during the interview that "optional celibacy is not the solution." Prayer is the best answer, he noted. But especially in "isolated communities  … the Church is weakened." Deacons aren't able to offer communion, also known as the celebration of the Eucharist, and "a Church without the Eucharist doesn't have strength," Francis said. The lack of priests in certain communities "is a serious problem."
"Just saying that you're open to discussion doesn't mean that you've caused a revolution."
According to the Center for Applied Research in the Apostolate at Georgetown University, the total number of priests around the world has dipped since 1970, when there were an estimated 419,000 priests worldwide; as of 2014, there were roughly 414,000 priests. But this population is rapidly aging, especially in places like the United States, meaning that communities in the growing global Catholic Church may be left without a priest. As of 2014, more than 49,000 Catholic parishes worldwide had no priest, according to CARA, compared to just 39,000 in 1970.
The campaign to allow married men to serve as priests is driven largely by places like Brazil, which has an estimated Catholic population of between 126 and 163 million people, according to the Pew Research Center. In December, The National Catholic Reporter wrote that Cardinal Cláudio Hummes, a Brazilian in the Roman Curia, has pushed Francis on the issue. According to NCR, Brazil has only 1,800 priests, leaving large swaths of the population without a way to fully participate in Catholic life. "They only have access to a priest relatively rarely, so folks can't have access to the Eucharist, which is so fundamental," Green said. "For significant numbers of folks to be deprived of regular access to the Eucharist—it's a major problem and pastoral issue."