A History of North Korean Misadventures
For decades, the reclusive nation has stirred up trouble across Southeast Asia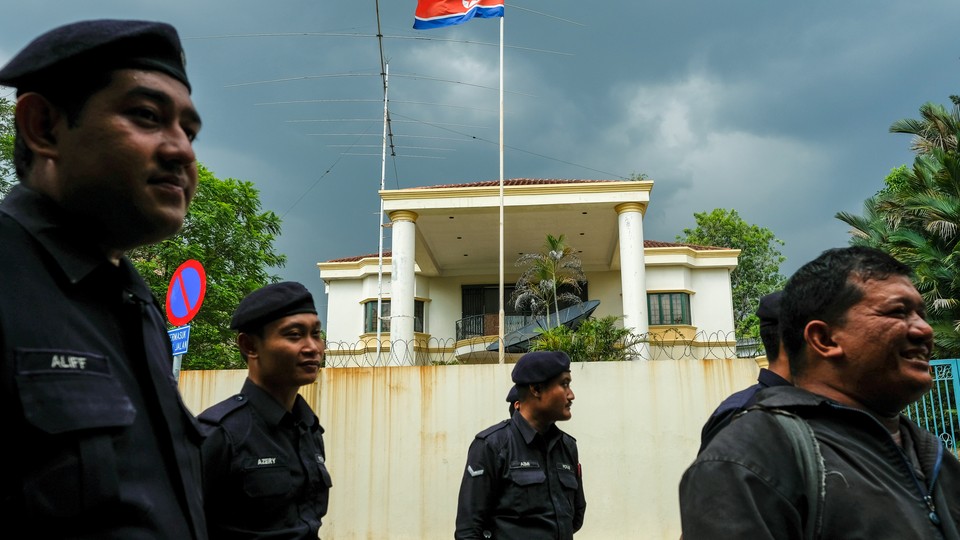 On October 9, 1983, a large delegation of senior South Korean government officials assembled at a mausoleum across the street from Burma's gleaming Shwedagon Pagoda, located in what was then the city of Rangoon. They were in Burma for a state visit, and had come to the mausoleum for a wreath-laying ceremony to honor several Burmese independence leaders assassinated by political opponents in 1947. South Korean President Chun Doo-hwan, who led a repressive and unpopular government back home, was also slated to attend, but was running late.
Shortly after most of the delegation had assembled, a remote-controlled bomb exploded at the mausoleum site, killing 17 South Koreans, four of them cabinet members, along with four Burmese nationals. Dozens more were injured. Later, it would become clear that Chun was the target of the attack; his tardiness saved his life.
Burmese authorities soon cornered three suspects in Rangoon, today known as Yangon, shooting and killing the first and capturing two others. According to a CIA report on the attack declassified in 2000, investigators recovered communication devices, grenades, and candy bars from the attackers, who they identified as "ethnic Koreans." Details of the attack, including the use of a three-man team, were consistent with North Korean operations, the CIA said. Burma publicly blamed North Korea, and a local court sentenced the surviving attackers to death. One of them, Captain Kang Min-chul, confessed to his role in the plot and was spared. He lived out his days in Insein Prison and died a forgotten man in 2008, one year after Burma, by then called Myanmar, formally reestablished diplomatic ties with the Democratic People's Republic of Korea.
The brazen assassination of Kim Jong Nam, the half brother of North Korean leader Kim Jong Un, makes this long-ago drama feel especially relevant. While North Korea has denied ordering his death, the murder plot—two women, one from Vietnam and one from Indonesia, allegedly smeared VX nerve agent on his face at the Kuala Lumpur airport, killing him in minutes—fits within its history of bloody entanglements across Southeast Asia.
North Korea is a nation unafraid to stage nightmarish misadventures abroad, especially if the country is "a minor player in world affairs [where they] probably don't have really close ties … and [one] they are willing to burn bridges with," Benjamin Young, a contributor to NKnews.org and a Ph.D. student at George Washington University, told me. But considered in the context of its relations with South Korea and its own internal struggles, North Korea's daring actions are far more logical than they appear.
It wasn't always this way. After the Korean War ended in 1953, North Korea's then-leader Kim Il Sung competed with South Korea for diplomatic recognition, establishing ties with Cambodia and Indonesia in 1964, Malaysia in 1973, Laos in 1974, and Singapore, Thailand, and Burma in 1975. After the Vietnam War, the reunified country sent its first ambassador to Pyongyang in 1976. As the scholar Kook Chin Kim writes in The Foreign Relations of North Korea: New Perspectives, a collection of research papers published in 1987, Southeast Asia was a crucial region for the country. Nations could offer legitimacy and recognition to North Korea on the world stage and opportunities  for economic development. Amid the Cold War, they could offer friendship instead of hostility. Kim Il Sung lavished attention on Cambodia, forging a friendship with the charismatic royal Norodom Sihanouk, even building him an extravagant house in Pyongyang and providing him with bodyguards. The special relationship would survive the rise and fall of the Khmer Rouge regime, and the Vietnamese occupation of Cambodia in the 1980s.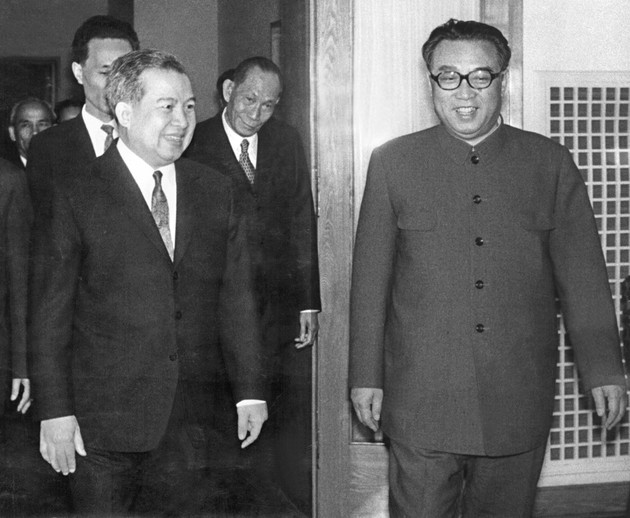 But whatever North Korea accomplished in those years would be undermined, time and again, by the country's covert activities, isolationism, and belligerence, both under Kim Il Sung and his heirs. The end of the Cold War also upended longstanding political and economic arrangements, as free-market economies flourished amid greater engagement with the west. The North's slight diplomatic edge over the South eroded, as did its relative economic parity.
In 2009, Wikileaks released a Congressional Research Service report from 2007 on the history of North Korean "provocations" dating back to 1950—offering something of a revision to the narrative of the chummy post-war years under Kim Il Sung—including kidnappings, acts of terrorism, and missile tests. In 1983, two Canadians told a court that North Korean agents offered them $600,000 to assassinate President Chun Doo-hwan during a state visit to the Philippines in 1982; the bombing in Burma targeting Chun occurred the next year. In 1987, a Korean Airlines plane bound for Seoul exploded over the Andaman Sea, allegedly brought down by a bomb planted by North Korean agents. In 1996, South Korean authorities arrested a North Korean spy in Seoul who had been posing as a Filipino professor for 12 years.
When Kim Jong Il took over after his father died, he splurged on the military. According to a 2013 U.S. Department of Defense report, North Korea's shift to a military-first policy "demonstrate[d] its view that ultimately the national security of North Korea is disproportionately dependent on military might in the absence of any other notable elements of national power." As recent nuclear and missile activity suggests, the trend has continued under the leadership of Kim Jong Un.
Through all this, the special relationship between Cambodia and North Korea remained strong, as I observed while working as a reporter for the Phnom Penh Post in 2013. Phnom Penh, for instance, is the only place I know with a boulevard named for Kim Il Sung. Both Phnom Penh and Siem Reap, home to many of Cambodia's ancient temples, feature "Pyongyang" restaurants, which are believed to funnel money back to the regime and have spread to other cities in the region and abroad. The North Korean embassy in Phnom Penh is located on expensive real estate adjacent to Prime Minister Hun Sen's house; the building is said to have been Sihanouk's childhood home. In 2014, the Phnom Penh Post reported that Sihanouk gave it to the North Korean government rent-free for 20 years, after which it was to become a museum. The deal expired in 2011; the North Koreans are still there.
One weekend, I traveled to Siem Reap with a fellow journalist. We wandered into the construction site for what would one day be a Pyongyang-financed, multi-million-dollar museum to glorify Cambodia's ancient temples. A bald man wearing slacks and a polo shirt approached us. Eyeing us suspiciously, he said the museum was not yet open. But after we promised to take no photos, he led us on a short tour. He pointed to paintings. "Those are paintings," he said. He pointed to a model of Angkor Wat. "Angkor Wat," he clarified. He was from Pyongyang, he said, but had lived in Siem Reap off and on for a decade. He refused to tell us his name. At the exit, we paused in front of a painting that depicted a landscape that looked like nothing in Angkor Wat. Our guide said it was the birthplace of Kim Jong Il. "You know him?" he asked.
The museum, called the Angkor Panorama Museum, opened three years later, complete with a café and a movie theater playing a documentary that "fully shows high devotion and creative ability of Khmer people." Its main feature: a large panoramic mural, painted in the North Korean socialist-realist style, depicting the history of Angkor Wat, and featuring an estimated 45,000 distinct characters (or so they say).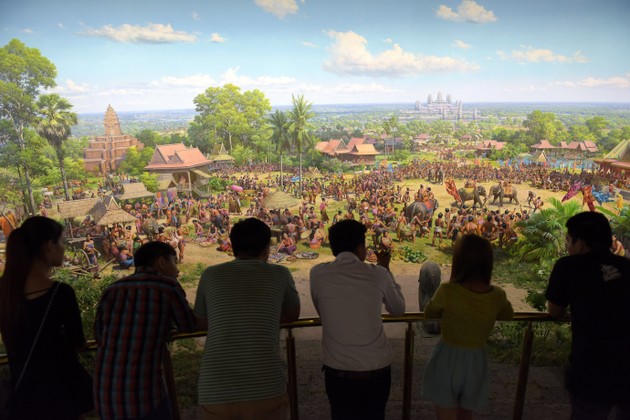 But oddities like the museum, along with North Korea's culinary offerings, obscure the more nefarious allegations of its ongoing misadventures in the region. In 2014, the United Nations raised questions about alleged connections between North Korea's embassy in Singapore and a shady arms deal. In August 2016, Egyptian authorities found that a North Korean vessel flying the Cambodian flag (an attempt to evade sanctions) had been transporting a shipment of 30,000 rocket-propelled grenades. The UN has also examined links between a North Korean firm tied to the country's intelligence services and companies in Malaysia and Singapore.
Some of the shenanigans are more confusing than scandalous. At a 2012 ASEAN summit in Phnom Penh, North Korean officials distributed a statement condemning the United States, which was attributed to an official who had reportedly died five years earlier. In January 2016, two North Korean doctors were found dead in Phnom Penh. In a bizarre turn, their wives reportedly told police that their spouses had been so inebriated that they injected them with a "serum" to help them sober up, but it seems to have killed them instead. The case was quickly closed, suggesting authorities weren't interested in looking into it.
To the outside observer, North Korea's courting of intrigue and commitment to belligerence and subterfuge seem like the natural byproducts of an inscrutable government. That is partially true. But scholars believe Pyongyang is more rational than it seems. The 1983 bombing and other acts committed on foreign territory are cases in point. There are reasons North Korea has risked alienating even newly found allies. "The primary goal of North Korea has always been unification under the DPRK flag, and if it means offending the host country then so be it, even if it is a relatively friendly government," Young said.
They are also playing by much older rules. In a recent analysis of the regime's motives, longtime North Korea watcher Andrei Lankov argued that North Korea is one of the world's last absolute monarchies; its actions make more sense if you think of the Kims not as a modern regime, but as a conniving Renaissance-era dynasty. "Neither a Borgia or a Medici would have trouble understanding what happened in Kuala Lumpur, and would hardly find such behavior excessive," he wrote.
Given the potential headaches of engaging with North Korea, it may seem puzzling that Southeast Asian governments would even bother to do so. But there are benefits. North Korea, as it happens, provides cheap labor and additional trade avenues. There is also China, an ally of North Korea: Balazs Szalontai, an associate professor in the department of North Korean studies at Korea University, wrote in an email exchange that regional governments may not want to diverge too much from Beijing. "China is a big, rich, and potentially dangerous neighbor that one tries not to cross unless absolutely necessary."
The Malaysia situation, meanwhile, seems certain to escalate. Though they have engaged in talks, Malaysia and North Korea remain locked in a diplomatic standoff: Malaysia expelled the North Korean ambassador and recalled its own envoy to Pyongyang. North Korea has barred Malaysian diplomatic staff from leaving the country, and the Malaysian government has blocked North Koreans from leaving, too; recently, it ordered the deportation of dozens of North Korean workers. Suspects in the Kim Jong Nam case may be hiding in the North Korean embassy in Kuala Lumpur. And there is still the sticky question of what to do with Kim's body, which Malaysia has embalmed as it looks for an answer.
Though analysts believe the murder of Kim Jong Nam will force Southeast Asian leaders to reexamine their relationship with the DPRK, it is unclear how far they will go. North Korea today has embassies in eight of the 10 countries that constitute the Association of Southeast Asian Nations (ASEAN). Of the 24 countries that have embassies in North Korea, five are ASEAN members. ASEAN has long valued stability over conflict, as evinced by the bloc's inability to change Myanmar's treatment of its Rohingya Muslim minority. Staying friendly with regional allies, especially those with a nuclear weapons program, may be the wiser move.
When I called Han Kwang Myong, the third secretary at the DPRK's embassy in Burma, to ask whether the current crisis in Malaysia could affect regional ties, he seemed incredulous. "Crisis?" he responded. Like many other nations, North Korea has "good relations with Southeast Asian countries," he emphasized, adding that he didn't think the standoff would affect those ties. Later, he added it was better to "wait and see." Some countries, like the United States, don't want North Korea to have good relationships in Southeast Asia, he said.
If Burma is any indicator, Southeast Asia has shown a remarkable ability to move on from North Korea's murderous mischief. Before reestablishing diplomatic ties in 2007, the Burmese and North Korean militaries are believed to have strengthened their ties. More recently, Burma has done North Korea's bidding on the most trivial of matters. In 2015, police in Yangon confiscated copies of the satirical film The Interview after North Korea objected to its fictional depiction of Kim Jong Un's assassination.
Ra Jong Yil, a professor and former deputy director of South Korea's national intelligence service who wrote a book about the 1983 bombing in Burma, told me that there are clear parallels between that attack and the Kim Jong Nam murder. "Both Malaysia and Myanmar were in good relations with North Korea," Ra said. The difference, he said, was that the 1983 bombing sought to improve North Korea's standing in South Korea by targeting an unpopular president, while Kim Jong Nam's death was about internal politics and shoring up Kim Jong Un's rule.
In 2014, South Korea unveiled a monument in Yangon to honor its victims of the 1983 bombing. The little-visited site features a black concrete wall engraved with 17 names of the South Korean dead. On a recent visit to the memorial, I found a quiet and peaceful scene. A sign at the front says the memorial "embodies a dignified space where visitors are brought to an august encounter with the spirit of the Korean patriotic martyrs who perished" there. A Burmese worker was watering bushes. Asked about the number of visitors, he said South Korean tourists sometimes came. But on most days it is empty.