The New Atheists of the Philippines
Their style is less Richard Dawkins, more Christian missionary.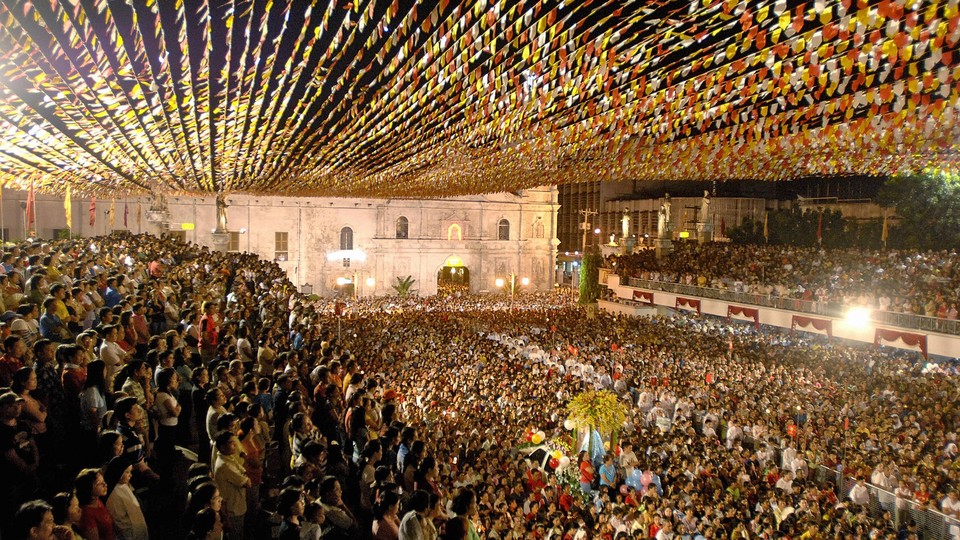 Among filthy puddles of rainwater in a slum in Alabang, a district just south of the Philippines' capital city of Manila, a young woman named Jahziel Tayco Ferrer was teaching a science lesson. A group of children sat around her on a cracked basketball court, taking shelter from the fierce midday sun in a gazebo that had been erected as a makeshift classroom. Their lesson that day was about the water cycle—an appropriate subject, I thought, given how many of the slum's narrow alleyways were still partly flooded from the previous night's rains.
Educational aid projects like this one are common enough in the Philippines, where more than 26 million people live in poverty. They are, more often than not, run by Christian groups. Ferrer is a rare exception: She's an atheist.
As one of two women running a community project to provide the children of Alabang with education and food, Ferrer wants to help the local youth—but she also has her own agenda. She's a volunteer for Humanist Alliance Philippines, International (HAPI), one of three secular organizations trying to gain a foothold in Filipino society. Their weekend "schools" and food programs are part of a concerted effort by atheists to promote secular, humanist values in a society dominated by religion.
"I got this idea from the Baptist Church," Ferrer told me, with a smile suggesting she appreciated the irony of borrowing from the missionary playbook. "They're helping the community and, while helping, they're also spreading the gospel. So as humanists, if they can do it, why can't we?"
The Philippines has a population of 98 million and is one of the most deeply religious countries in the world. More than 80 percent of Filipinos self-identify as Catholic, with most of the rest belonging to a variety of other Christian denominations, according to the 2015 Philippine Statistical Yearbook. A small percentage is Muslim. Less than 0.1 percent of the population say they have "no religion."
HAPI volunteers believe that challenging religion is a necessary prerequisite for developing Filipino society and ending its stark economic inequality.
"Advancement comes through science, technology, and social justice," Ferrer said. "The country has a lot of potential—people just need to change their minds. You can't rely on a deity to get yourself out of poverty, you have to do it yourself."
While she runs the classes, Ferrer's colleague, Jamie Del Rosario Martinez, runs the food program, dishing out meat stew and rice to the children alongside young volunteers who have joined the mission.
Martinez lives with her husband and in-laws in the slum. To get out of the blistering heat, she invited Ferrer and me into her home. Although she is a nonbeliever, her family members are devout Catholics and their walls are plastered with crucifixes and images of Jesus Christ. A three-foot high statue of the Virgin Mary stood on the table next to the couch.
Martinez told me she didn't want to air her views in front of her sister-in-law. Her fellow volunteer, however, was happy to keep talking.
"I read the Bible and every time I read it I felt so guilty," Ferrer said. "Everything that you do is a sin." She told me her parents were enthusiastic Baptists and that her father was "the type of man who liked talking about the apocalypse. It really scared me to death."
Between the ages of eight and 10, Ferrer went to an Accelerated Christian Education school. After qualifying as a teacher herself, she taught at a Christian school run by her mother.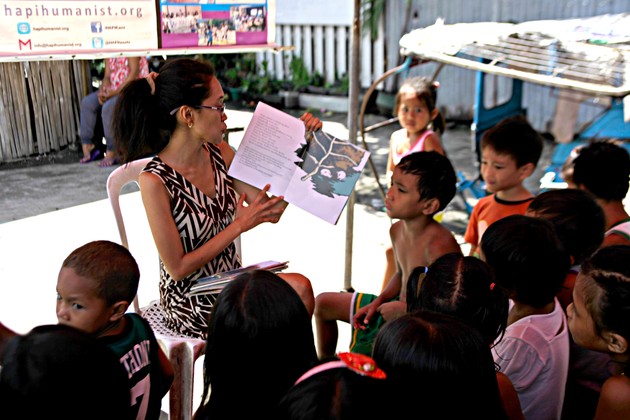 "I felt uneasy," she said. "There was a pastor that would regularly come to school to show very young children in kindergarten films about hell. I believe that is one of the reasons why people stay in that religion, because of the fear of going to hell."
It wasn't a fear Ferrer found easy to overcome. Despite all her doubts, she didn't give up religion until last year, at the age of 29. Her decision to "come out" as an atheist devastated her mother. "I am the only girl in the family," Ferrer explained. "It really hurts her that I have ended up like this."
In the heavily Christian society of the Philippines, nonbelievers meet with little respect, and they sometimes become targets of open hostility—as the founder of HAPI knows first-hand. Marissa Torres Langseth, known as "Miss M" among volunteers, now lives in the United States. But she is a stalwart of the Philippines' fledgling atheist movement, having previously set up the Philippine Atheists and Agnostics Society (PATAS) before leaving to start HAPI.
When Langseth first started this work, she received torrents of abuse online, including being called "a whore" and the "Bride of Satan," she told me. "That's how Filipinos think. They view atheists as Satanists: somebody who believes in demons and evil, who has no moral values and who doesn't have any meaning in life."
Undeterred, Langseth said she wants to fight the prevailing attitude among many poor Filipinos that their fate is in God's hands. "My mother would go to church to ask for food and clothing and money," she recounted. "Most Filipinos think that God provides. It will give a lot of people common sense when we let them know that there really is no God."
Like Ferrer, Langseth has borrowed tactics from the Christian missionaries around her. "Somebody told me to get them while they are young. That's what pastors do, right? The benefit is exponential growth."
HAPI's work, though it's spread across different parts of the country, still operates on a relatively small scale. The vast majority of Filipinos haven't heard of "Miss M," and despite claims that the atheist movement is growing, there are no truly high-profile Filipino atheists forcing themselves into the public eye and battling religious belief on the national stage.
Even though most of the new atheists of the Philippines look up to the New Atheists of the West as role models, there is no Richard Dawkins, Christopher Hitchens, or Sam Harris here. Filipino atheists I've spoken to feel some trepidation about copying their style, in part because recent years have seen a backlash against these Western icons, with critics variously labelling them as arrogant, simplistic, and overly aggressive in the way they talk about religion. Believing that this method of promoting atheism would most likely be counterproductive, Filipinos have decided to tread a little more carefully.
In Manila, a city dominated by wide lanes of gridlocked traffic and high-rise buildings shimmering in the sun, the Filipino Freethinkers meet regularly for group discussions, with topics ranging from religion and politics to sex and dating. At a small, shabby-chic café that wouldn't look out of place in America's hipster strongholds, I watched as approximately 20 young, middle-class, university-educated people gathered for one of these meetings.
When one woman announced that she recently "came out" to her parents as an atheist, the rest of the group applauded and offered congratulations. "It didn't go well," she said quietly. "It never does," most replied, swapping stories of friends who have been kicked out of families or have had their books burned by angry parents.
The founder of the Freethinkers, Red Tani, is a website designer who was raised in a Catholic family in Manila. "Throughout my entire primary and secondary education, even throughout college, I did not even hear about the idea of atheism," he told me after the meeting. "Isn't that something?"
Speaking at machine-gun pace, Tani explained the purpose of the Freethinkers. "We don't promote atheism, but what we do promote are the ideas that would make atheists feel safe in a country." His aim, he said, is to make sure that Filipinos who are questioning their beliefs realize they are not alone. "More than a handful of times, there will be someone who will attend a meet-up and say: 'If you guys did not exist, I would have killed myself a long time ago.'"
Tani is perhaps as close as any of the Filipino atheists gets to enjoying a high profile. He appears on TV, writes a newspaper column, and maintains a heavy online presence. He jokes that he's known in the Philippines simply as 'The Atheist."
When I asked him whether he wants to become the Filipino Dawkins or Hitchens, he replied, "A lot of people have been wanting me to be that kind of person, the cheerleader of atheism. I've done that sometimes, but I'm more of an activist for human rights and secularism than I am a spokesperson for atheism."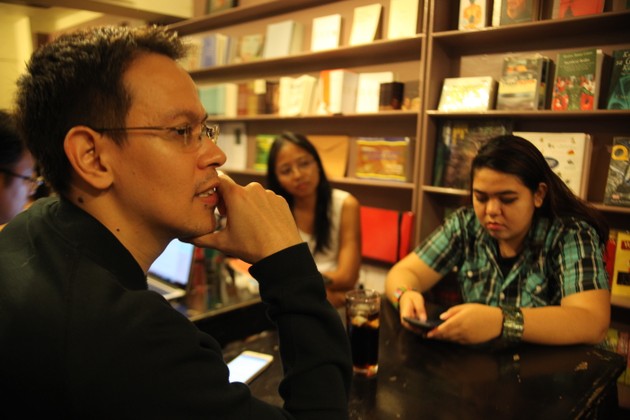 Tani has been a vocal critic of the Catholic Church's involvement in politics. He campaigned strongly for the passing of the controversial Reproductive Health Bill, which will see the government provide free birth control to the nation's poorest people. The bill had been held up for over decade because of strong opposition from the Catholic Church.
The Constitution of the Philippines strictly sets out a separation of church and state, but the reality of the relationship between the two is much more complicated. Abortion, divorce, and same-sex marriage are all illegal in the Philippines. The Church has resisted any attempts to change these laws.
According to Tani, politicians are often too easily influenced by religious leaders because of family ties or longstanding friendships. As he puts it: "The rich families know each other." The sheer number of Catholics in the Philippines, he claims, makes it easy for bishops to influence the public on political issues.
But there are signs that this influence may be on the wane. Most of those who campaigned for the Reproductive Health Bill were in fact Catholics who refused to toe the bishops' line. A survey undertaken in 2010, at the height of the debate, showed that 69 percent of Filipinos supported the bill.
Another survey indicated that the number of Catholics attending church every week had fallen to 37 percent in 2013 from 64 percent in 1991. It also found that 9 percent had considered leaving the Church completely.
Then there is the Philippines' new president, Rodrigo Duterte, whose bull-in-a-china-shop approach to politics has not spared the country's most revered institution. Duterte was baptized a Catholic, but has pulled no punches in his fierce rhetorical attacks on the Church.
After 6 million Filipinos attended a mass with Pope Francis during his visit to Manila in 2015, Duterte, then still a presidential candidate, called the pope "a son of a whore" for creating a traffic jam in the city. He has apologized to the Vatican for the insult, but has since lobbed it at bishops who urged Catholics not to vote for him.
Although the Church far outstrips the government as the most trusted institution in the Philippines, Duterte enjoys an 83 percent approval rating, and he's not a man to shy away from a fight. He continues to mock religion and pledges to expose sex abuse and corruption within the Church, which he says is "full of shit."
All of this has caused some cracks to appear in the Philippines' long relationship with the Church. And it's into these cracks that the country's new atheists want to insert themselves. None who I met were Duterte fans, but they do want to seize this moment, when the influence of the Church seems more vulnerable than it has for nearly 500 years.
* * *
Ever since the Spanish first brought Catholicism to the Philippines in the 16th century, a church has stood in Cebu City. Today, devotees still flock to the Santo Niño Basilica in their thousands, leaving little indication of a Catholic decline. So many attend Sunday mass that the basilica has had to build a two-tier stadium outside to accommodate them all. When I asked some of the worshippers there why religion is so important to them, poverty was a common answer.
"Its very important because we are very poor, so that's the only thing we cling on to, the hope," said Antonia Deligero. "Every time we suffer, we all say, 'That's okay because it's the will of God.'"
None of the Catholics I talked to felt the country is on the verge of a secular revolution. Many told me they think atheists are confined to the wealthy elite in cities like Manila, while religion remains vital for the majority.
"It's almost unimaginable to think of a Filipino who is not a believer," said Jayeel Cornelio, a sociologist at Ateneo de Manila, a university founded by Jesuits. In his office on campus, I asked whether he thinks the atheist groups I'd met are having any impact on society. "They preach to themselves, so it creates a feeling that they are growing in number," he said. "With all due respect to what they do, their discourse does not necessarily resonate with the ordinary Filipino. In a country that has a lot of issues about healthcare, education, basic quality of life, to talk about high philosophical stuff might not resonate."
Cornelio, a Christian, has written extensively about the reinterpretation of religion in the Philippines, particularly among young people. He argues that although some Filipinos are moving away from the Catholic Church, atheist activism has nothing to do with it. Instead, he chalks up the change to a huge "starburst" of diverse Christian movements that give the devout more choice in how they worship. Many of these movements still call themselves Catholic, but have parted ways with the traditional sacraments. They're more likely to emphasize volunteering with the poor or cultivating a personal relationship with Jesus than attending Mass and taking communion every week.
"What we are seeing is not religious decline in terms of belief, but in terms of spiritual practices," Cornelio said. "Young people are interpreting what it means to be Catholic in the Philippines today, not in the direction of secularization, but in the direction of making it more meaningful for them."
The Philippines has also seen a sharp rise in the popularity of American-influenced evangelical and restorationist Churches, many of which preach the Bible as the literal word of God, Cornelio added.
The most prominent and powerful of these Churches is the Iglesia Ni Cristo, which claims to be the "one true Church." With more than 2 million followers, it is now the second-largest individual Christian institution in the Philippines.
The Church is known for its strict discipline: Anyone not living in line with Iglesia Ni Cristo's doctrines is likely to be expelled.
That's exactly what happened to Martinez, the HAPI volunteer I'd met in Alabang. Because she had not wanted to discuss her views in front of her husband's devout Catholic family, we met for coffee in a hotel lobby in Manila. There, she told me about her excommunication.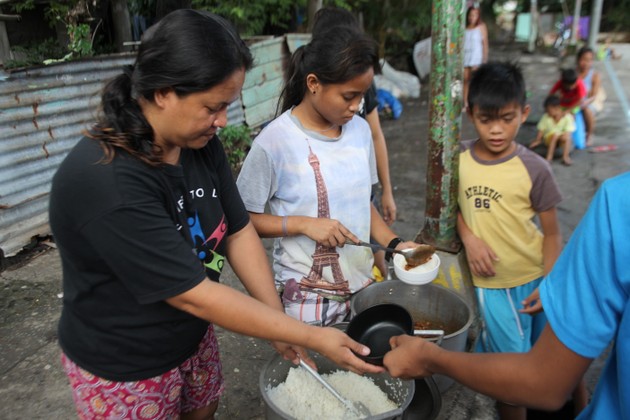 "They tell you God is forgiving, God doesn't judge you, but the people who are under that religion are the ones who judge," Martinez said.
Raised in a poor family with three siblings, Martinez was forced to give up school at the age of 15. To earn money to send home, she worked in a bar in Japan as an "entertainer," a hostess paid to chat to customers. The Church disapproved.
"They told me I was living a life that is wrong," she recounted. "Since when is feeding your siblings and feeding your mother wrong?"
Martinez was excommunicated in front of her entire congregation of friends and family in a scene she still recalls as humiliating.
Despite later marrying a Catholic lay-minister, Martinez still does not attend church. Much of her time is now spent working with children as a volunteer for HAPI. She has three children herself. Though she doesn't consider herself an atheist per se (she said she just doesn't think about God much), she believes—as do Tani, Langseth, and Ferrer—that education is the key. "I don't force my kids to go to church," she said. "I just want to let them find out for themselves what to believe."
The new atheists of the Philippines may speak in a softer voice than their more militant counterparts in the United States, but they believe their voice is gradually getting louder.