The Strange Friendship of Martin McGuinness and Ian Paisley
The Sinn Fein leader, who has died at 66, went from waging war to forging a partnership that helped end it.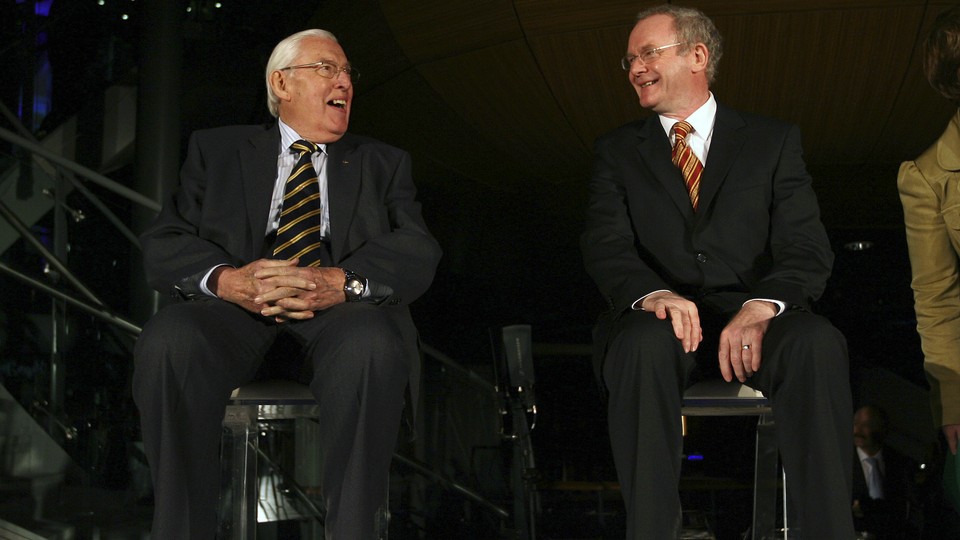 Not much more than a decade ago, the idea that Martin McGuinness and Ian Paisley's names belonged together might have seemed fantastical.
One was a crusty Protestant firebrand from Antrim. The other was a Catholic militant from Derry young enough to be his son. They stood on opposite sides of battle lines—sometimes literal ones—for decades. What little they shared was not promising: a mutual hatred, and a history of involvement in sectarian violence.  Yet the two men eventually became close working colleagues, so amiable they were christened "the Chuckle Brothers" and so closely associated that with McGuinness's death Tuesday, the two men's names and reputations are intertwined.
McGuinness, who was born in 1950, joined the IRA after dropping out of school and becoming a trainee butcher. He was the IRA's No. 2 man in Derry in 1972, when British soldiers opened fire on a march protesting imprisonment without trial of suspected IRA members. In what became known as "Bloody Sunday," 14 people were killed. Several months later, McGuinness and Gerry Adams, another IRA militant, flew to London together for secret talks with the British government, becoming close in the process.
McGuinness was widely believed to have become chief of staff of of the IRA in the 1970s and 1980s, though he claimed he had left the IRA in 1974 and committed to Sinn Fein, its political wing, which insisted it was separate. He was convicted twice, once for belonging to the IRA and once for being caught with explosives and ammunition. Adams, by contrast, has always denied being an IRA member, but has been linked to multiple murders. Adams was always the more prominent Sinn Fein leader, but McGuinness worked closely with him.
In 1991, The Washington Post profiled McGuinness, writing that he was caught in a vise between his bloody past and his desire for a lasting solution in Northern Ireland:
McGuinness is part of a generation of leaders who came to power in the mid-1970s on a platform that was more aggressive, yet in some ways more pragmatic than that of the IRA elders they forced out. They benefited from popular revulsion to a 1975 cease-fire, when the IRA's capacity for offensive action withered while Britain stepped up its infiltration of the movement.

Now these leaders are under pressure from a new generation to remain true to the beliefs that brought them to power. "They can't even breathe the word cease-fire because of the younger ones looking over their shoulder," says Brian Feeney, a West Belfast city councilman who opposes the IRA.
McGuinness eventually became Sinn Fein's chief negotiator during the talks leading up to the Good Friday Agreement, the crucial 1998 milestone in the Northern Irish peace process. Every major Northern Irish political party participated except Paisley's hardline Democratic Unionist Party. When, later in 1998, McGuinness said that unionism was "dying," the DUP was happy to enlist him as a bludgeon against its rival Ulster Unionist Party, accusing it of selling out to republicans. Two years later, Paisley faulted McGuinness for a spurt of arson and bombing.
In 2001, McGuinness admitted to having been an IRA member, which was viewed by some as an essential disclosure for the peace process to move forward. By then, McGuinness was serving as minister of education. But Paisley and the DUP argued it proved that the IRA and Sinn Fein were one and the same. The DUP sought unsuccessfully to have McGuinness removed from his post, and the following year Paisley called for McGuinness to be brought up on war-crimes charges.
Meanwhile, the peace process ground on. In 2006, the St. Andrews Agreement laid out terms for devolution of some power to Northern Ireland, and as part of the deal, the DUP and Sinn Fein would have to share power. Upon its ratification in 2007, Paisley became first minister—and his deputy was none other than Martin McGuinness. Even against the background of improving relations in Northern Ireland, the pairing was not auspicious.
"I've always believed throughout the course of my political life that Ian Paisley was a very bitter, very harsh person and was really only interested in his political opinion holding sway," McGuinness admitted six months into the experiment. "I am not offering up what he thought about me. Obviously he probably had as poor an opinion of me as I had of him."
Yet the men forged a working relationship. To the surprise of U.K. officials, they came together after their first meeting to ask British government officials to vacate the Northern Ireland Assembly's complex at Stormont. (McGuinness claimed the government retaliated by removing even the light bulbs from their offices as they left.)
To their own surprise, they also discovered they enjoyed each other's company, though their politics remained far apart—Paisley was unstinting in his commitment to Northern Ireland as a part of the United Kingdom, while McGuinness never gave up the dream of a united Ireland. The press began calling them the "Chuckle Brothers," borrowing the name of a BBC comedy duo, because they cracked so many jokes together.
During a visit to the United States in December 2007, the pair charmed George W. Bush and displayed their newfound comity. "Up until March 26 this year Ian Paisley and I never had a conversation about anything—not even about the weather," McGuinness told Bush. Paisley soft-pedaled their past disputes, which he characterized as nothing more than "squabbles" and saying they were now on the same side: "There will be a fight for peace. You have to fight for peace. And we are dedicated to that."
The political partnership was short-lived; Paisley retired after 13 months as first minister, in part due to criticism from within the DUP of his close relationship with his deputy. As a parting gift, McGuinness gave him a pair of poems, one by Seamus Heaney and one of his own writing. Paisley's widow Eileen said after his death that during his final illness in 2014, McGuinness texted frequently to check in on him.
"It gave Ian a lot of happiness as well to know that he had left that impression with [him]," Eileen Paisley said. "His friendship with Martin McGuinness had meant something very special to him."
McGuinness, however, remained as deputy first minister. Paisley's successor Peter Robinson worked with him but was never as personally close. In January, McGuinness resigned as part of a political fight with the DUP, and then announced he would not stand for reelection, citing ill health. He died two months later at 66.
On his departure from Stormont, McGuinness remained a controversial figure—revered by some for his role in the peace process, and still hated by many IRA victims and their families. But a sign of the progress in healing a fight stretching back generations could be seen in some of the tributes he received.
One member of Parliament praised the outgoing deputy first minister, saying, "I can say thank you, honestly and humbly, and recognize the remarkable journey Martin McGuinness went on has not only saved lives, but has made the lives of countless people in Northern Ireland." That MP was Ian Paisley Jr.