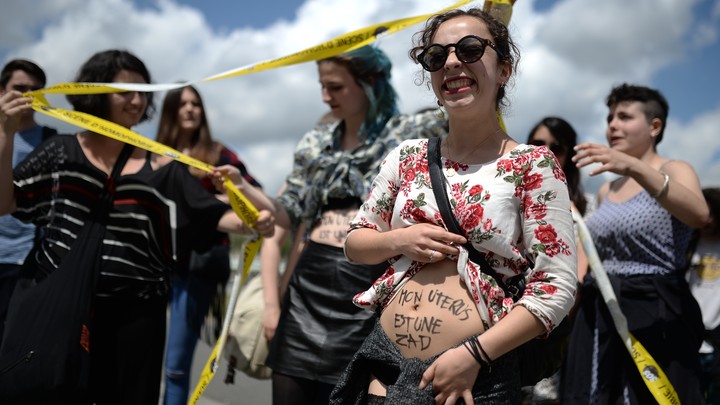 Conservative Catholics and left-wing feminists often find each other on opposite sides of political debates, especially when it comes to what women should do with their bodies. Yet in Europe, there is a reproductive rights issue on which the Catholic Church, well-known for its staunch pro-life position, is finding common ground with pro-choice feminists: surrogacy.
The practice whereby a woman carries a pregnancy to term for third parties is legal in the United States and Canada, but not in most of Western Europe. Some countries, like France, Germany, Spain, Italy, and Sweden, have banned surrogacy outright. Others, such as the United Kingdom, don't have specific laws against surrogacy, but recognize the woman who gives birth to a child as the legal mother, making any surrogate agreements unenforceable. The European Parliament rejected surrogacy in a 2015 non-binding resolution.
At a high-profile anti-surrogacy conference that took place inside Rome's Lower House of Parliament last Thursday, one of Italy's most prominent feminist organizations urged the United Nations to "ban the practice of surrogacy," describing it as "incompatible with human rights and with the dignity of women." The feminist organization, Se Non Ora Quando, gained international fame for organizing a massive 2011 protest against then-prime minister Silvio Berlusconi, and the group is well known at home for its pro-choice views. It was natural enough, then, that the conference should be attended by left-leaning feminists from Italy, Germany, France, and Sweden. But conservative Catholic politicians were also in attendance, and the conference was praised in the Catholic media, most notably by Avvenire, the newspaper owned by the episcopal conference of Italian bishops.
This coming-together of conservative Catholics and left-wing feminists was the latest manifestation of a coalition that has been building in Europe over the past few years to oppose surrogacy. The same pairing has appeared in Spain, where the conservative Catholic Popular Party joined forces with feminist lawmakers from left-leaning parties like the Socialists and Podemos to prevent the legalization of surrogacy. And it has appeared in France, were a left-wing feminist collective and the ultraconservative Catholic organization Manif Pour Tous have launched similar anti-surrogacy campaigns.
What made the conference in Rome unique, however, was its international character, and the fact that it featured prominent participants from all across the political spectrum, ranging from Laurence Dumont, the socialist vice president of France's National Assembly, to Beatrice Lorenzin, the conservative Italian Health Minister, to Susanna Tamaro, one of Italy's most famous novelists.
Europeans get around surrogacy restrictions by having their children born to surrogates abroad, with the United States becoming a major destination for reproductive tourism. This has sometimes led European authorities to adopt a de facto tolerance toward surrogacy, as long as it happens abroad. For instance, a judge in the Italian city of Trento recently recognized a gay couple's parental rights over two boys born to a surrogate mother in the U.S.
Now, activists believe there is "a strong pressure to legalize the practice," conference speaker Marina Terragni told me. Terragni is a feminist writer who authored the anti-surrogacy book Temporary Mother.
The Catholic Church has opposed this practice since the late 1980s. With the document "Donum Vitae," the Vatican's Congregation for the Doctrine of the Faith first expressed its opposition to any form of in vitro fertilization in 1987. Surrogacy in particular was defined as "an objective failure to meet the obligations of maternal love, of conjugal fidelity and of responsible motherhood" because it creates "a division between the physical, psychological and moral elements" that lead to the creation of a family.
The Congregation for the Doctrine of the Faith restated this position in 2008 with "Dignitas Personae." In this new document, the Church also banned so-called "prenatal adoption," the practice whereby a woman carries to term an embryo that is not biologically related to her and that would otherwise be destroyed because the biological parents aren't planning to use it. Embryo adoption has been encouraged by other pro-life Christian groups, especially evangelicals, but rejected by Catholics on the grounds that it constitutes a form of surrogacy.
The fact that Catholics oppose surrogacy should not be surprising given that Church doctrine rejects the separation of sex from childbearing, and vice versa. What is perhaps more surprising is that European feminists have come to fight a practice that seems not to bother their North American counterparts much.
In fact, to some North American liberals, anti-surrogacy stances seem at odds with the values of gender equality and gay rights. After all, if women are allowed to purchase sperm for insemination, why shouldn't men be allowed to pay for eggs and surrogacy services? Surrogacy also enables gay couples to have biological children, a prerogative that would otherwise be limited to heterosexual couples.
Yet in Europe, it is not uncommon to see opposition from the left. In France, for instance, the country's largest lesbian association, the Coordination Lesbienne, has opposed surrogacy since 2011, and progressive feminists like the philosopher Sylviane Agacinski have joined the cause. In Sweden, it was a social democratic government—one that prided itself on being "the first feminist government in the world"—that banned surrogacy in 2016. Spain's Feminist Party has also objected to it.
Not all European feminists reject this practice: In Italy, for instance, Se Non Ora Quando—Factory, a group that split from Se Non Ora Quando over this issue, supports surrogacy, arguing that "the desire of becoming a mother and a father has acquired new meanings." Still, anti-surrogacy stances are quite mainstream in European feminism.
"To me, fighting surrogacy, it's part of fighting the patriarchy," Terragni said. "For thousands of years the patriarchy has tried to reduce women to livestock for reproduction, and this is a newer, more extreme form of it."
Terragni explained that as a feminist activist she supports "the affirmation of feminine difference," or the idea that women have a more central role in reproduction than men and that this primacy needs to be cherished and protected. "It's something that the patriarchy has tried to take away from women, from the days of Aristotle, who described women's wombs just as containers for semen."
It's because of this "affirmation of feminine difference" that she supports sperm donation for single women and lesbian couples, but opposes surrogacy.
This focus on "feminine difference," a concept widespread among European feminists and popularized by the French anthropologist Françoise Héritier and by the Belgian philosopher Luce Irigaray, may help explain why continental brands of feminism have been keen to oppose surrogacy, while the practice seems almost a non-issue in America's mainstream feminism.
"Traditionally, Anglo-Saxon feminism has been mostly about emancipation—its goal is to make women equal to men," Terragni said. "In Europe, 'difference feminism' is more common." The result is a "strategic alliance" between conservative Catholics and left-wing feminists, she said.
However, Tamaro, the bestselling novelist who addressed the conference in Rome, emphasized that it would be wrong to portray the anti-surrogacy argument as solely Catholic or feminist. "I was never a feminist and Catholicism isn't part of my background, as I was brought up in an atheist family with Jewish roots," she told me in an email. "It's a much wider and more complex issue, in which the very idea of humanity is at stake."
Tamaro, who has studied natural sciences and animal behavior, said separating the concept of biological relationship from parenthood goes against "human nature." What makes us human, she argued, is that "we can situate ourselves in time" and that therefore "the human being is [made of] memory—affective memory, genetic memory, epigenetic memory, historical memory." To conceive a child "on demand" is to "knowingly deprive a human being of what makes them human—genealogy."
"Postmodernist thought believes that culture is more important than nature, but it's an extremely weak concept," Tamaro added. "Looking at the behavior of the great apes, for instance, is a useful tool to understand human dynamics. We tend to put ideals above everything, ignoring the bonobo that lives inside us."
In the aftermath of the Rome conference, Se Non Ora Quando plans to continue its fight, joining forces with those who don't share its feminist motivations. "There are many positions from which to oppose surrogacy," Terragni said. "We see it as a struggle against the patriarchy, the Catholics see it as a struggle to preserve the traditional family, some anarchists see it as a struggle against capitalism—and I don't have any problem with this."
We want to hear what you think about this article. Submit a letter to the editor or write to letters@theatlantic.com.
Anna Momigliano
is a staff writer at the Italian magazine
Studio
, and a frequent contributor to
Haaretz
and
Il Corriere della Sera
.