Is Trump Dragging Down the European Far-Right?
Worse-than-expected results for the Netherlands's Geert Wilders are only the latest sign that the American president's poor standing is harming politicians aligned with him.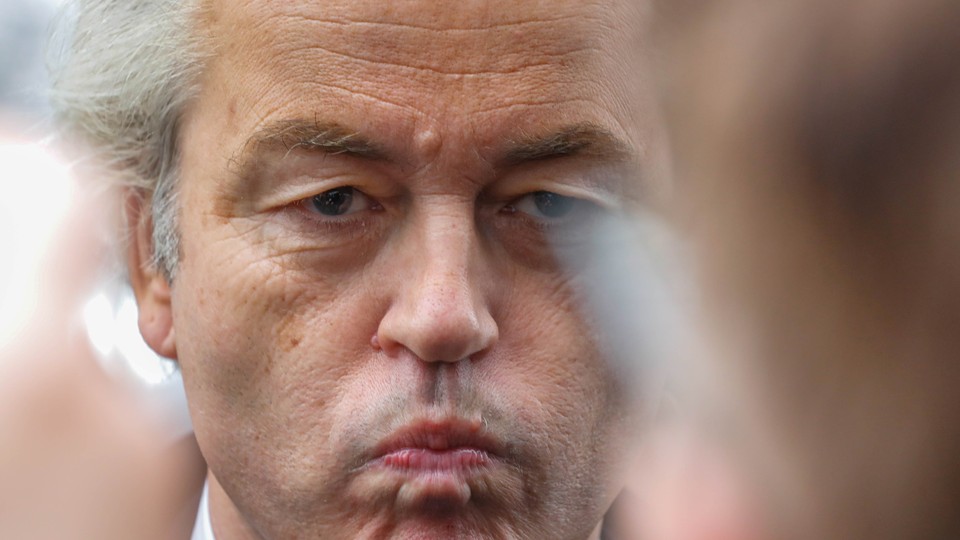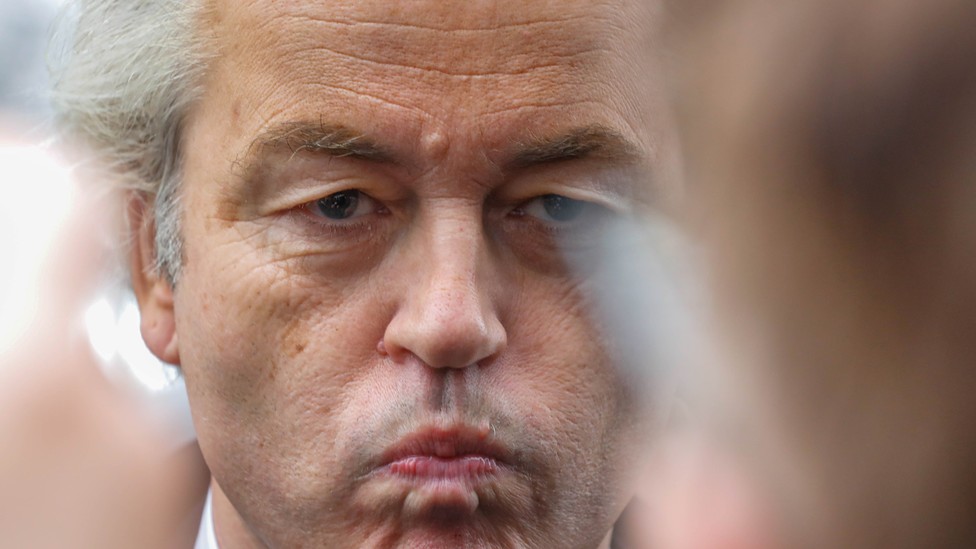 Donald Trump's victory in the U.S. presidential election in November was heralded as the latest in a series of triumphs for the populist right: First there was Brexit, followed by a series of gains for right-wing, anti-immigration parties in Europe. When Italians voted against a referendum backed by Prime Minster Matteo Renzi in December, it looked like proof of the populist wave's continued surge.
But a poorer-than-expected showing by Geert Wilders's Dutch Freedom Party (PVV), with nearly 80 percent turnout, in elections on Wednesday complicates the picture. While Prime Minister Mark Rutte's center-right People's Party for Freedom and Democracy lost eight seats, it will be the biggest party in the 150-seat Dutch parliament. Wilders's party won 20, short of the 30 it hoped to pick up.
It's too soon to declare the populist wave dead, but with Wilders's stumble, it's worth at least raising the question of whether Trump's victory may have been the high-water mark for the right-wing populist movement.
Rutte, who is expected to remain in power, is hardly a dove on immigration, but he's not as hardline as Wilders. And unlike the platinum-pompadoured populist, he is favorable toward European integration. Wilders has been styled in the press as the Dutch Donald Trump, a comparison that he has at times courted—Wilders dropped by the 2016 Republican National Convention, where Trump was formally nominated, even as many top Republicans stayed away. He contributes to Breitbart, the court organ of the Trump administration. Even his campaign slogan was a variation on Trump's.
But as the Dutch campaign ramped up, Wilders grew much more cautious about invoking the U.S. president. This was no coincidence: By mid-February, when the race in the Netherlands began, Trump had been in office for several weeks, and Dutch voters had gotten a chance to observe him as president. They didn't like what they saw. "It's a hard start for Wilders—he's losing momentum, and this is partly because of Trump," pollster Gijs Rademaker told The Wall Street Journal. Among poll respondents who had backed the PVV in December but no longer did by February, 60 percent thought Trump was doing a bad job.
Wilders's caginess about Trump doesn't seem to have saved him; although PVV gained seats on Wednesday, it fell short of expectations, as well as his own prediction of a surprisingly strong result.
And if Wilders is in fact a victim of Trump backlash in Europe, he might not be the last. While immediate reactions tend to be overly rash, Bloomberg's Joe Weisenthal noted that immediately after preliminary results came in from the Netherlands, betting markets became much more bearish on the electoral chances of Marine Le Pen, the French presidential candidate who is aligned with Wilders, and who consciously tried to associate herself with Trump:
In Germany, meanwhile, Martin Schulz of the center-left Social Democratic Party (SPD) has found his fortunes surging ahead of September's general election. The SPD has been lost in the political wilderness for years, finding little purchase against the once-invincible Chancellor Angela Merkel. While Merkel has shown little use for Trump, or his disdain for the EU and NATO, Schulz has seized on the American president as a perfect foil, using him as a vehicle to make the case for European cooperation. The far-right Alternative for Germany party, meanwhile, remains far back, and has seen its standing fall somewhat in recent months.
There's a danger of overstating Trump's effect on European politics, especially when viewing the situation from the United States. Internal dynamics play an essential role in each of these elections, and each country has its own problems. But there are good reasons to believe that Trump is playing some role in these contests.
Even before he was formally nominated, Trump was deeply unpopular in Europe. A June 2016 Pew poll found just 9 percent of Europeans had confidence in the Republican. With a few more months to evaluate him, they've hardly changed their minds. A YouGov/Handelsblatt poll at the beginning of the year found that sizable majorities in several European countries expected Trump to be a poor president; in France, the only country where a majority did not feel that way, a plurality did. A November poll found rising approval of the EU across the board, another sign of the pendulum potentially beginning to swing back.
The bad polling for Trump, and the apparent damage that he's doing to candidates associated with him, is all the more striking because when Europeans were polled on a Trump-style immigration ban in February, support averaged 55 percent across 10 countries, with majority support in eight of the 10. In other words, it appears that even when Europeans are sympathetic to at least some of the proposals put forth by the far right, Trump's poor personal reputation may be dragging down the politicians in Europe who have aligned themselves—and in some cases styled themselves after—Trump.
This change of fortunes is particularly interesting because Trump continues to invoke Muslim immigration and terror attacks in Europe to justify his policies. During the presidential race, he campaigned with chief Brexiteer Nigel Farage and remains in touch with him. In one recent slapstick moment, Trump lamented the havoc terrorism was wreaking in Sweden, to the consternation of Swedes who had no idea to what he referred. American politicians who are aligned with Trump contend that there is a civilizational struggle in Europe, and that the struggle could spread to the United States next. These lines of argument depend to a great extent on politicians in Europe kicking up a fuss about immigration and cultural change that provides fodder for the American discussion.
In other words, the European far right is very good for Trump, but there are growing signs that Trump is not good for the European far right.