How Holi Got Politicized
India's festival of colors is usually a religious and cultural celebration, but this year it had a distinctly partisan hue.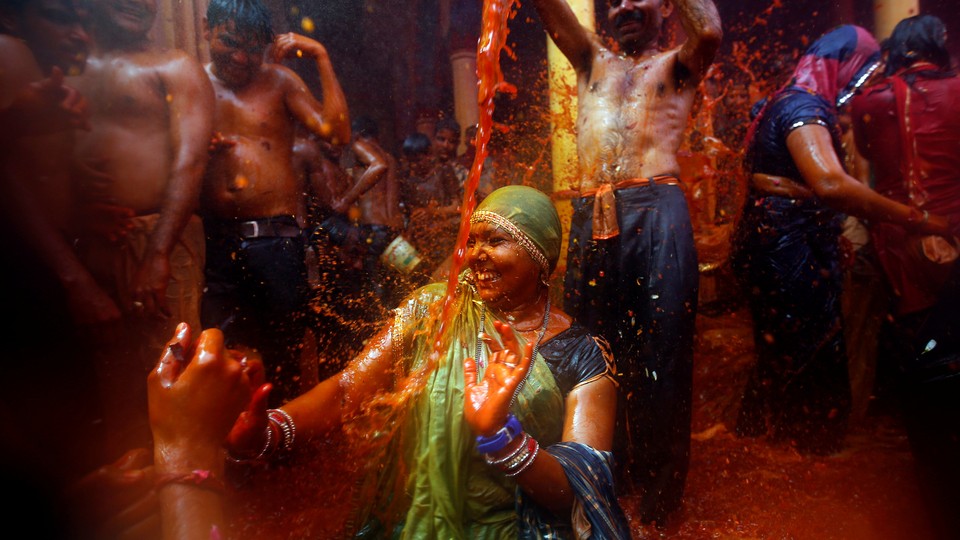 Water guns were poised, sniper-style, from rooftop terraces. Rivers of red slushy water streamed down the roads. Motorcyclists, wielding fistfuls of candy-colored powder, launched drive-by assaults. And on a packed street corner, throngs of men, caked in chalky pink dust, shimmied wildly.
In Mathura, birthplace of the Hindu god Krishna, India's springtime festival of colors was reaching fever pitch. Each March, the two-day Holi festival sees millions of revelers pour into the streets and pummel each other with bright-colored powders, home-concocted dyes, and water balloons to honor the courtship of Krishna and his lover, Radha. To an innocent bystander, the gory, jubilant street scenes in Mathura might look like parties marking a battle victory. This year, they were.
"This is a bigger celebration than previous years," said Madhav Saran Shastri, 34, a local Hindu priest, his beard smeared with neon-orange powder. "It's a double celebration."
During India's legislative elections, which took place from February 11 to March 8, the ruling Hindu nationalist, right-wing Bharatiya Janata Party (BJP) helmed by Prime Minister Narenda Modi made a clean sweep of 312 out of 403 seats in Uttar Pradesh, the northern state in which Mathura is located.
"It's the return of the kingdom of Ram," Shastri said, referring to the ancient Hindu empire mentioned in the holy epic The Ramayana, and a major talking point for Hindu nationalist politicians. With over 200 million residents, Uttar Pradesh is India's most populous territory. The BJP took in over 77 percent of the votes. The landslide win gave the BJP, known for liberalization schemes and marred by religion-baiting communal politics, a game-changing boost of power.
For Modi supporters, the results were electrifying. In Mathura's old city, packs of men marched through winding, paint-splattered streets swinging white lotus flags, the trademark logo of the BJP. After the election, the hashtags "#victory" and "#ModiWave" continued to trend on Twitter—along with "#saffronization," a reference to the influence of right-wing political Hinduism on domestic policy (saffron is the Hindu nationalist party color). Flooded with BJP party logos, Holi's religious celebrations soon began to look like nationalist rallies.
The politicization of Holi was a fitting pivot for a political party that has built its brand on the perceived persecution of Hindus and the insertion of ancient Hindu lore into mainstream contemporary politics. But this election cycle, the BJP abandoned its more incendiary rhetoric, which condemns the "Holocaust that Muslims reaped" on Hindus during Mughal rule. The party's latest stump speeches focused on economics and development, capitalizing on Modi's populist appeal. Such was his star power—and the frustration of residents in the corruption-afflicted state—that the party claimed victories even in Muslim-majority areas of Uttar Pradesh.
"Modi has been building on brand image, now it's time for effective action," said Abhishek Chaturvedi, 28, an investment banker from Uttar Pradesh who now lives in Mumbai, as he stood on the steps of a Mathura temple while clouds of pink and purple smoke erupted in the streets.
"Holi! Modi! Modi! Holi!" a pack of guys, brawling over bags of colors, started chanting on the steps nearby.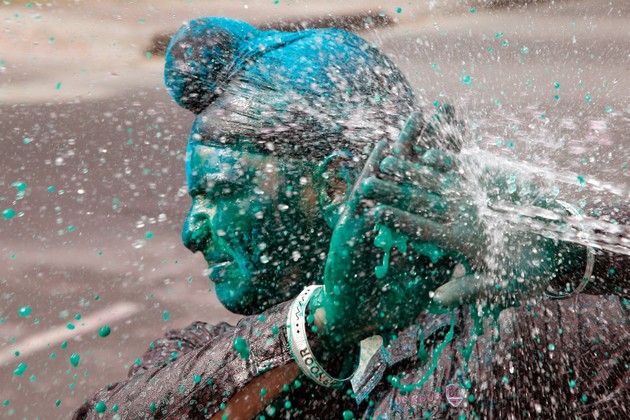 Many maintain that Modi shares a political playbook with Donald Trump, a self-professed "big fan of Hindu." After Trump's November win, the writer Pankaj Mishra teased out a long comparison between the two demagogues. Both emphasize manufacturing jobs and trickle-down economics. They also ply revamped visions of their respective countries, each with values rooted in distant, quite possibly make-believe pasts.
As with Trump's most ardent fans, Modi's supporters regard their political idol with an attitude verging on cult worship. Many of his more temperate supporters (even those who are, themselves, minorities) hold their noses against minority scapegoating. Like some American Republicans, they continue to vote for the party's dubiously self-styled corruption-fighters out of hope for economic improvement. Many BJP supporters, poor and overworked, taunted by lavish lifestyles in Delhi and Mumbai, have also felt economically sidelined. Apparently responding to the zeitgeist of economic despair, Modi even adopted a new campaign mantra: "India First."
"People were divided by caste and religion, but now they only talk of development," said Chaturvedi, the banker, who supports the BJP. He wants to see change in Uttar Pradesh, a state plagued by corruption, criminality, and crumbling health and education systems. Like others in the region, he has pinned his hopes on Trump-style dreams of industry and infrastructure. "Working together with a nationalist president like Trump, we can make India a manufacturing hub," Chaturvedi said.
Despite the BJP's continued efforts to woo Muslims over the years, Holi festivities clashed with Modi's promises for a more inclusive India, celebrating the BJP's win as a triumph of Hindu politics. Mathura was still hopped up on election fervor as the festival wound down on Monday evening, even as the sun sank and the crowds scattered. Buildings were speckled with bright flecks of dye. A skittish white dog, its face stained dark pink, scampered down an empty corner. But stragglers on motorbikes, or hanging from the sides of auto-rickshaws, continued to splash merrily through the streets, their excited faces masked with color. The men were still shouting, still lost in a religious celebration that had, this time, taken on a distinctly political hue.